MONTHLY POLITICAL ANALYSIS
Center for People Empower in Governance (CenPEG)
#3 October 2022 / Public Edition
MARCOS, JR. FACES GRINDING WOES; ARE REFORMS POSSIBLE?
The economic woes marking the closure of the Duterte government (July 2016-June 2022) continued to deepen under the Marcos, Jr. administration which has been in power for four months. As reported on Oct. 6, unemployment continued to rise: the latest Labor Force Survey showed 2.68 million unemployed individuals age 15 and above in August, higher than the 2.6 million jobless Filipinos in July. Hardest hit by unemployment were agriculture and fisheries, which shed 286,000 jobs; construction, 258,000; arts, entertainment, and recreation, 64,000; health and social work activities, 37,000, and real estate, 37,000. The unemployment rate was way above the levels before the pandemic. Data from the Philippine Statistics Authority (PSA) show that the unemployment rate was at 5.1% in 2019; 10.4% in 2020; and 7.8% in 2021. In January-August 2022, the unemployment rate was at 5.8%.
Moreover, the underemployment rate, or the total number of workers who have jobs but are still desperate for more jobs or working hours, also climbed to 14.7% or 7.03 million workers. This was higher than the 6.54 million underemployed in July 2022, with the underemployment rate at 13.8%. Unemployment and underemployment rates climbed despite more Filipinos joining the job market, the PSA noted.
Also hurting these sectors were soaring prices based on reports by the independent economic think tank Ibon Foundation, with 16.1M unemployed and self-employed; 5.5M own family farm/business (of whom 4.4M are "unpaid"); 2M domestics; 4.3M underpaid government employees; 14.4M workers in informal enterprises; and 8.6M workers in formal enterprises.
A more complete count, according to Ibon, would be at least the 19.4M families (about 80M Filipinos) without any savings to buffer against rising prices. (These figures approximate self-rated poverty findings published by the Social Weather Station on Oct. 2. See succeeding paragraphs.)
Unemployment, underemployment, and rising inflation contributed to high poverty incidence in the Philippines. Poverty is measured every three years and in 2021 when the last poverty survey was made more Filipinos ended poor compared to three years earlier with government authorities claiming the pandemic wiped out gains in poverty reduction that took years to achieve.
A PSA survey showed 165,029 families nationwide showed 19.99 million more Filipinos living below the poverty line last year, up from 17.67 million recorded in the comparable period in 2018. This translated to a poverty rate of 18.1% last year, higher than 16.6% rate posted in 2018.
Faced with these mind-boggling trends, the Marcos Jr. administration comes out strong with a pledge to cut poverty rate to 9% in its final year in 2028. For this to happen, the government is targeting to slash the current poverty rate by 5% by midterm of the nascent government. The goal is unreachable without meaningful transformative reforms, critics opine however. Domini Velasquez, chief economist of China Banking Corp., said the Marcos, Jr. administration could focus on other targets for the meantime. "Improving Filipinos' lives and getting more people out of poverty should be the number one priority of the Marcos administration. Providing more jobs, mitigating the rise in inflation, providing targeted subsidies to the poorest of the poor should be the near-term game plan," she added.
The Social Weather Station (SWS) research agency gave a different snapshot of poverty based on respondents' self-rated poverty. SWS said 49% or around 12.6 million Filipino families (75.6 million) considered themselves poor in the third quarter of 2022. This is slightly higher than the June 2022 survey figures at 48% or around 12.2 million Filipino families.
SWS noted that the rise in the number of self-rated poor families was due to "slight increases" in Metro Manila (from 41% to 44%), Visayas (from 64% to 68%), and Mindanao (from 62% to 64%). Luzon island remains steady at 36%. The October 2022 survey also found that 7.7% or around 2 million self-rated poor families were "newly poor" or those who feel that they were not poor at least one to four years ago.
The UNDP's global Multidimensional Poverty Index (MPI) offers a more defined and holistic poverty rating. The global MPI is an international measure of acute multidimensional poverty covering over 100 developing countries. It complements traditional monetary poverty measures by capturing the acute deprivations in health, education, and living standards that a person faces simultaneously. Based on these estimates, in 2020 5.8% (6.5 million people) of the population in the Philippines were multidimensionally poor while an additional 7.3% (8.145 million) were classified as vulnerable to multidimensional poverty.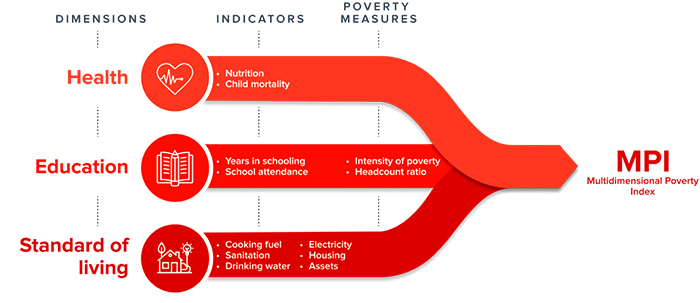 The Philippines' intensity of deprivations - or the average deprivation score among people living in multidimensional poverty - is 41.8%. The MPI value, which is the share of the population that is multidimensionally poor adjusted by the intensity of the deprivations, is 0.024. In comparison, Indonesia and Thailand have MPI values of 0.014 and 0.002, respectively.
The failure of poverty alleviation program in the country is exacerbated by an equal failure of government's financial subsidy to the poorest families. The Commission on Audit (CoA) revealed in October that about 3.82 million or 90% of the 4.26 million household-beneficiaries of the government's Pantawid Pamilyang Pilipino Program (4Ps) are still below poverty level despite being covered by the scheme for 7-13 years. Started in 2008 by the Department of Social Welfare and Development (DSWD), the 4Ps or conditional cash transfer (CCT) program is a human development measure of the national government that provides conditional cash grants to the poorest of the poor, to improve the health, nutrition, and the education of children aged 0-18. The total allocation for the 4Ps was PhP780.71 billion from 2008-2021 with a total of 4,262,439 active household-beneficiaries as of last year. CoA also said as of March 2020, around 2.6 million or 33 percent of 4Ps student-beneficiaries were still below Grade 6. The commission has urged a comprehensive review of the 4Ps by the Marcos, Jr. government. The 4Ps program has been criticized by social activists for being a mere palliative embellished as a poverty solution for lack of sea-changing institutional reforms.
Just the same, CoA's call for a review of the 4Ps is warranted considering a UN study which found that most countries with large-scale CCT programs have failed in making schooling universally accessible. Moreover, subsequent growth in the scale of these programs has over-stretched thin educational resources in many countries and has magnified the leakage of transfers to unintended beneficiaries (due to corruption in the case of the Philippines – Editor's note), substantially increasing administrative program costs. As a result, the available evidence suggests that CCTs—despite raising average educational attainment—have not produced learning gains amongst target students.
In light of the formidable economic challenges and the high expectations of the 31 million voters who voted for him, based on Comelec claims, Marcos, Jr. came up with ambitious policy measures to maintain his populist appeal. In October, Marcos, Jr, vowed to create a fiscal management tax administration reform that will increase revenue collection. Then, as concurrent agriculture secretary, he promised to come up with solutions to the rising prices and lack of supply of food. One way to address this, he said, is by increasing the production of farmers in the planting season by providing them with financial and technical assistance. "Farmers and fisherfolk will be the priority of my administration," he said. He also asked Congress to pass a law that will create the Center for Disease Control and Prevention, as well as a vaccine institute even as he promised to build more health centers and hospitals not only in Metro Manila but also in the provinces. Above all, he vowed to continue and expand the costly infrastructure program of the previous Duterte administration stressing that infrastructure is the backbone of the economy.
Then he plunged into more borrowings with a $2 billion in new loans. The finance department's Bureau of the Treasury Oct. 6, concluded the Philippine government's triple-tranche US dollar bond sale worth $2 billion (PhP117.21 billion) from foreign commercial lenders. The amount is on top of the PhP13.02-trillion debt the government has incurred as of end-August.
For several decades now, the national government has increased foreign borrowings justifying this track as designed to drive economic growth and, in recent years, ensure immediate funding for emergencies such as the Covid-19 pandemic. Foreign borrowings, government's economic managers said, are needed to sustain the country's long-term socioeconomic growth and development.
Aside from foreign borrowings, Marcos, Jr. underlined the importance of foreign investments and international trade to enable the country achieve its economic goals. The Marcos, Jr. government expects foreign capital pouring into such fields as infrastructure, energy, and agriculture as well as in nationwide digitalization.
In addition to foreign investments, expanding the country's international trade is also in the wish list as driver of economic growth. Marcos, Jr. stressed this point in late September as he invited ASEAN neighbors and China for more robust trade relations. China is the Philippines' top trading partner with total bilateral trade amounting to $38 billion in 2021, which was 25% higher than 2020.
Neoliberalism
Marcos, Jr.'s economic policy pronouncements undergird the continuation of neoliberalism as championed by all presidents since the mid-1980s. Neoliberalism is a political and economic mantra that emphasizes trade liberalization, deregulation, globalization, and a reduction in public spending. Marcos, Jr. has vowed to boost local production and reduce imports yet he has ignored calls to repeal the 2019 Rice Tariffication Act (RTA), a policy that has been criticized by agricultural stakeholders.
Enacted in 2019, the RTA was supposed to reduce the price of rice and help farmers who would be hurt by the removal of quantitative restrictions on imported rice. The economic planning secretary then dubbed the RTA as the "best model that we have to help both farmers and consumers". But in August this year, the National Movement for Food Sovereignty (NMFS) and the Alliance for Resilience, Sustainability and Empowerment (Arise) launched a campaign to amend and then finally repeal the RTA. The two groups said that three years since the law was passed, the country's domestic market "has now been flooded with imported rice." In 2021, the Philippines imported 2.98 million tons of rice – 40% or 1.2 million tons arrived during the wet (main) harvest season. Too, Marcos, Jr. had rejected a plan in September by the Sugar Regulatory Administration (SRA) to allow importation of up to 300,000 metric tons (MT) of raw and refined sugar, which was aimed at easing tight supply and bringing down prices. Exposing an inconsistency, Marcos, Jr. allowed additional sugar imports of 150,000 MT.
Neoliberal policies will explain the country's economic slowdown caused by weak domestic demand resulting from high unemployment and low incomes, backward agriculture, and shallow foreign-dominated manufacturing. These are closely correlated to neoliberal policies that promote a cheap-wage economy, agricultural liberalization and minimal rural development, trade liberalization and foreign investor-biased industry, and over-reliance on global markets. As estimated in 2016 by the economic think tank, Ibon Foundation, the manufacturing sector's contribution to the economy has been stagnant while that of agriculture has significantly shrunk to a mere 18% by end-2016 from more than 40% many decades earlier. Philippine governments, Ibon went further, have implemented neoliberal policies through the decades in the name of increasing foreign investments to purportedly generate jobs and usher development, but have only succeeded in facilitating growing wealth and profits for the richest few families and biggest corporations at the people's expense. Like many developing countries forced by multilateral, capitalist-controlled institutions to subscribe to the mantra, neoliberalism only proved to be a death-knell and led to economic devastations.
As summed up by Nobel economist Joseph E. Stiglitz, after 40 years of neoliberalism, the numbers are clear: growth has slowed, and the fruits of that growth went overwhelmingly to a very few at the top. As wages stagnated and the stock market soared, income and wealth flowed up, rather than trickling down.
With economic woes deepening and the administration hanging on neoliberal policies the prospects of the Marcos, Jr. government meeting its avowed economic targets are dim. With the nation long wallowing in poverty, unemployment, and narrowing opportunities economic instability is expected giving rise to public disillusionment as well as social and political unrest. Economic crisis is bound to inflame a political crisis.
Foreign policy
Highlighting Marcos, Jr.'s first month in office was a declaration to pursue an "independent foreign policy". This policy, however, has been unmasked as inflated after the new president last September expressed his government's commitment to the defense alliance with the US followed thereafter by bilateral defense talks on increasing the two allies' joint arms drills. The pledge by the two countries to implement the 2014 Enhanced Defense Cooperation Agreement (EDCA) under which five of the Philippines' military facilities will be opened for US forward force deployment is now being expanded by a new American request to open five more military bases. Arguably the Philippines is bound to comply with these military commitments which, as far as the US is concerned, clearly support the latter's encirclement strategy on China which the Biden government has singled out as an existential threat to American hegemony.
It can be conceded that Marcos, Jr.'s full-scale cooperation with the US was in compliance with defense treaties that had been signed by his predecessors including the acknowledged mother treaty, the 1951 Mutual Defense Pact, which guaranteed the defense by one party to the other in case of external aggression. But even this treaty stipulation is subject to the pertinent constitutional provisions of the treaty partners in such extraordinary crisis situations. The new president, just the same, should be made to account for making hasty commitments to the treaty ally without the benefit of having the treaties under a careful review by the new administration that had just been installed.
Mollifying China's possible reactions, the Marcos, Jr. government offered conciliatory statements to the Beijing government. On Oct. 13, Foreign Secretary Enrique Manalo reiterated that the South China Sea / West Philippine Sea maritime disputes are not the "sum total" of Philippine-China relations. The two countries' differences – "differences between friends" – will continue to be handled with a friendly approach, Manalo assured. Even acting defense secretary Jose Faustino openly echoed that maritime disputes with China do not fully define Philippine ties with the country
Economic gains reaped from friendly relations with China – as illustrated during the Macapagal-Arroyo (2001-2010) and Duterte (2016-2022) presidencies – continue to drive Philippine foreign policy on China. This time the two countries continue to collaborate on China-funded infrastructure projects and other areas. Between the two countries, China has consistently remained open to close cooperation with the Philippines. In October, China's ambassador to Manila Huang Xilian said his country is open to renegotiation on three railway projects that the country was initially supposed to fund. In a media forum on Oct. 25, the ambassador also said Beijing is always ready to promote maritime, fishing as well as oil and gas exploration and development in the SCS. "While we are managing differences, we are also working to promote maritime cooperation between our two countries," the ambassador said. "We do believe that our cooperation in oil and gas will help meet the need of our two countries of energy. We are ready to work with this administration. We hope that we will find some way out to handle the remaining differences so that we could begin that kind of oil and gas common development …so that it can benefit our people and our two countries as early as possible."
Broadly speaking, the Marcos, Jr. government is better off pursuing economic ties with Beijing – as more and more countries today do - based on common and mutually-beneficial interests. As gleaned from the recent 20th CPC national congress, China aims to pursue higher-level opening of its economy and enter into more joint ventures with other countries on the track of achieving common prosperity in eight years enroute to becoming a modern socialist society in 2049.
Security ties with US
Conversely, the huge potential for the Philippines unveiled by China's offer of economic opportunities is highly remote as far its security relations with the US are concerned. By locking itself to deeper security alliance with the US which is clearly targeted against China the Philippines gains nothing except being embroiled militarily and diplomatically in tensions and potential wars involving the US against China in the South China Sea, as well as against Russia in Ukraine and other locations. Tying the country's strategic security future to a closer defense alliance with the US is not only ill-advised but also dangerous. By now, the Marcos, Jr. government should realize that the world is now in extremely precarious crossroads as the US takes more aggressive and hostile policies in its desperate effort to arrest its economic slide which is critical to maintaining global hegemony. The more it loses its wars of aggression as has been happening in recent decades whether in Afghanistan, Iraq, Syria, and other Middle East and African countries the more it relies on force.
The basic lesson here is the need to redefine the Philippines' national interests which are best served by pursuing a real independent foreign policy. As the new president has broadcast, the country will be "a friend to all, enemy to none".
The Marcos, Jr. government's policy deficiencies in the economic and foreign affairs spheres may be considered tentative as of now but the longer these persist the more inimical they will become to the people's interests.
The world today is transitioning with sweeping and multidimensional changes toward multipolarity in place of unipolar hegemony. Multipolarity, the distribution of power between many powers and countries, is an offshoot of the failure of economic neoliberalism and the rejection of military superiority which, if unchecked, only leads to more armed conflicts and the destruction of hard-earned development headways. the Philippines remains oblivious to these tectonic shifts in power relations, with the government staking the country's future to bankrupt neoliberal policies and its national security locked into a deepening defense alliance with its former colonial master. The Marcos, Jr. government lacks the cognitive ability to assess national and world conditions preferring to address what it misconceives as short-term challenges with measures proven to be wrong.
Institutional and structural roots
Long portrayed as one of Asia's leading democracies, the Philippines in truth is a democracy in form and not in substance. For several decades now, the country's political and economic system is ruled by political dynasties as manifested by their dominance in the institutions of executive and legislative power since the Third Republic of mid-1940s and in the legislature for more than a century. Marcos, Jr. represents the restoration of political power by the discredited Marcoses headed by Ferdinand E. Marcos who ruled as kleptocrat and dictator from 1966-1986. Marcos, Jr.'s vice president, Inday Sarah Duterte, is the daughter of the former authoritarian president, Rodrigo R. Duterte (2016-2022, and former city mayor of Davao. Congress, likewise, has also been monopolized by political dynasties since 1907 until today with at least 60% of members of the post-May 2022 election 19th Congress under the control of political families.
More pronounced in the system of political dynasties are groups of family members in the 19th Congress. In the Senate are two Villars (Sen. Cynthia Villar and son Sen. Mark whose sister Camille has retained her House seat); two Cayetanos (Alan Peter and sister Pia, with Alan Peter's wife returning as city mayor of Taguig); and two estranged half-brothers (Jinggoy and JV Ejercito). President Marcos, Jr. has sister Imee in the Senate and son Sandro, congressman of their home province Ilocos Norte. Long-time Sen. Bong Revilla has wife Lani Mercado back in the House with sons Jolo and Bryan sitting as nominees of the Party-list Agimat. Newly elected broadcaster-senator, Raffy Tulfo, has wife Jocelyn as representative of their family party-list ACT-CIS, with their son, Ralph, representing Quezon City's second district. Still at the House, the husband-and-wife tandem is led by no less than Speaker Leyte First District Rep. Ferdinand Martin Romualdez, cousin of Marcos, Jr., whose congresswoman-wife Yedda Marie is the first nominee of Tingog party-list. These are just a few of several family members accentuating the 19th Congress today.
The rule of the political elite takes root in the class structure of the Philippine society with the minority of wealthy and powerful politicians on top while the rest of the population of peasants, workers, fishers, informal settlers, and other sectors live in the margins with limited access to state resources and services. It is upon them that the electoral exercise held every three years with results mostly favoring dynastic candidates is dangled as an illusion that democracy lives and that it guarantees a better quality of life.
Beefing up the elite-dominated class structure is the weak system of political parties. Elections in the country provide unfair political competition as they grossly work against non-dynastic candidates thus leaving the exercise as a battle of personalities or family dynasties with vested political and economic interests. Current elections serve to entrench elite power and ensure the resilience of political dynasties. The mainstream political parties serve mainly as seasonal election machinery of the elite which makes voting an exercise decided by name recall or popularity, as well as wealth and vote-buying. Political parties that have clear governance platforms are few and far between and are found mainly in the progressive organizations in the Party-list system.
Because of these institutional and structural fault lines comprehensive economic and political reforms remain unattainable. Unless these systemic problems are effectively addressed, it is unlikely that the six-year presidential administration of Marcos, Jr. could usher in and sustain meaningful reforms. #