Letter to the Editor
The other side of Shinzo Abe: historical revisionism, denial of war crimes
Roland Simbulan
Philippine Daily Inquirer / July 26, 2022
Posted by CenPEG / 21 August 2022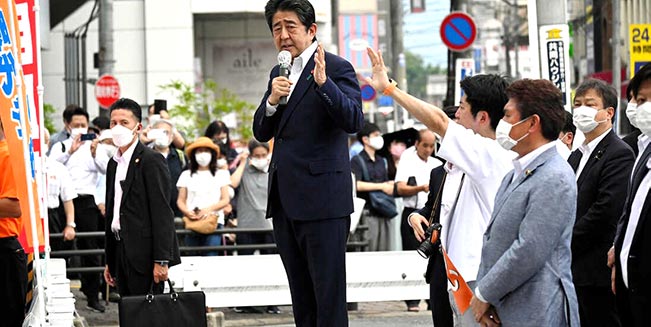 Abe seconds before his assassination. (Photo: NPR)
When Japan's prime minister Shinzo Abe was recently assassinated, world leaders were quick to laud him as a great statesman, echoing Japanese conservative and right-wing parties. Indeed, Abe tried to revive Japanese militarism and "to make Japan great again," starting with "Abenomics" to revitalize the Japanese economy. But in doing so, Abe tried to distort his nation's imperialist history by denying the atrocities committed by militarists against other countries. Thus, he is also remembered for his historical denialism, in his controversial actions, policies, writing, and speeches that refused to acknowledge Japanese atrocities during World War II.
Since the end of World War II, a defeated Japan made amends to its former occupied nations in Asia through reparations, and various Japanese administrations have officially apologized for the horrific atrocities not just against captured soldiers as in the Bataan Death March, but especially against the millions of civilians in Japanese-occupied territories in China and Southeast Asia. Who can forget the 1937 Nanjing Massacre as documented by Iris Chang's "Rape of Nanking," or Japan's bloody "Rampage in Manila,'' as described by American historian James Scott. In both instances, hundreds of thousands of Chinese residents in Nanjing and Manila were massacred mercilessly including infants, while tens of thousands of women were raped. Despite his own party's official apology to all World War II victims in its 1993 Kono Statement, Abe as prime minister tried to whitewash these atrocities which he labeled as "fabrications." Instead, he attempted to portray an era of a glorious imperial past under the wartime emperor of Japan. To us Filipinos, this already sounds all too familiar.
First, he made an effort to pressure textbook publishers in Japan to remove passages about Japanese army atrocities in China, Korea, and other parts of Asia during World War II. As soon as he became a politician, he tried to exonerate the name of his maternal grandfather, Nobusuke Kishi, who was imprisoned as a Class-A war criminal by American forces for three years, but who would later even become a post-war prime minister. Rewriting Japanese history with a legacy of a glorious past was a means for him to allow Japan to remilitarize and take offensive military action abroad. His highly publicized visit to the Yasukuni Shrine cemetery for war criminals was an attempt to exonerate them and cleanse Japanese historical atrocities, an act to deny that they ever happened. Thus, he tried but failed to revise Article 9 of the Japanese constitution that would have remilitarized Japan, a move strongly resisted by the Japanese people.
Second, Abe's denial of Japan's World War II record included his refusal to acknowledge the existence of sex slavery—the "comfort women" system by the Japanese army in occupied countries—despite archival evidence by Japanese, American, and Asian scholars. As a result, the Japanese government even put pressure on the Philippines so that a comfort woman statue put up in their memory was removed in Manila under the guise of a public works project.
Third, wanting to taunt China, Abe posed in a vintage fighter plane with numbers "731," the notorious secret unit of the Japanese imperial army in Manchuria that conducted lethal chemical and biological warfare experiments on mostly Chinese and Russian prisoners. The 731 ringleaders were later pardoned and absorbed in the US' own postwar chemical and biological weapons program.
Japan's wartime actions and atrocities are historical facts and justly demand atonement and historical accountability. They cannot be denied or glamorized. They cannot be forgotten in the name of anti-communism as when Japanese war criminals were pardoned after show trials by the US. This issue still divides Japan, but it also affects its foreign relations as it antagonizes its neighbors who were victims of Japan's militaristic past. Abe is credited for his Indo-Pacific strategy with the United States, Australia, and India, which committed Japan to a more aggressive role in the united front against China. The irony of it all is that, even though he tried to remilitarize Japanese foreign policy, his career as a modern leader of Japan was ended by an ex-member of Japan's Maritime Self-Defense Force.
_________
Roland Simbulan, vice chair, Center for People Empowerment in Governance
Read more: https://opinion.inquirer.net/155428/the-other-side-of-shinzo-abe-historical-revisionism-denial-of-war-crimes#ixzz7cVM9TD27
Follow us: @inquirerdotnet on Twitter | inquirerdotnet on Facebook