AFGHANISTAN
[OPINION]
War-torn Afghanistan's future in the hands of the Taliban
SEP 1, 2021 1:21 PM PHT Rappler
BOBBY TUAZON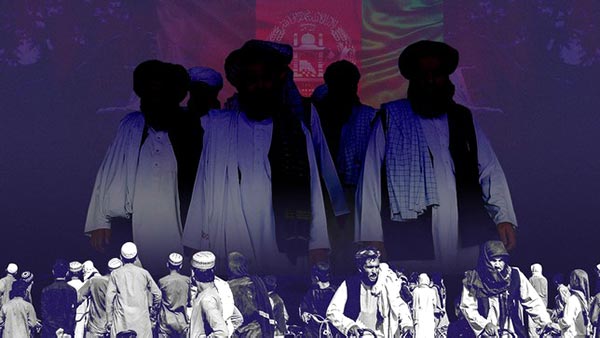 'Economic and political stability will dry up the soil of international terrorism in the region'
Amid the chaotic pullout of US and NATO forces from Afghanistan, the victorious Taliban are holding marathon talks with major political forces, ethnic leaders, as well as former key officials toward forming a new government. The new government – the Islamic Emirate of Afghanistan – which Taliban leaders call "inclusive," is a major step for kickstarting the country's economic reconstruction even as it awaits diplomatic recognition by current major players in the Afghanistan stage like China, Russia, Pakistan, Iran, and other Asian countries.
But economic reconstruction may be a tough grind for the Taliban. This early, the US and its NATO allies are denying the Taliban's access to funds and other resources which they need desperately to start rebuilding the Afghan economy. On August 17, the Biden government froze nearly $9.5 billion in assets belonging to the Afghan central bank. The bulk of the assets is held by the New York Federal Reserve and US-based financial institutions. On the same day, the International Monetary Fund (IMF) also halted Afghanistan's access to $370 million in lender's resources. This was followed by an announcement from the World Bank to suspend $12.9 billion-worth of development projects under the Afghanistan Reconstruction Trust Fund.
International transfer companies Western Union and MoneyGram have also suspended their services in Afghanistan – effectively cutting off the supply of family money from foreign remittances. And with almost all banks closed there is no hard currency for civilians to access. In another move, the UK, whose troops supported the US invasion and occupation of Afghanistan in 2001 following the 9/11 terror bombings, has also threatened economic sanctions on the Taliban including denial of aid and access to the international financial system.
With all the strong-arm tactics being used by the US and its western allies, one raises the question whether the powerful forces who were humiliatingly vanquished in the 20-year war now want to punish and sow vengeance on the battle-scarred but victorious Taliban. For sure Afghanistan, a country in central Asia with a 40-million population, is on the brink of a humanitarian crisis arising from the war, food insecurity, and the pandemic, among other problems.
The UN and Brown University report that the war killed 174,000 people in Afghanistan: 51,613 civilians, 69,000 military and police, and at least 51,000 Taliban fighters. In addition, 2.6 million Afghan refugees have fled mostly to Pakistan and Iran with another four million internally displaced within the country. Twenty years of bombardments, air strikes, and ground operations often with great collateral damage have left the Afghan countryside in ruins and the economy crippled. About two-thirds of the population remain poor today, according to the Asian Development Bank. As a whole, the war only unleashed destruction and a huge loss of human lives in Afghanistan, contrary to the pledge made 20 years ago by former US President George W. Bush to weed out terrorism and build democracy.
Despite the bleak scenario, it's not an end game for Afghanistan. The withdrawal of foreign troops has left a geopolitical vacuum in Central and South Asia, resulting in a tectonic shift of the balance of power in the region. It has opened a new chapter where China and Russia as well as Pakistan, Iran, India, and Turkey are now the major stakeholders who have pledged to support economic reconstruction and development. China, for one, has every reason to fill the void: extremists who fomented separatism and terrorism in China's Xinjiang region 10 years ago have cells still holed up in Afghanistan. In current talks with Taliban leaders, Beijing authorities have asked the upcoming government to leave no stones unturned in denying a haven for terrorist groups like the East Turkestan Islamic Movement out to incite terror in the region. Security and stability is a major precondition for Chinese assistance and investments in the cash-strapped Taliban government.
China, along with other neighboring countries, are making commitments to explore and develop Afghanistan's rich troves of minerals valued at $3 trillion, including uranium and rare earth as well as a trillion barrels of oil reserves and natural gas. The Taliban have welcomed China as a "friendly country" that is expected to invest in massive infrastructure projects to boost industrialization there.
Indeed, Afghanistan's future will have to count much on international cooperation. Ensuring the country's economic development will usher in the political stability that will once and for all put an end to centuries of conflict, in which Afghanistan earned the moniker the "graveyard of empires" and a country of lost opportunities. In turn, economic and political stability will dry up the soil of international terrorism in the region.
Economic reconstruction, however, can be facilitated only by how far the Taliban, led by Mawlawi Haibatullah Akhundzada, a senior religious cleric, and Mullah Abdul Ghani Baradar who heads the group's political committee, are able to unify more than 14 ethnolinguistic groups among them the Pashtun, Tajik, Hazara, Uzbek, Kyrgyz, and Turkmen. Unification is the precondition for freeing the country from its divisive tribal past toward embracing a 21st century government which promises to be integrative and participative.
Taliban leaders stress that they are not jihadists but a nationalist movement.
The Taliban's irregular but otherwise professional army has about 80,000 fighters with reinforcements coming from Pakistan. Many recruits are young local farmers largely accepted by the people – as evidenced by the speed of their takeover in many instances without a shot fired. They fight not for money but to drive out the US and its coalition partners and reestablish the Islamic Emirate of Afghanistan, with a Sharia-guided society. Their world view is a narrative of morality, justice, religion, and freedom from foreign domination. Foreign invaders are a threat to their families and values.
Now talks are underway between, on one hand, the Taliban leaders and, on the other, former Afghan officials and other political forces to bring about an "inclusive government" that also protects the rights of women. The bigger challenge is learning the ropes of governance and economic management. Here the bright spot is that, as some analysts and experts say, the Taliban leadership – unlike 20 years ago – has shown some openness and are media-savvy in articulating their vision for the country.
In short, the Taliban takeover in Afghanistan is a reality that the world should live with. The whole of Afghanistan should be given the chance to live in peace and to decide their own destiny without foreign intervention. – Rappler.com
Bobby M. Tuazon is a political analyst and is presently the Director for Policy Studies of the think tank Center for People Empowerment in Governance (CenPEG). He has edited and co-authored 15 books dealing on global affairs, foreign policy, governance, and electoral reform. He teaches at the University of the Philippines (UP) in Manila.