Opinion
18:46, 22-Oct-2021 CGTN

The shadow of Bannon in Biden's anti-China strategy
Bobby M. Tuazon
Posted by CenPEG, 26 Oct. 2021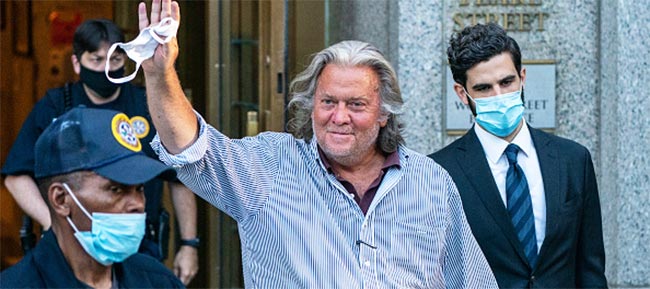 Steve Bannon, former U.S. President Donald Trump's political strategist, center, departs from federal court in New York, U.S., August 20, 2020. /Getty
Editor's note: Bobby M. Tuazon is the director for policy studies of a Philippine think tank, Center for People Empowerment in Governance and a professor at the University of the Philippines. He is also an editor and co-author of 15 books. The article reflects the author's opinions and not necessarily those of CGTN.
The U.S. House of Representatives' recent vote to hold Steve Bannon, former President Donald Trump's chief strategist and adviser, has reopened a can of worms regarding his key role in anti-China policies that have persisted under Joe Biden.
Voting 229 to 202, the House held Bannon in contempt for refusing to appear in Congress amid a probe into his role in the January 6 bloody siege of the Capitol building by thousands of Trump supporters. Refusing to concede his defeat to Biden in the November 2020 elections for alleged fraud, Trump rallied his supporters to stop Congress from certifying Biden as the winner of the presidential poll. Bannon, who remained loyal to Trump despite being fired in August 2017 as chief White House strategist, was reported to have claimed, on the day before the Capitol riot, that "all hell is going to break loose tomorrow," suggesting that he was privy into the planned siege.
The assault left four people and one Capitol police officer dead. Over 100 police officers were injured with four reportedly taking their own lives.
Proclaiming himself as "ultra hawk," Bannon served as a key attack dog of Trump's anti-China strategy. In the short term when he acted as chief strategist, Bannon hatched anti-China projects including an economic squeeze on the Chinese government and a theory blaming China for creating the coronavirus, attempting to overthrow the Communist Party of China (CPC).
As a result, Trump initiated the trade war aimed at imposing heavy restrictions on Chinese exports to the U.S. while blaming China for America's economic woes and job losses among industrial workers. Bannon believed, however, that killing Huawei was more important than a trade deal with China. Huawei "is a massive national security issue to the West," Bannon said. "The executive order [on the Chinese IT giant] is ten times more important than walking away from the trade deal. It [Huawei] is a major national security threat, not just to the U.S. but to the rest of the world. We are going to shut it down."
Bannon also partnered with a Chinese billionaire fugitive, named Guo Wengui, in several projects to undermine and overthrow the CPC. Apparently not satisfied with the trade war, Bannon batted for stopping China's access to capital and technology. He also called for stepping up attacks on China's alleged atrocities in its Hong Kong Special Administrative Region and Xinjiang Uygur Autonomous Region while undercutting Beijing's reunification bid on the Taiwan region and its sovereign claims on the South China Sea.
In September 2020, Trump picked National Security Adviser Robert O'Brien, FBI Director Christopher Wray, Attorney General William Barr and Secretary of State Mike Pompeo – dubbed later as the "four horsemen of the apocalypse" – for the plot to bring down the CPC. This was followed by other concrete actions to decouple bilateral relations by closing the Chinese Consulate General in Houston, sending Health Secretary Alex Azar to Taiwan, and attempting to ban Chinese social media giants TikTok and WeChat in the U.S.
Aside from these, Bannon became a fierce promoter of the idea that the coronavirus was a Chinese attack on the U.S. Bannon had actually planned to transfer responsibility for Trump's failures in his pandemic response to China. In May 2020, Bannon told the media "They [China] are totally, 100 percent culpable for every death, for all the agony, for all the economic carnage."
The transfer of power from Trump to Biden did not dissipate U.S. intense attacks on China. No change has been shown to veer away from Trump's and Bannon's ferocious attacks on China. Instead the Biden administration has appeared to be more insidious and duplicitous against the other side. Paying lip service to taking the world's second largest economy as a peer competitor, the Biden administration is escalating a hostile policy on China under what is evolving as a "new cold war." Such a hostile policy has been discernible, for example, in recent China-U.S. bilateral talks where Biden's top diplomats used bullying tactics to assert U.S. superiority drawing, however, followed by a rational but tougher rebuke from their Chinese counterparts.
More specifically, Biden has embarked on an ambitious "Pivot to Indo-Pacific" strategy supposedly to check China's growing military presence in the region. On this pretext, Biden is strengthening an alliance system to rein defense partners into the path of confrontation with China. The U.S. played a key role in forming the new triple alliance of Australia, the UK and the U.S. (AUKUS) to bolster Australia's nuclear-powered naval presence in the South China Sea. The U.S. has also reinvigorated the Quadrilateral Security Dialogue (QUAD) of the U.S., Australia, Japan and India.
In a bipartisan consensus, the U.S. Congress in April adopted the Strategic Competition Act of 2021 aimed at accelerating America's comprehensive response to the "China challenge" – a multi-dimensional plan involving political, diplomatic, military, technological and cultural activities. With a yearly fund of $300 million, the act also envisions support for the media along allied countries including training for China bashers working on many fronts including Hong Kong, Xinjiang and Taiwan.
Arguably, Biden's new contain-China strategy has an army of hawks inspired, perhaps, by the likes of Bannon.
https://news.cgtn.com/news/2021-10-22/The-shadow-of-Bannon-in-Biden-s-anti-China-strategy-14zhJl8JemY/index.html