Nancy Pelosi's history of belligerency on Beijing
Bobby M. Tuazon
Posted by CenPEG / 03 August 2022
(Editor's Note: This analysis was written hours before U.S. House Speaker Nancy Pelosi's airplane finally touched down at the Taipei airport.)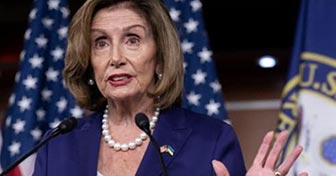 If it happens, U.S. House Speaker Nancy Pelosi's preconceived visit as head of a congressional delegation to Taipei is the latest stroke in America's camouflaged strategy of supporting Taiwan's independence. Like a muffled sound, U.S. officials always claim they continue to uphold the One-China principle, i.e., Taiwan is an island province of China. But they say one thing and do another – action speaks louder than words, so to speak.
The U.S. has a long-standing strategy to bring down and dismember China by interfering in its internal affairs and supporting covertly and openly the separation of Tibet, Hong Kong, Xinjiang, and until now Taiwan from the motherland. China is mentioned in Trump's 2017 National Security Strategy as a "global threat" and a strategic competitor around the time that Beijing was slapped with trade and technology sanctions with similar actions against its diplomatic missions, students, and cultural institutions in the U.S.
Under the Biden administration, China is tagged as "the most serious threat to international order" using this to build up U.S. encirclement of the mainland with increased "Freedom of Navigation Operations" (FONOPs) that challenge China's maritime claims and structures in the South China Sea.
As tensions rise in the SCS, the danger of confrontation between the two major countries lurks in the Taiwan Straits. For one, the Biden administration has approved arms sales increases to Taiwan by several millions of dollars on top of billions worth of weapons sold since the enactment of the Taiwan Relations Act of 1979 immediately after the opening of diplomatic relations between China and the U.S. The Act requires the U.S. government to provide "defense" weapons to Taiwan.
Despite Chinese protests, the U.S. not only continues to send weapons to Taiwan but also conducts regular military operations across the Taiwan Straits over which Beijing has sovereignty claims. Pelosi's preconceived trip to Taiwan and possible meeting with its leader, Tsai Ing-wen, during her Asia Pacific tour is the latest in more than 20 U.S. officials flying to the island province since 2018.
Pelosi, a Democrat, has a long history of opposing Beijing which has included unfurling a banner at Tianmanen and attacking the Chinese government in 1991 and, recently, a call for a diplomatic boycott of the 2022 Beijing winter Olympics over alleged human rights violations against the Uygur in Xinjiang province.
With Pelosi as House speaker, the U.S. Congress has played a key role in hardening U.S. foreign policy on China. Taiwan has a well-funded lobbying group in the U.S. to pull strings at the Congress and White House for tighter bilateral ties with Taipei and an obstinate policy against China. On top of these, last July the Congress approved the $280 billion-funded Chips and Science Act which supports U.S. competition with China in high technology industries and military forces. The Senate also approved the Inflation Reduction Act which favors electric autos made in the U.S. rather than China, and favors battery and other components coming from the United States and its allies, excluding China. The bill also seeks to raise the U.S. profile on climate change deliberations, and put China, the world leader in greenhouse gas emissions, on the defensive.
Pelosi's delegation in her Asia Pacific tour includes heads of foreign affairs, weapons and defense committees – the same committees that have close connections with the U.S. arms industries. The U.S. military industrial complex is a powerful consortium that exerts strong influence in shaping U.S. foreign policy particularly on China and Russia.
It is these powerful interests including those sitting in the Biden cabinet who support close relations with Taiwan – including its independence - in blatant violation of the One-China principle, a policy that was annexed to Chinese-U.S. diplomatic relations and is upheld likewise by the United Nations and 183 countries that maintain diplomatic ties with Beijing.
The UN and an overwhelming majority of its member-countries support the peaceful reunification of China, a process that hopefully will finally put a historical end to China's "century of humiliation." This is the only course that will bring peace and stability over the Taiwan Straits and the rest of the East Asian region.
Any other recourse especially that chosen by the U.S. and Taiwan's self-proclaimed authorities will only bring war closer to reality.