CenPEG
November 21, 2013
Relief drive for Yolanda victims launched by CenPEG, Mission Tabang-SLB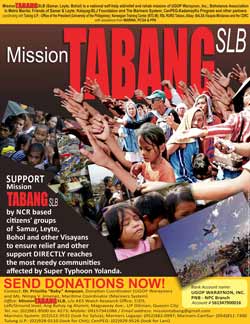 The Center for People Empowerment in Governance (CenPEG)/KadamayKo community desk, in partnership with Mission TABANG-SLB, Tulong UP of the UP president's office, the maritime community led by the Mariners System in Bicol and Manila, the Norwegian Training Center-Manila, the RSL Roro in Tabaco City and other groups will send two major relief missions to Supertyphoon Yolanda-devastated provinces simultaneously on Nov. 24.
The first civilian-led volunteer mission for delivering truckloads of medicines, food, clothing, and other items will travel by land to Matnog, Sorsogon from where the relief goods will be shipped to Samar via a RORO super ferry on Nov. 24. On the same day, a ship chartered by the Norwegian Training Center in cooperation with the Norwegian Embassy will leave Manila port harbor for Tacloban, Leyte.
Mission Tabang- SLB (Samar, Leyte, Bohol), a national self-help aid and relief mission of the UGOP Waraynon, Inc., Boholanos Association in Metro Manila, Friends of Samar and Leyte, Kalayag- BLJ Foundation, and the Bicol-Manila based Mariners System, started its relief drive last week to deliver food, water supply, clothing and medical volunteers. It coordinates its aid program with other institutions and offices like the Tulong UP–Office of the President, various disaster relief groups like the BALSA Visayas-Mindanao and the CDRC. It also provides linkages with local government units (LGUs) in distress like in Samar and Leyte.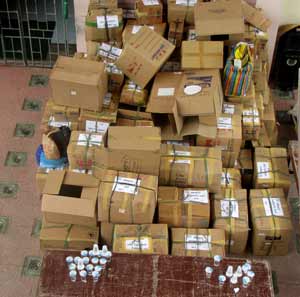 Joining the Msn TABANG journey are donations from the Office of Ms. Tingting Cojuangco, the Maynilad that will provide water tanks for the ravaged city of Tacloban and the LGUs of Makati, Legaspi in Albay,  Naga and Canaman in Camarines Sur, Bicol. Also assisting the mission are the government MARINA, Philippine Ports Authority, and Philippine Coast Guard Auxiliary in Bicol.
Mission Tabang-SLB is holding a temporary office at the AES Watch research office, UP-CIDS, Ang Bahay ng Alumni, UP Diliman campus, in cooperation with the Office of the UP president.  Mission Tabang SLB is being jointly coordinated by UGOP Waraynon,  CenPEG Kadamayko desk and the Mariners System with Nimpa V. Jimenez and Dr. Precilla Ampuan as group coordinators.  Over-all Mission Tabang Relief Operations to Samar is led by Commodore Dante Jimenez of the VACC, a former lieutenant of the Philippine Navy and a maritime educator.
As relief operations continue to expand, Mission Tabang SLB will also be bringing in skilled/expert volunteers in the medicinal field to help start with the rehabilitation process of the affected communities.
More donated relief goods have been pledged by the Red Cross, Veritas, SOS Children and others. A medical mission composed of 50-100 volunteer doctors from the Philippine Medical Association is being arranged as of press time.
Kapitan Felix Oca, the Norwegian merchant navy training vessel, was one of the first to ship tons of relief items to Leyte after Yolanda struck on Nov. 8.
At least 2,145,359 familieswere reportedly displaced by Super Typhoon Yolanda which also left nearly 4,000 dead.
Donations can be sent to: Mission Tabang-SLB (c/o CIDS, left basement, Ang Bahay ng Alumni, UP Diliman, Tel. 9818500 local 4274/4273); Tulong UP (c/o Ms. Chit, Tel. 9280110); CenPEG (Tel. 9299526, c/o Lani); Mariners Legazpi (052-4820997); and Mariners CamSur (Tel. 054-8117300). Cash donations for Yolanda Victims can be sent to UGOP Waraynon, Inc., PNB-NPC Branch, Bank Account No. 561347900016.
For details of this information, please contact Ms. Yuri Ramirez
CenPEG TelFax +9299526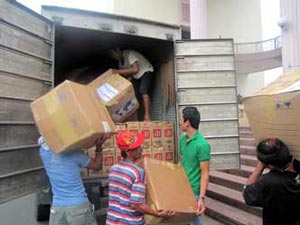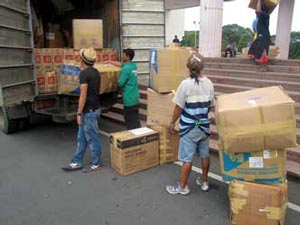 ---
2 relief operations of Mission Tabang-SLB in full swing
CenPEG.org
Nov. 26, 2013
PIER 15, South Harbor, Manila, Nov. 24 – At around 9:15 a.m., 100 cadets and volunteers from the Norwegian Training Center-Manila (NTC-M) formed a human relay to load tons of relief goods bound for Tacloban on behalf of Mission Tabang SLB (Samar-Bohol-Leyte).
---