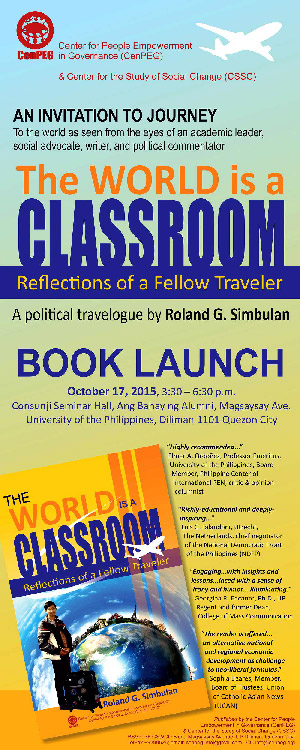 CenPEG releases travelogue
CenPEG News
Nov. 16, 2015

A travelogue launched on Oct. 17, 2015 was CenPEG's 16th book release in 11 years since it was founded. But it was a different kind of travelogue. Roland G. Simbulan's The World is a Classroom: Reflections of a Fellow Traveler is an anthology of political reflections on countries that he has visited in his 34 years of teaching in the University of the Philippines.
Published by CenPEG and the Center for the Study of Social Change (CSSC), The World is a Classroom: Reflections of a Fellow Traveler is a compilation of Simbulan's essays on the history, experiences, and political economy of some countries that he visited. His observations and insights are, in a sense, a comparative study of the development models and strategies of several countries of the world.

The World is a Classroom serves as a lens into how these countries have struggled to attain their independence, and their efforts to make their environment livable for their people in terms of basic social services and other programs. His narratives provide lessons that can be used for our own country, the Philippines. Some of the countries that he covers for this political travelogue – as invited speaker, lecturer, writer, and observer - include: the United States, Libya, Socialist Republic of Vietnam, the Democratic People's Republic of Korea, Australia, Japan, Russia, Spain, the People's Republic of China, France, Cuba, the Bolivarian Republic of Venezuela, and Singapore, among others. The author shows deep respect for and appreciation for the experiences and achievements, history and culture of other peoples, and helps promote friendship and solidarity with them.
The book was launched at the Consunji Seminar Hall, 2nd Floor, Ang Bahay ng Alumni, Magsaysay Avenue, University of the Philippines, Diliman, Quezon City in cooperation of the Office of UP President Alfredo Pascual, who also gave his message during the event. The book was initially reviewed by UP Professor Emeritus Elmer Ordonez, UP Regent Georgina Encanto, and Sophia Lizares, Board member of Ucan News. (Please see the book reviews.)
Luis Jalandoni, chief peace negotiator of the Utrecht-based National Democratic Front of the Philippines (NDFP) wrote the Preface. It was read by National Artist and former CenPEG Chair Bienvenido Lumbera.
The book launch had CenPEG Executive Director Evita L. Jimenez and formerly DZUP's Edge. The book's illustrations were done by Jeanet Herbosana Simbulan. Cover design and book layout by CenPEG's Fidel dela Torre. During the program, the book was introduced by Board Chair, Temario C. Rivera.
Simbulan is a full professor of the University of the Philippines and the current Vice Chairperson of CenPEG Board.
(The book is available at the La Solidaridad Bookshop in Padre Faura, Manila, Popular Bookstore and IBON bookshop at Timog, Quezon City.)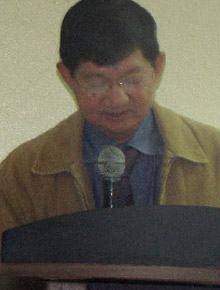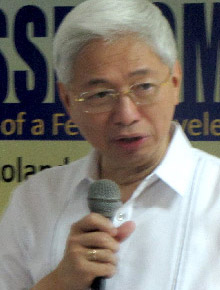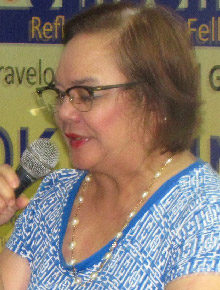 ---