Conference calls for people-centered policy actions
for Asian development and peace
CenPEG.org
February 4, 2016
Speakers and key participants in the recently-held Conference on Asian Development and Peace agree that despite the diversity and policy differences among Asian countries, what binds them in the quest for development and peace will spell the difference.
In his presentation paper, Prof. Bobby M. Tuazon, Director for Policy Studies of CenPEG, said that the 21st Century has been described as the "Asian Century" and that peoples in the region – which used to be the richest in the world in terms of culture and trade 300 years ago before it was inundated by Western and Japanese colonialism and domination – can realize that dream if they work for people-centered development and peace.
The one-day conference, held on January 29, 2016 at the Balay Kalinaw, University of the Philippines, Diliman, Quezon City, was organized by the Asia for Development and Peace Today (ADePT), a formation of NGOs and people's organizations initiated by Fellows of CenPEG led by Executive Director Evita L. Jimenez.
The conference, which bannered the theme, "What binds is greater than what divides us," was also held in partnership with the Office of the UP President, the UP Asian Center, and the Integrated Development Studies Institute (IDSI).
Keynote address
In his keynote address, UP President Alfredo E. Pascual noted that the conference on Asian development and peace is timely because of "the volatile situation in parts of Asia."
Before his talk, Pascual was introduced by former Asian Center Dean, Prof. Eduardo Gonzalez. Gonzalez, a former president of the Development Academy of the Philippines (DAP) is also a CenPEG Fellow.

"Development in the economic aspect is a goal that all country leaders aspire. All countries pursue policies to stimulate the national economy and provide the economic needs of its people. There is a consensus, to a certain extent, that development is an important goal to pursue whether it is planned or market- driven. The quest for development is, in fact, what binds us as a community of nations," Pascual, a former ADB executive and first spokesperson of the Automated Election System Watch (AES Watch), said.

The UP president also said that the narrative of peace, cooperation, and development in an interdependent world "is becoming a complex issue, especially in East and South East Asia." Complexities are shown in the flexing of muscles of great powers that pose threats to security, such as China's assertiveness in the maritime and territorial disputes in the South China, which includes the West Philippine Sea, and the US rebalance strategy to Asia aimed at increasing the superpower's military presence in the region, he said.
Pascual cautioned that polarization is threatening the order that allowed states to coexist for decades. "The next decades in Asia Pacific will see security challenges" which can affect inter-state economic relations in the region," he added. 
Development 'for whom?'
A major policy objective of Asian countries "should be how to avoid catastrophe and how to understand a system that builds confidence and understanding to differing cultures," he said. "Yet, development and peace in the region extends deeper than having no war and having a good economy. It is also important that the discourse on development and peace does not forget the marginalized. We always need to ask development 'for whom?'"
"Development and peace is not just about states being developed and peaceful. It is primarily about ordinary people having the freedom to exercise choice from a wide array of opportunities, free from structural violence like discrimination, racism, slavery, and all kinds of exploitation," Pascual said.
Talking about this earlier in his welcome remarks, Prof. Joefe Santarita, Dean of UP Asian Center, said that "despite the diversities, Asians also share commonalities, which should be capitalized properly to come up with people-centered policy actions to realize development."
"What unites us is greater than what divides us. Despite the issues of injustice, racism, xenophobia, and discrimination based on ideas and religion, our differences are important to the collective Asian heritage that must be celebrated," the Asian Center Dean also said.
Economic diplomacy
In "Chinese Perspective on Development and Peace in Asia: Implications on the Philippines,"
Ericson Baculinao, Beijing bureau chief of US National Broadcasting Corp. (NBC) News, ruminated on how the Philippines should adopt a new economic diplomacy with China toward conflict resolution.
Baculinao, a UP alumnus who has lived in China for 40 years, said that the Philippine case against China pending at the international arbitration court in The Hague, should be given its due course. But the arbitration case should not be the sole approach to settling disputes with China and the Philippine government should use other mechanisms like the proverbial, "putting all eggs in one basket."
One such mechanism, he said, is a renewed economic diplomacy with China which is currently launching major economic initiatives – such as the One Belt and One Road Initiative and the new Asian Infrastructure Investment Bank (AIIB) - together with partner countries that include US allies, aimed at developing an overarching economic interconnectivity in the world. As the Chinese economy expands globally, it becomes more vulnerable and, hence, needs the cooperation of countries including the Philippines. China needs a regional and global peaceful environment for its own economy but it will rely on peaceful economic cooperation with as many countries, Baculinao said.
China's ambitious economic plans, he added, are Beijing's "non-military" approach to development and peace. If China succeeds in this effort, it will even make America's rebalance to Asia military paradigm – which many observers agree are aimed at encircling China - "irrelevant," Baculinao said.
Other conference speakers
Other conference speakers were: Prof. Roland G. Simbulan, CenPEG Board vice chair, who talked on "The US Rebalance in Asia & Its Potential Threats to Asian Peace and Security"; George T. Siy of IDSI, "Toward Inclusive Economic Growth in Asia & the Philippine Experience"; Prof. Masaki "Gus" Yokoyama, Faculty of Global & Inter-Cultural Studies, Ferris University, Yokohama, Japan, "Japanese Perspectives on Development Peace in Asia: ODA & People's Responses;" former Gabriela Rep. and current chair of the International Women's Alliance (IWA), Liza Maza, "Asian Women's Role on Peace on the Era of US Rebalance and Rising Major Powers"; Prof. Carol I. Sobritchea of Asian Center, "The Politics of Critical Collaboration in Protecting the Human Rights of Migrant Workers"; and UP Institute of Islamic Studies professor, Julkipli Wadi, "Bangsamoro and its Security Implications in South East Asia."
Moderators for the morning and after sessions were Prof. Temario C. Rivera, also CenPEG Board chair, and CenPEG Executive Director Evita L. Jimenez, who is also ADePT convener and coordinator. The welcome proceedings had Prof. Carl Marc Ramota as moderator. Secretariat support came from student volunteers of UP Manila.
The UP Singing Ambassadors, with founder and conductor Prof. Ed Manguiat, gave the cultural number.
The conference was attended by close to 200 participants from various academic communities, NGOs, think tanks, government agencies, as well as observers from foreign diplomatic missions and the media.
Conference goal
The confluence of the maritime disputes attended by escalating tensions, the establishment of the ASEAN Community in 2015, the renewed engagement of Japan in Southeast Asia as the US moved forward its rebalance in Asia strategy, and other major regional events were compelling reasons for the Asian conference where these issues will be raised not only in the discourse of Philippine issues but also in regional platforms.
Of great importance, in addition, is to pose the aforementioned challenge and to seek answers not just from the policy views of governments concerned but from communities of peoples whose stake in the regional issues has not been well defined and their voices not fully articulated. Central to the people's stakes and voices are issues on development and peace – development that requires peace, and peace based on human growth and development.
The Conference thus aimed to present people's perspectives – particularly socio-cultural, women, migration, maritime, business, and others – and come up with policy solutions and actions to bring the discourse of "oneness" unto the current platform of "regional integration and community."
Papers and summary of the conference proceedings will be published in a policy briefing monograph. The ADePT website (www.adeptoday.org) will also be sustained for the posting of conference materials as well as announcements on future publications and activities. CenPEG News
---
Click here to download the Conference Paper Abstracts & Speakers' Profiles
---
PHOTO GALLERY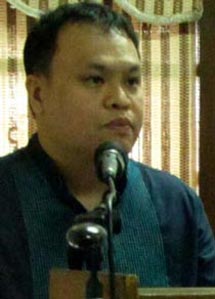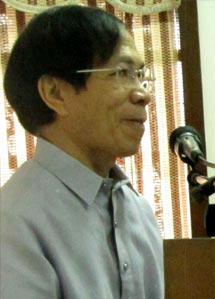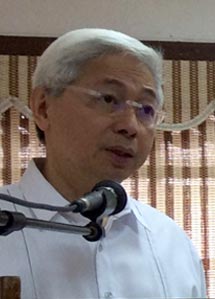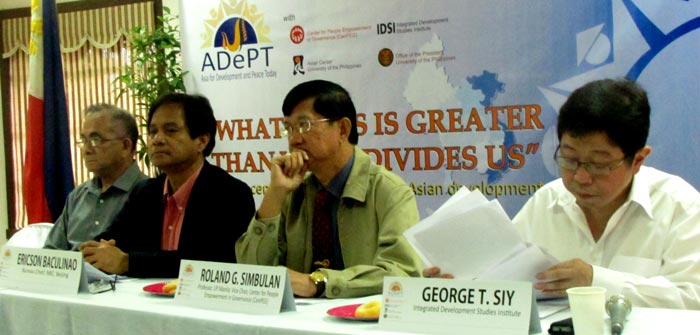 Morning session panel (l-r): CenPEG policy director Bobby M. Tuazon, NBC Beijing bureau chief Eric Baculinao, Prof. Roland G. Simbulan, and IDSI's George T. Siy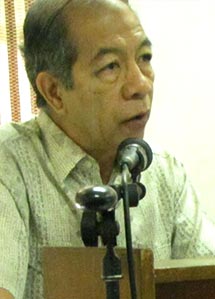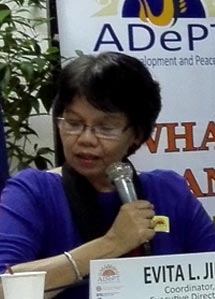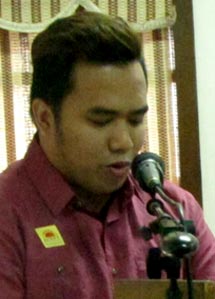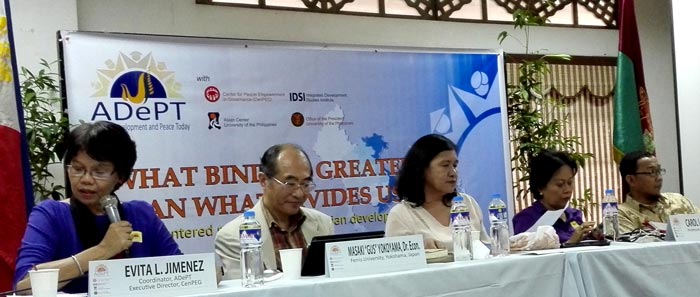 Afternoon panel (l-r): Moderator Evi Jimenez, Prof. Masaki Yokoyama of Ferris University, IWA chair Liza Maza, Prof. Carol Sobritchea, and CenPEG Fellow Prof. Julkipli Wadi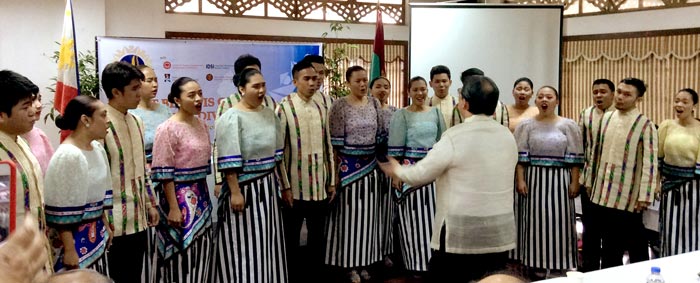 UP Singing Ambassadors with Prof. Ed Manguiat conducting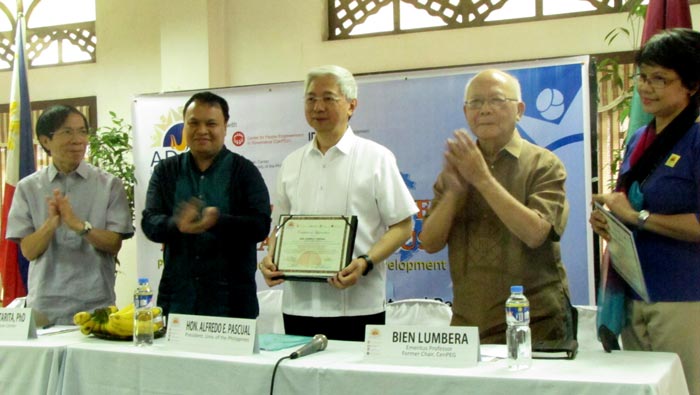 UP President Pascual (middle) receives certificate of appreciation with (l-r) Prof. Gonzalez, AC Dean Santarita, National Artist and former CenPEG chair Bien Lumbera, and Executive Director Evita L. Jimenez


Conference participants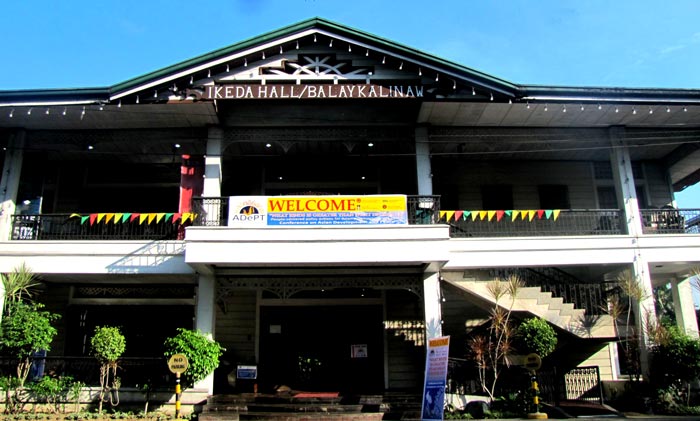 Conference site