Partylist solon presses for tax cuts
CenPEG News
Oct. 5, 2015
The Philippines is one of the poorest countries in Asia yet Filipinos pay the highest personal income tax. A Thai whose annual income is equivalent to PhP5 million is taxed 35%. A Filipino who earns P500,000 is taxed 32%! The country's richest names – listed in Fortune and Forbes magazines' wealthiest in the world – are not among the top taxpayers.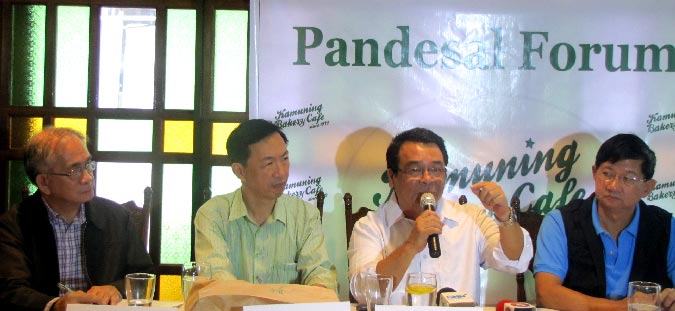 (L-R) Bobby Tuazon, Wilson Flores, Congressman Colmenares, and Simbulan CenPEG Photo
Moves in Congress to cut personal income taxes have been rejected no less by the president, Benigno S. Aquino III, and echoed by the ruling Liberal Party's president bet, former Interior Secretary Mar Roxas. Tax cuts, they said, will undermine government programs such as the PhilHealth and conditional cash transfer (CCT) intended for the poor.
For years, reforming the tax system has been pushed not only in Congress but also groups representing labor, peasants, daily wage earners and government employees, and other sectors. Their common advocacy in pressing for tax reform is that those who earn less should pay lower taxes while those who earn more including big-time tax evaders should bear the brunt of taxation.
One of the tax measures pending in the House of Representatives if House Bill (HB) 5401. Authored by Bayan Muna Partylist Reps. Neri Colmenares and Carlos Isagani Zarate, the bill seeks to restructure income brackets and rates of individual income tax.
At CenPEG's regular roundtable with the media on Oct. 2, 2015, Colmenares assailed government inefficiency in tax collection particularly on big-time taxes, tax incentives and guarantees granted to big business and foreign investors, smuggling, and widespread corruption as the culprits behind the income tax disparities. He said addressing these issues will allow government to accumulate enough revenues to fund public projects while giving breaks to poor taxpayers whose income earnings have been undervalued by decades-long inflation and low minimum wage rates.
Colmenares, the House senior deputy minority leader, revealed government underspending in 2014 by as much as PhP300 billion even as it earmarked PhP66 billion as sovereign guarantee funds for private consortiums. It also allotted PhP60-billion risk management fund for 2015 and 2016, under the new proposed budget, and lost PhP43 billion due to fiscal incentives given to foreign investors, he said.
Instead of supporting an unjust tax system, the BM congressman said, the Aquino government should uphold the constitutional provision of progressive taxation. Unfortunately, he said, progressive taxation has become regressive with billions of taxes paid by individual income-earners not translated into social services and other pro-people programs.
Colmenares' candidacy in the 2016 Senate elections under the Makabayan bloc has gained the support of Sens. Grace Poe and Francis "Chiz" Escudero, presidential and vice-presidential aspirants, respectively.
The Oct. 2 conversation with the media was also joined by CenPEG Fellows, Profs. Roland G. Simbulan and Bobby Tuazon who served as panel commentators, as well as representatives from the public sectors, business, and others.
Moderator of the roundtable discussion was Wilson Lee Flores who also hosted the event through "Pandesal Forum" at the Kamuning Bakery Café in Quezon City. CenPEG News