2 relief operations of Mission Tabang-SLB in full swing
CenPEG.org
Nov. 26, 2013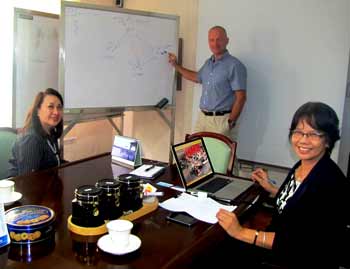 PIER 15, South Harbor, Manila, Nov. 24 – At around 9:15 a.m., 100 cadets and volunteers from the Norwegian Training Center-Manila (NTC-M) formed a human relay to load tons of relief goods bound for Tacloban on behalf of Mission Tabang SLB (Samar-Bohol-Leyte).
Mission Tabang-SLB is a relief operation of volunteers, NGOs, and alliances from Metro Manila and Eastern Visayas to collect and transport relief goods to the municipalities of Eastern Visayas ravaged by the Super Typhoon Yolanda not yet reached by relief aid. The ship, T/S Kapitan Felix Oca, was anchored at Pier 15, South Harbor, Manila.
Facilitated by the Bicol-Manila based Mariners System, Mission Tabang SLB delivered the relief goods with the help of the Norwegian Shipowners' Association. Two buses from the Philippine Public Safety College of the Philippine National Police Academy were the first to arrive carrying rice, canned goods, toiletries, clothes and other relief goods for the supertyphoon victims. It was followed by three passenger jeepneys in the late morning and a 40-foot container truck in the evening.
The loading of tons of relief goods would last until the following morning. (The T/S Kapitan Felix Oca, which left the Manila south harbour early Nov. 25 reached the Tacloban port, Nov. 26, travelling through heavy rains.)
Capt. Erik Freberg Blom, NTCM managing director, and Joeven Noestvik, deputy director of NTCM and captain of T/S Kapitan Felix Oca, led the crew, volunteers, and supporters in loading the relief goods.
In a short program held at the ship's saloon, Ms. Evita L. Jimenez, executive director of the Center for People Empowerment in Governance (CenPEG), expressed gratitude to the partners and volunteers who made Mission Tabang SLB possible. Ms. Nimpa Jimenez, a vice-president of Mariners' System, Dr.Priscilla Ampuan, coordinator for Mission Tabang SLB and UGOP Waraynon, Inc., Dr. Margarita "Ting-ting" Cojuanco, former governor of Tarlac, Judge Freddie Ampuan, a representative from the Alagang Kapatid, Inc., a charity foundation of TV 5, and Maynilad were among a long list of individuals and organisations who made the Mission Tabang SLB possible.
Recognition was also given to William Johan Hovland, one of the first correspondents from Norway to break the news on the devastation of Tacloban hours after Yolanda struck the provinces of Eastern Visayas.
On deck, Bishop Ephraim Tendero and Bishop Cesar Punzalan of the Philippine Episcopal Church (PEC) led a prayer and blessing for the crew, volunteers and coordinators on board the training ship. Bishop Cesar led a prayer in Bisayan to give strength to the crew and volunteers as well as the victims of Yolanda and a blessing to the individuals and organizations who participated in Mission Tabang SLB.
Matnog to Samar
Meanwhile, in Matnog, Sorsogon on board the RSL Roro vessel, medical doctors, medical equipment, relief goods, volunteers and four sets of water treatment machines from Maynilad all loaded on 15 ten-wheeler trucks headed for Allen, Northern Samar. From Allen, the volunteers, goods and equipment will be transported to Catbalogan City, Samar where the command center of the relief operations for the remote areas of Leyte and Samar is coordinated. From there, they will disperse to several municipalities where relief aid has been minimal.
Mission Tabang's Matnog-Samar-Leyte relief drive with overall operations headed by former Navy Capt. Dante Jimenez - also founder of the Volunteers Against Crime and Corruption (VACC) - was still underway in Samar and Leyte at press time.
Aside from UGOP Waraynon and CenPEG-KadamayKo desk, others serving as partners or donors for the Mission Tabang-SLB are the Philippine Medical Association (PMA); Tulong UP - Office of the President; Kalayag Foundation; Philippine Safety College; Manila Times; DZRH; from the Mariners System - Mariners Polytechnic Colleges Foundation -Camarines Sur and Legaspi City, Mariners Polytechnic College-Naga City, Mariners Polytechnic Training Center; the LGUs of Naga, Canaman, and Legaspi; Tabaco Mayor Peter Cua who offered the RSL Roro vessel; and Philippine Episcopal Church through Bishops Ephraim Tendero and Cesar Punzalan.
The Norwegian Training Center-Manila with the support of the Norwegian Embassy through Geir Thorseng, Maritime Consultant, supervised the transport of relief goods from Manila to Tacloban, Leyte.
Donations can be sent to: Mission Tabang-SLB (c/o CIDS, left basement, Ang Bahay ng Alumni, UP Diliman, Tel. 9818500 local 4274/4273); Tulong UP (c/o Ms. Chit, Tel. 9280110); CenPEG (Tel. 9299526, c/o Lani); Mariners Legazpi (052-4820997); and Mariners CamSur (Tel. 054-8117300). Cash donations for Yolanda Victims can be sent to UGOP Waraynon, Inc., PNB-NPC Branch, Bank Account No. 561347900016. For details of this information, please contact Ms. Yuri Ramirez, CenPEG TelFax +9299526, or 981-8500 local 4273/4274. Lean Carlo Ipac, CenPEG News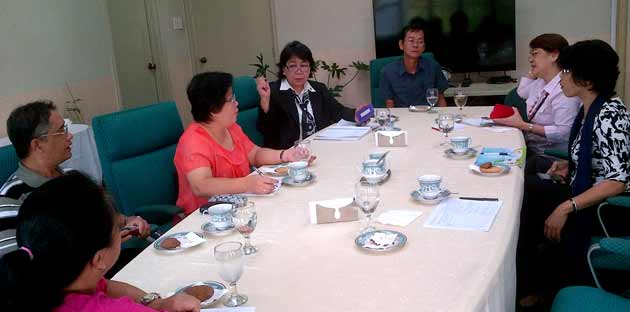 Mission task force meets Tulong UP officials led by Prof. Odette Portus, Nov. 20, 2013.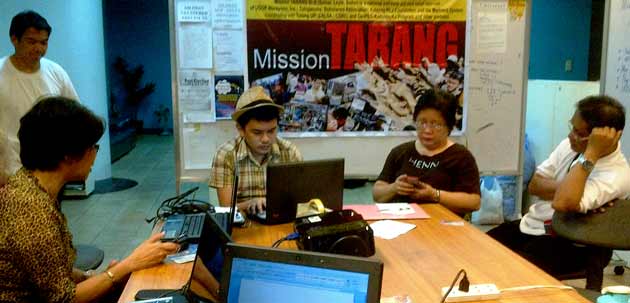 Mission task force maps out operations plan, Nov. 20, 2013.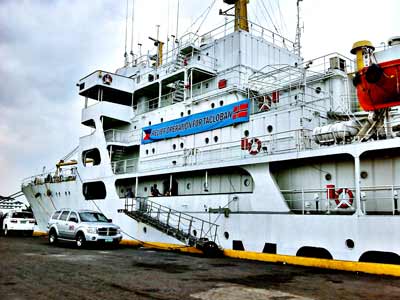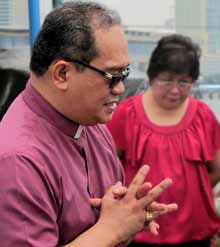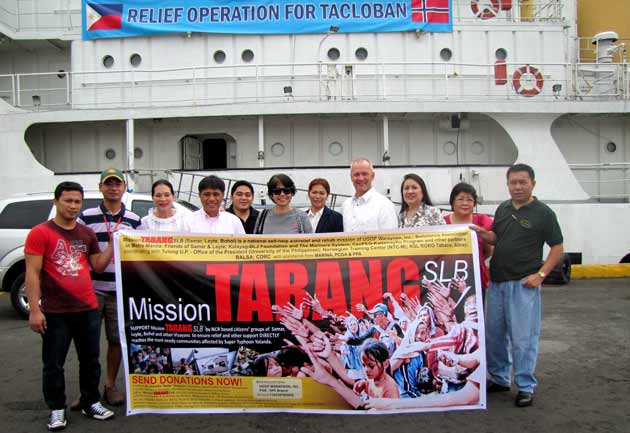 Mission coordinators and volunteers pose with Dr. Tingting Cojuangco (3rd from left) and Capt. Eric Blom (4th from right).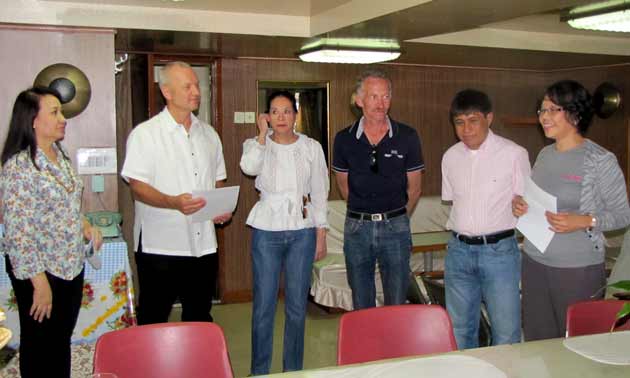 CenPEG's Evi Jimenez (right) thanks NTC-M and Norwegian Embassy for the free shipping of relief goods to Tacloban. (L-R) Mission maritime coordinator and Mariners System VP Nimpa Jimenez, Capt. Eric Blom, Dr. Tingting Cojuangco, ship Capt. Joeran Noestvic, and Judge Ampuan.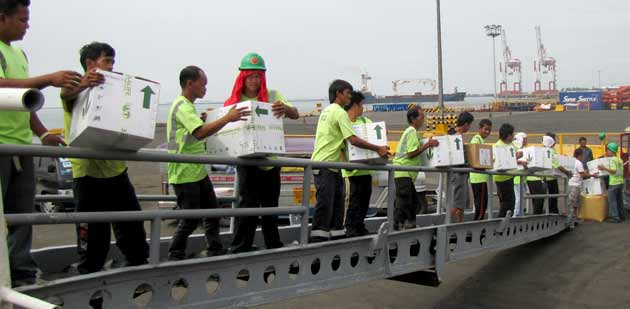 Hand in hand: Volunteers load goods unto the vessel.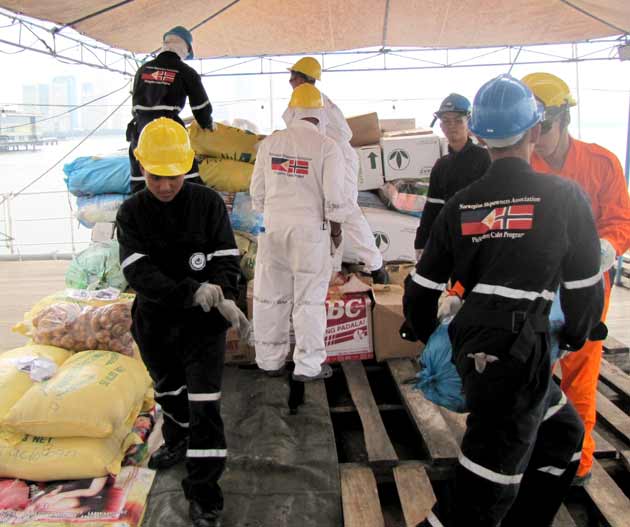 Loaded by seafarer cadets: Packs of rice and other relief goods.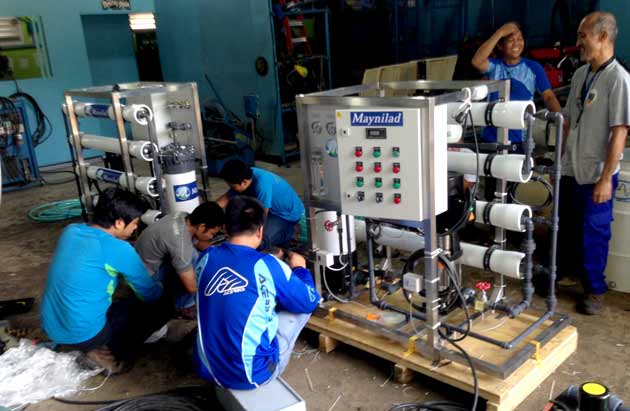 4 water treatment machines from Maynilad bound for Tacloban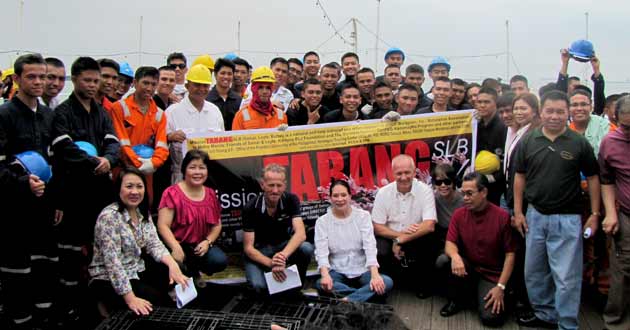 NTC-M cadets pose with mission coordinators and volunteers