GAME OVER FOR SMARTMATIC; COMELEC SHOULD BE MADE TO ACCOUNT


GAME OVER: AES Watch conveners and poll volunteers call for the junking of Smartmatic, foreign marketing company which has monopolized the election technology system in 2010, 2013, and 2016. CenPEG photo
We owe it to voters' and poll watch groups' vigilance that what could have been a major election disaster characterized by fraud at the national level was mitigated. Contrary to claims of the PPCRV and some foreign observers, however, the elections was far from being a "success" as far as the automation system is concerned – it was even worst compared to the 2010 and 2013 automated elections. (AES Watch press statement, May 11, 2016)
CenPEG.org
May 19, 2016
---
PREPARE FOR THE WORST ON MAY 9, THINK TANK ALERTS VOTERS AND CANDIDATES
CenPEG.org
Posted on May 5, 2016
Is the Comelec dragging the nation to a new round of political uncertainty because of its ill-preparedness in administering the May 9 elections?
---
AES Watch calls on poll body, voters, and watchers: All gears for poll disaster preparedness and recovery on May 9
To ensure transparent, honest and peace elections
CenPEG.org
Posted on May 2, 2016
---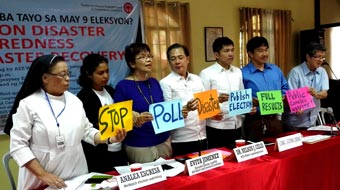 ACTION CALLS: AES Watch leaders show key messages on May 9 polls. (L-R) Sr. Mary John Mananzan (BABAE and Kontra Daya); Analea Escresa, WeWatch; Evita L. Jimenez, AES Watch lead convener and coordinator; Nelson Celis, AES Watch spokesperson; former Rep. Glenn Chong; Atty. Herminio Buerano, Jr., Clean Air coalition; and Hector Barrios, CenPEG Fellow on Systems Studies. CenPEG photo
As the whole nation goes to the polls on May 9 to elect a new president and other thousands of public officials, the poll watchdog Automated Election System Watch (AES Watch) on April 28 called on the Comelec, voters, and candidates to prepare for preparedness as a response to what the poll watchgroup said a looming disaster.
---
Ex-Comelec adviser asks all commissioners to resign
CenPEG News
March 11, 2016

A former Comelec adviser today told all poll commissioners led by Andres Bautista to resign if they cannot implement the Supreme Court (SC) order on voter receipts.
---
On the practicability of voting machine receipts
H.A. Barrios
CenPEG.org
March 8, 2016
By itself, your vote receipt has no practical use. You cannot check if it has been included or excluded in the election return. You cannot affirm or complain about the election results based on your vote receipt. This is because the receipt represents your individual act while the election return represents the collective act of your precinct.
---
Implications of a court ruling that voting receipts are the VVPAT
H.A. Barrios
CenPEG.org
March 8, 2016
A ruling that vote receipts are required as the VVPAT would preempt further debate and establish by inference that the voting act is deemed completed upon putting the ballot in the machine. By that ruling, the receipt would be considered as the document that represents the act of election.
---
VIDEO of AES Watch's TAPAT demo & mock election July 2015 at Pamantasan ng Lungson ng Maynila
---
FEARLESS FORECAST (EPISODE II): Comelec will not comply with e-Commerce Law in 2016 elections
Nelson J. Celis
Fearless Forecast, Manila Times
Feb. 9, 2016
Post by CenPEG.org
Feb. 12, 2016
There's no such thing as "machine" digital signature in the annals of the Philippine law to represent the signatures of BEIs/BOCs on written ERs/COCs. Smartmatic's claim for the validity of their "machine" digital signature in the past two elections is a big LIE!
---
Fearless forecast: Comelec's non-compliance with the AES law in 2016 (last of 2 parts)
Nelson J. Celis
Manila Times
January 12, 2016
Posted by CenPEG Jan. 14, 2016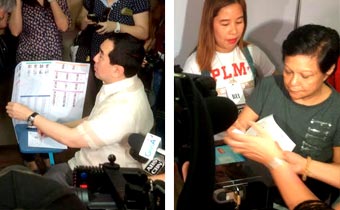 Comelec Chair Andy Bautista (left photo) and movie icon Nora Aunor (right photo) test the Filipino-invented TAPAT voting machine during a public demo organized by AES Watch at the Pamantasan ng Lungsod ng Maynila last July 20, 2015. Photos by CenPEG

It's no-brainer, non-compliance with the law is equivalent to converting the whole AES project to a Vote Cheating Machinery…'Abangan!'
---
Fearless forecast: Comelec will not comply with the AES law in 2016
Automated Election System (AES) Watch has again predicted that on February 9, 2016, three (3) months before the national and local elections (NLEs) on May 9, 2016, Comelec will not comply with RA 9369 or the automated election law. The prediction is based on Comelec's past performances in 2010 and 2013, specifically its violation of Section 11 and other provisions associated with information technology (IT).
Posted by CenPEG.org
January 8, 2016
---
SPECIAL REPORT
Cast of Clans: From Aguinaldo to Aquino, dynasties rule
By: Lira Dalangin-Fernandez, InterAksyon.com
December 19, 2015 11:31 AM
InterAksyon.com
The online news portal of TV5
Posted by CenPEFG.org
Dec. 22, 2015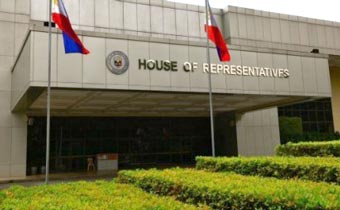 MANILA, Philippines -- From the country's first president, Emilio Aguinaldo, to Benigno Aquino III, the incumbent, Philippine politics has always been essentially a family business.
---
The True Cost of a Political Campaign
Written by Wilson Lee Flores
Posted by CenPEG from ROGUE Magazine / rogue.ph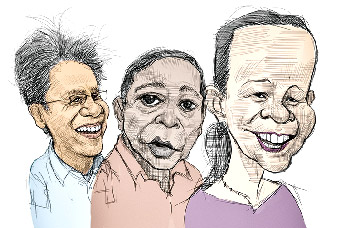 To build a case for oneself in this country's forthcoming national elections, a candidate requires charisma, connections, and billions of pesos in campaign funding.
---
Management decisions: Based on RA 9369 or purely Comelec's?
Nelson J. Celis, DBA
Sept. 15, 2015
Posted by CenPEG from Manila Times
We never learned our lessons in the past! The IRR is still hanging in the air. Messrs. Chairmen of JCOC, please follow up Comelec to release the IRR soonest and to include the rules governing JCOC; that is, for example, should Comelec get approval from JCOC before anything else? Or better yet, upon presenting the JCOC recommendations to the Congress, will that be the proper time for Comelec to act?
---
(The following public statement was read by the Center for People Empowerment in Governance in this morning's conversation with the press / CenPEG Roundtable with the Media in partnership with the Kamuning Bakery Café's regular Kape't Pandesal sa Kamuning.)
MONEY AND PCOS WILL CONTROL THE 2016 ELECTIONS
END ELECTION IMPUNITY, DEFEND PEOPLE'S RIGHT OF SUFFRAGE!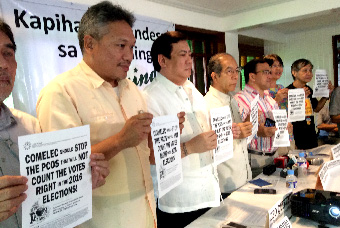 ---
CenPEG's 2nd roundtable with media showcases TAPAT
Contributed by Christine Rimando
CenPEG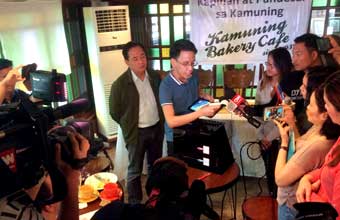 Young TAPAT developer Angelo Villasanta (middle) shows media how to operate the machine, with Dr. Nelson Celis watching. CenPEG photo
After the successful launch of its first Roundtable Discussion (RTD) with the Media on June 19, 2015, the Center for People Empowerment in Governance (CenPEG) held its second RTD last July 10, 2015 at the historic Kamuning Bakery Café in Quezon City.
---
Comelec 'parallel biddings' questioned before high court
Contributed by Louielyn M. dela Cruz
CenPEG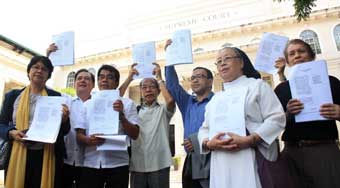 CenPEG tapped as resource group in peace talks
Oct. 4, 2016
CenPEG.org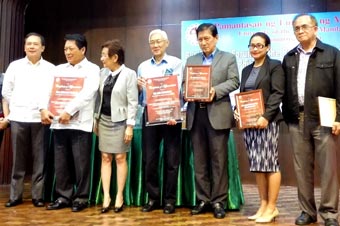 At the PLM public policy forum are (L-R) PLM Executive Vice President Nelson J. Celis, GRP chief negotiator Silvestre Bello III, PLM President Lenny de Jesus, NDFP chief negotiator Luis Jalandoni, Jose Luis Yulo, lawyer Nashmyleen Adap Marohomsalic, and Prof. Bobby Tuazon. CenPEG photo
In the resumed talks between the Government of the Republic of the Philippines (GRP) and the NDFP under the Duterte administration, CenPEG has served as a resource group in various forums and symposia organized by stakeholder organizations, universities, and other institutions.
---
Duterte's plan to hold bilateral talks with China 'most practical way out' - CenPEG prof
By Rosette Adel (philstar.com) |
Updated July 14, 2016 - 9:55pm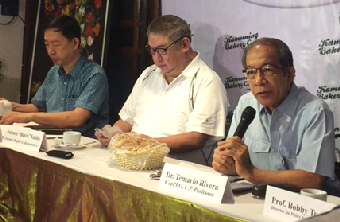 UP Professor Temario Rivera of CenPEG said bilateral talks with China is the most practical solution.
PROSPECTS AND CHALLENGES UNDER THE DUTERTE PRESIDENCY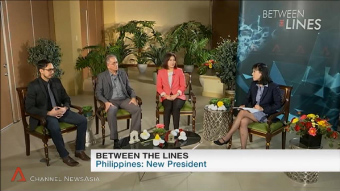 Watch CenPEG's Director for Policy Studies, Prof. Bobby Tuazon (second from left), talk on the new Duterte presidency together with other political analysts, in a TV interview by Singapore's Channel News Asia (CNA) on "Between the Lines", May 29, 2016. Political maverick Rodrigo Duterte is set to be sworn in as the 16th President of the Philippines, after winning a comfortable election victory. Can he live up to his promises to end the old ways of doing things? Our expert panel in Manila warns, if he doesn't properly manage expectations, he could be swept out by the grievance politics he tapped into to get elected.
---
Experts: Nuisance bets reflect disillusionment, uneven playing field
By Levi Mora (philstar.com) |
Updated October 28, 2015 - 3:43pm
Posted by CenPEG from philstar.com
"This (dominance of elite) is one compelling reason for calling the election system as an unfair playing field, not competitive, and limits access to the poor but definitely qualified candidates." - Prof. Bobby Tuazon
---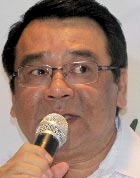 Partylist solon presses for tax cuts
One of the tax measures pending in the House of Representatives if House Bill (HB) 5401. Authored by Bayan Muna Partylist Reps. Neri Colmenares and Carlos Isagani Zarate, the bill seeks to restructure income brackets and rates of individual income tax.
---
Putrajaya Declaration: Zero Tolerance for Impunity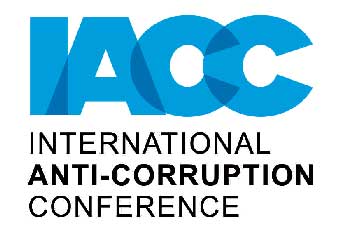 Statement of the International Anti-Corruption Conference held in Malaysia
Posted on 4 Sep, 2015
Nearly 1,200 people from 130 countries gathered in Putrajaya, Malaysia to discuss one of the world's biggest challenges: how impunity enables the spread of corruption. Delegates came together to find the most effective strategies to stop impunity and hold to account those who benefit from the abuse of power, secret deals and bribery.
---
Finally bearing fruit or foiled again?
Center for People Empowerment in Governance
12:01 AM | Philippine Daily Inquirer, Talk of the Town,
A10 Sunday, January 4th, 2015
While without an FOI law the citizenry has admittedly had mixed success in combating corruption and other governance issues, a bad FOI law could make that common concern even more problematic.
---
New defense deal with U.S. needs Senate concurrence, opponents say
CenPEG position paper read at Senate foreign relations committee hearing


Senate foreign affairs committee members led by Sen. Miriam Defensor-Santiago. CenPEG photo
The Philippine Senate's foreign relations committee, on Dec. 1, 2014, was set to file a resolution expressing the upper legislative chamber's "disappointment" over the signing of the Enhanced Defense Cooperation Agreement (EDCA) without Senate concurrence.
---
Download the papers here >>>
---
CenPEG vice chair on dzmm interview on VFA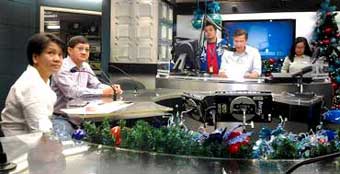 CenPeg Vice Chair Professor Roland G. Simbulan was interviewed extensively with Atty. Evalyn Ursua by tele-radio DZMM anchor Henry Omaga Diaz last October 25, 2014 about the murder of Jennifer Laude and the issue of jurisdiction and custody under the Visiting Forces Agreement (VFA).
---
CenPEG's 4th Roundtable: Canadian professor talks on 'globalization of war'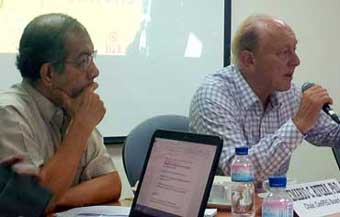 Michel Chossudovsky (right) stresses as point as CenPEG's Temario C. Rivera listens. (CenPEG photo)
Michel Chossudovsky, emeritus professor at the University of Ottawa, spoke on the "globalization of war" at CenPEG's fourth Roundtable Discussion on Oct. 14, 2014, University of the Philippines' Asian Center.
---

A DISPATCH FROM THE 'BELLY OF THE BEAST'
U.S.-based scholar E. San Juan, Jr. interviews Bill Fletcher Jr., African-American public intellectual
"I do not anticipate any changes in the near future in the absence of a movement on the ground in the USA that pushes the US on foreign policy generally and the US/Philippines relationship in particular. Frankly, the relationship is very comfortable for the USA and the ruling circles see no reason to change this." - Bill Fletcher, Jr.
---
WORKING FOR THE FEW Political capture and economic inequality
Oxfam Briefing Paper, Jan. 20, 2014
Posted by CenPEG.org (Jan. 27, 2014)
Economic inequality is rapidly increasing in the majority of countries. The wealth of the world is divided in two: almost half going to the richest one percent; the other half to the remaining 99 percent. The bottom half of the world's population owns the same as the richest 85 people in the world.
---
The 8-Day Palestine-Israel War
Nov. 29, 2012 was the UN-declared International Day of Solidarity with the Palestinian People. (The following day, Palestine – whose 8 million people have lived mostly in Palestinian territory occupied by Israel since 1967 – received its non-state member status from the UN General Assembly.) The Philippine Interfaith Solidarity Forum on Palestine was held on Nov. 29 at the National Council of Churches in the Philippines (NCCP), Quezon City, where CenPEG Fellow Bobby M. Tuazon gave a talk.