A President's Death, an ICC Call, and Realignments ahead of the 2022 Elections: A Gathering Storm?
CenPEG, 18 July 2021

The outcome of the 2022 presidential election will have consequential effects on the relevance of the ICC investigation in the country assuming that it formally proceeds.
---
Simplify transmission of election results for transparent 2022 elections
By Nelson Celis / Manila Times
July 14, 2021
Posted by CenPEG July 16, 2021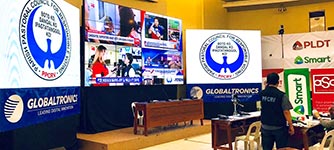 PPCRV transparency server / Photo credit: CNN Philippines
Martin Luther King once said, "Knowledge is a process of piling up facts; wisdom lies in their simplification."
---
COMMENTARY
Old ways must go in May 2022 polls
By: Bobby M. Tuazon - @inquirerdotnet Philippine Daily Inquirer / Posted by CenPEG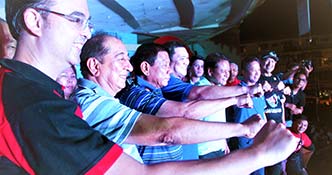 Concerted people's actions can be done to put an end to clan politics that, for centuries, has made the country's political system rotten to the core.
---
Jostling for the presidency amid the pandemic and flaws in the election system
CenPEG.org
Posted 16 June 2021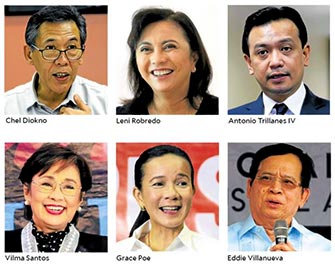 Key political figures, party machineries and a powerful group of political families are now prepositioning to be in the frontline of contention as the country heads for the next national elections in May 2022. Election fever is up.
---
Clean voters' database: A challenge to a transparent 2022 elections
Nelson Celis
May 19, 2021, The Manila Times
Posted by CenPEG May 27, 2021
Fifth of a series
Comelec-DILG collaboration is already mandated under existing laws, through the local civil registrar, in delisting deceased registered voters.
---
Clean voters' database: A challenge to a transparent 2022 elections
Nelson Celis, TMT / April 7, 2021
Posted by CenPEG April 15, 2021
A few weeks before the May 9, 2016 elections, the Comelec was hacked by two groups. This infamous hacking on March 27, 2016 led to the defacement of the Comelec's website and the leakage of its 55 million registered voters.
---
MONTHLY POLITICAL ANALYSIS No. 1
Center for People Empowerment in Governance (CenPEG) January 2021
The Pulse Asia Survey on Presidential Bets for the 2022 Elections: An Analysis of Results and Political Implications
This paper examines the results of the first public opinion survey on possible presidential bets for the 2022 national elections conducted by the Pulse Asia Research Inc. from 23 November to 2 December 2020. An established polling institution in the country, Pulse Asia does regular public opinion surveys on elections and issues of public interest. However, as a survey of public perceptions for a specific period, these results do not in any way establish a definitive listing of possible presidential bets or stable preferential ratings for specific names since the actual election is still about 15 months away and changes are to be expected.
---
Comelec's PCOS-OMR system rejects public counting, enhances wholesale cheating
Nelson Celis, TMT
November 25, 2020
Posted by CenPEG, Nov. 25, 2020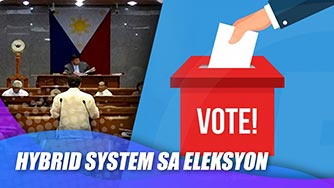 Is the 2009 study of CenPEG futuristic that it could predict what could have happened in the last four national and local elections? Will the Congress under President Duterte's administration pass these pending bills for our democracy…and for the Filipino people?
DOWNLOAD: COMELEC's PCOS-OMR SYSTEM REJECTS PUBLIC COUNTING, ENHANCES WHOLESALE CHEATING, CenPEG Policy Crique Paper, May 7, 2009
---
Nelson Celis, TMT / October 14, 2020
Posted by CenPEG, 21 Oct. 2020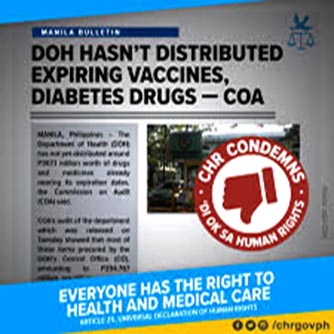 Mark Twain said, "History never repeats itself but it rhymes" — there are like-sounding conditions that re-occur throughout history but not closely or the same sound.
---
Nelson Celis, TMT / August 12, 2020
Posted by CenPEG Aug. 14, 2020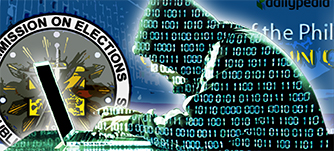 Comelec data leak in 2016. Image:dailypedia.net

In our government offices, we have had butterfly effect experiences. A typical example is the infamous ComeLeak in March 2016, a few weeks before the 2016 elections, as the incident created humongous consequences.
---
Hybrid election system in 2022: How do we proceed?
Nelson Celis, The Manila Times,
July 22, 2020
Posted by CenPEG

Comelec Commissioner Rowena Guanzon tests hybrid system during a 1-day forum-demo held by CenPEG / AES Watch at PLM in 2015. Photo by CenPEG

THE Senate Committee on Electoral Reforms and People's Participation (Cerpp), led b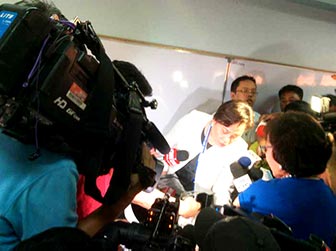 y Sen. María Imelda Josefa Marcos, has been consistently deliberating Senate Bill (SB) 7 since it was introduced by Senate President Vicente Sotto 3rd in July last year.
---
DocPH, a month after
Nelson Celis / The Manila Times / May 13, 2020
Posted by CenPEG
May 13, 2020
DocPH is a form of complex bayanihan wherein a group of Filipino doctors collaborate to help their sick 'kababayans' or countrymen, and at the same time helping DoH and the nation fight the pandemic.
---
Democracy at stake: The need for poll system standards and certification
The test certifications in the last four national and local elections resulted in a lot of technical problems because of the absence or lack of test certifications of all the Automated Election System (AES) components.
Nelson Celis, TMT, February 19, 2020
Posted by CenPEG March 08, 2020


Hearing of the Senate committee on electoral reform and people's participation last Feb. 11, 2020. (CenPEG photo)
---
What legal basis are you referring to, Comelec?
Nelson Celis, TMT, June 12, 2019
Posted by CenPEG June 18, 2019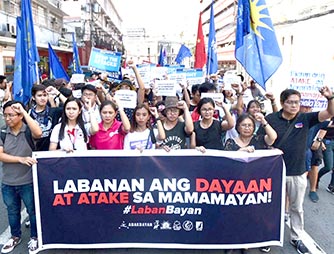 Protest rally against election fraud
There are many legal grounds for banning Smartmatic as technology supplier in future Philippine elections.
---
JUNK Smartmatic! AES Watch renews call for public counting with electronic transmission
CenPEG.org June 06, 2019
"It's about time the government give due recognition to effective and fraud free election system giving emphasis on Philippine sourced transparency and accountability as guiding principles (i.e. public precinct counting with people participation, electronic transmission and automated consolidation and canvassing) starting in the 2022 presidential elections."
---
2019 elections assessment: Worst!
Nelson Celis, TMT
May 22, 2019
Posted by CenPEG
May 23, 2019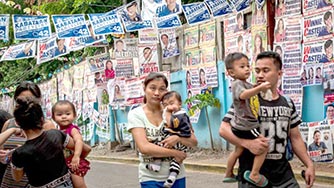 May 13, 2019 mid-term elections (Photo source Time)
The AES Watch overall STAR card assessment of 2019 elections was "1" (Fail). This is similar to the past elections except that we experienced the worst so far based on the sheer number of technical problems, especially the mysterious seven-hour lull between May 13, 6 p.m. to May 14, 1 a.m.
---
As voters troop to polls on May 13, critical questions remain unsolved
CenPEG.news
May 11, 2019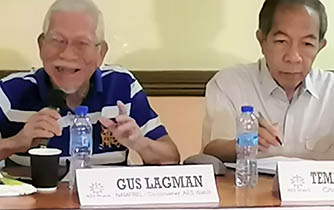 AT THE PRESSCON: Temario C. Rivera (right) and Gus Lagman (left). Photo by CenPEG
The broad, multi-sectoral poll watchdog, Automated Election System Watch (AES Watch), says that unless glaring vulnerabilities of the AES and non-compliance with major provisions of RA 9369 are resolved the May 13 mid-term elections will create credibility issues.
---
Time to change the automated election law
Nelson Celis Posted by CenPEG March 14, 2019
With the mismanagement of the AES project by Comelec's PMO since 2010, the result was the repeated noncompliance of Comelec with the AES law. There were so many disconnections among the project team players.
---
National Political Situationer No. 01
19 February 2019
The 2019 May Elections and its Implications on the Duterte Administration
The last three years of any elected administration can be very contentious and trying times. The national leadership's ability to effectively respond to political and related challenges will be significantly shaped by the outcome of the upcoming 2019 mid-term elections. Indeed, the 2019 election is a Prologue to the 2022 elections in all its uncertainties and opportunities. While the 2019 election is only one arena of contestation it can set the line of march for more momentous events for the next few years.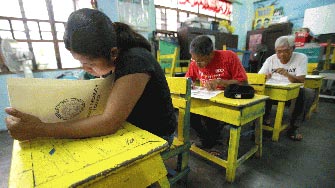 Mock polls held Jan. 19, 2019. Photo from Ripples Daily
---
Time to change the Automated Election Law
Nelson Celis, The Manila Times,
Jan. 16, 2019 (AES Watch spokesperson) Posted by CenPEG Jan. 30, 2019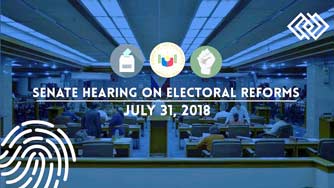 Why is there a need to change the Comelec Advisory Council (CAC) to a permanent Automated Election System (AES) board? (Part 4)
---

Afghanistan, where war knows no end
Analysis
Bobby M. Tuazon
Posted by CenPEG, 28 July 2021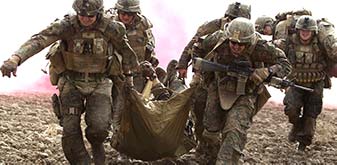 Photo by DailyTimes.com
If there's any lesson Philippine authorities can learn from the Afghan war it is that military force won't work. With the US achieving nothing after 20 years of war in Afghanistan, the Philippine government should now realize that US presence in the region serves only American interests.
---
REFLECTIONS ON WOMEN AND RACE DURING THE YEAR OF THE PANDEMIC
Delia D. Aguilar
Posted by CenPEG May 27, 2021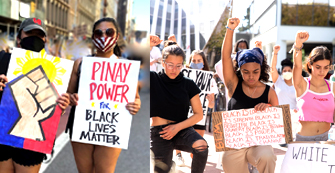 Photos courtesy of aaww.org and paloaltoonline.com
It's going to be a long, hard haul, no doubt about it. Hopefully a mass social movement will be formed that acknowledges the limitations of the previous decade's ad hoc, spontaneous forms of mobilization and will find ways to solidify and sustain itself by securing support from similarly located populations.
---
VFA is for keeps
Bobby M. Tuazon - @inquirerdotnet
Philippine Daily Inquirer / 04:04 AM
April 24, 2021
Posted by CenPEG, April 25, 2021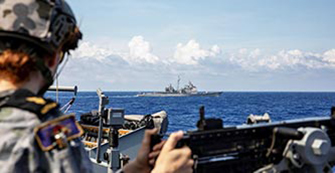 Rising tensions in South China Sea (Photo: cfr.org)
The country is vulnerable to being dragged into a shooting war between the two powers in case of accidents or extreme provocations in the SCS. By then, it will be too late to call for a VFA review.
---
For a nuclear weapons-free planet
Roland G. Simbulan - @inquirerdotnet
Philippine Daily Inquirer / 05:02 AM
February 06, 2021
Posted by CenPEG / April 25, 2021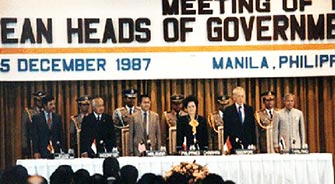 Southeast Asia-Nuclear Weapons-Free Zone launching Dec. 12, 1987
The TPNW is compatible with the Philippines' commitment to the Nuclear Non-Proliferation Treaty. We must push for the ratification by the Philippine Senate of the TPNW, a constitutional process that will seal our international commitment.
---
Let's celebrate resistance, not empire
Roland G. Simbulan - @inquirerdotnet Philippine Daily Inquirer / April 12, 2021 Posted by CenPEG, April 18, 2021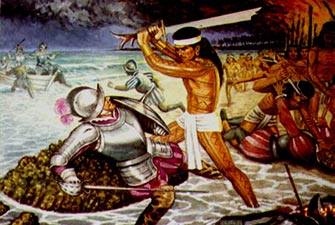 Battle of Mactan. Photo from Annoyz View
As a nation, we can celebrate the 500th anniversary of the Battle of Mactan as a testimony to our ancestors who fought back magnificently against the empire, from Lapulapu.
---
COMMENTARY
The hidden agenda behind Biden's first foreign policy speech
Bobby M. Tuazon
Posted by CenPEG
22 Feb. 2021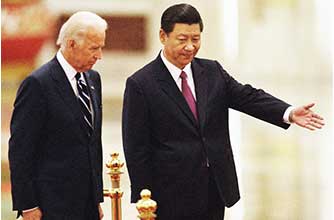 Chinese Vice President Xi Jinping gestures to U.S. Vice President Joe Biden during a welcome ceremony in the Great Hall of the People in Beijing on Aug. 18, 2011. PHOTO: GETTY IMAGES
Joe Biden, on February 7, iterated that his administration anticipates "extreme competition" but "no conflict" with China. How conflict with China can be avoided under an environment of "extreme competition" that may spawn miscalculations and provocations precisely creates the uncertainties and intractability of Biden's foreign policy on Beijing. Ambiguity has no place in diplomacy and makes any negotiation fractious.
---
Can US-China relations 'reset' in the Biden era?
Bobby M. Tuazon | chinadaily.com.cn | 01 February 2021
Posted by CenPEG, 13 February 2021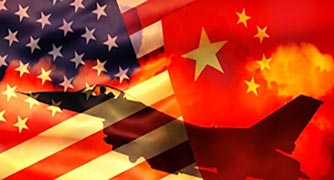 The US should begin to accept that world systems change, old powers fade and new major countries rise. With eyes open, this can potentially be the first step toward resetting China-US relations. Biden and his policymakers need to welcome Beijing's overtures toward rebuilding the two countries' relations informed by mutual respect, non-interference and cooperation.
---
COMMENTARY
Biden: Reclaiming US credibility
Bobby M. Tuazon - @inquirerdotnet
January 18, 2021
Posted by CenPEG Jan. 18, 2021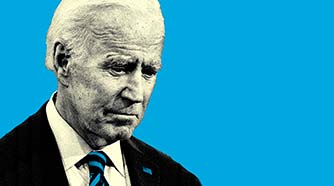 Photo: The New Republic
Philippine-US relations under the new Biden presidency will be shaped by America's foreign policy on China in East Asia, most especially the South China Sea issue. Unlike the hawkish Trump administration, moderation and predictability may define Biden's foreign policy on Beijing. But this doesn't mean it will be less tough on issues that Washington sees as a threat to US primacy, or that it will allow China to have free rein.
---
Prospect for US-Philippine Relations: US-Biden vs China-Duterte?
Featuring an Interview with Bill Fletcher
E. San Juan, Jr.
Amid the horrendous pandemic ravaging of the globalized political-economy of Europe and North America, particularly the imperial U.S. heartland with close to half-a-million deaths, peripheral nations remain negligible. The neoliberal consensus has collapsed, inaugurating a new era of trade wars and ecological disasters. Such "shithole" countries like the Philippines, to use President Trump's rubric, rarely enter public attention.
---
Biden eyes a tougher regional presence
Bobby M. Tuazon - @inquirerdotnet
Philippine Daily Inquirer / October 18, 2020
Posted by CenPEG Oct. 21, 2020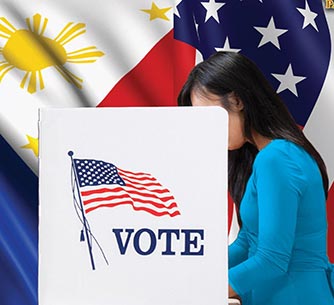 Fil-Am early voter in US

In the Philippines, Biden's foreign policy plan intersects with political forces, including defense and foreign affairs honchos, who want defense ties with the United States back on track as a deterrent to China.
---
PROBLEMATIZING THE NAME "FILIPINX": A Colloquy
Delia D. Aguilar & E. San Juan, Jr.
Posted by CenPEG.org
07 October 2020
The Philippines is still a U.S. dependency, whatever claims may be made about Filipino adobo, Miss Universe this and that, growing incomes of Filipino-Americans, increasing popularity of Filipino films, singers, etc. We are one of Trump's "shitholes," let us not demur, whose chief export and dollar-earners are Overseas Filipino Workers around the planet.
---
A radical shift in the COVID-19 response
Bobby M. Tuazon - @inquirerdotnet
Philippine Daily Inquirer / August 15, 2020
Posted by CenPEG Aug. 16, 2020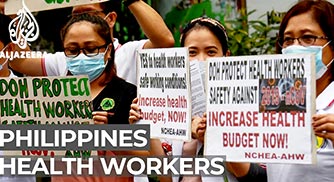 Health workers protest lack of assistance, poor conditions
President Duterte's response to the COVID-19 pandemic started on the wrong foot. It was bound to fail. After five months of lockdowns—the world's longest—the number of confirmed cases is surging by leaps. COVID-19-dedicated facilities are overwhelmed and frontliners are demoralized.
---
Think tank calls for a people's consultative body on Covid-19
CenPEG.org
Posted 11 Aug. 2020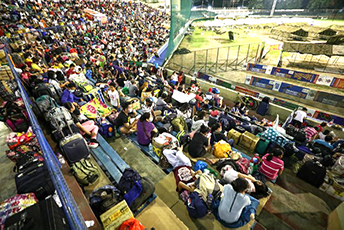 THOUSANDS of stranded individuals stay at Rizal memorial coliseum to await travel. Photo by Bernanews
The policy think tank CenPEG called for the formation of an independent, broad-based multisectoral consultative body parallel to the Inter-Agency Task Force (IATF) charged with leading the fight against the Covid-19 pandemic.
---
Let experts take the lead vs Covid-19 – CenPEG
Re-tooled action plan should also mobilize NGO community leaders
CenPEG 31 July 2020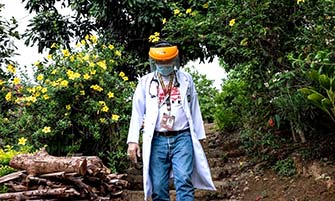 Rural doc in Bambang, Nueva Vizcaya is also contact tracer to help stop the spread of coronavirus. Photo by National Geographic
The CenPEG think tank on July 31 called for a revamp of the Inter-Agency Task Force (IATF) by allowing credible medical experts and scientists to also take the driver's seat in the fight against Covid-19.
---
90% of PH labor force
displaced by Covid-19
CenPEG calls for IATF overhaul, lead role for medical experts and scientists
CenPEG July 26, 2020
Using the Philippine Statistical Authority's (PSA) April 2020 Labor Force Survey, up to 90% of the Philippines' labor force have been fully or partially displaced by the March–May lockdown the government enforced to contain the Covid-19 pandemic.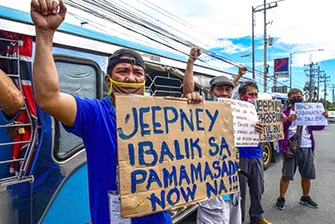 Off the road for 4 months…and running. Photo: Straits Times
---
A true national emergency bill
Bobby M. Tuazon - @inquirerdotnet
Philippine Daily Inquirer / May 09, 2020
Posted by CenPEG
In the last two years of President Duterte, policymaking should pivot to a reform track. Such policy shift should consider enhancing the country's public health care system and nurturing health professionals—a priority long ignored by politics-ridden lawmaking.
---
Zone Defense Against The Covid  
Zoning should have been done since Day 1 but even now, late though it is, it should still be used because it can help flatten the curve as well as hasten the easing of economic restrictions.
Posted by CenPEG
May 03, 2020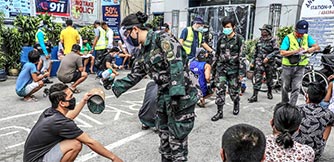 Photo credit South China Morning Post
---
COMMENTARY
Jolted by the coronavirus
Bobby M. Tuazon - @inquirerdotnet Philippine Daily Inquirer / April 04, 2020
Posted by CenPEG April 04, 2020
Development cannot thrive solely on "economic fundamentals," and this should be replaced by human fundamentals like health. The earlier we take this route, the better we will be in saving lives.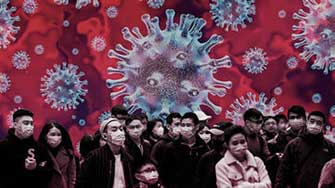 Photo from rappler.com
---
The Philippine Press in Year 3 of the Duterte Regime
Luis V. Teodoro
Center for Media Freedom and Responsibility
11th State of the Presidency (SOP) of the Center for People Empowerment in Governance, July 19, 2019
CenPEG.org
July 26, 2019
---
The PH political situation, according to Temario Rivera
The Philippine Reporter,
June 14, 2019
Posted by CenPEG June 19, 2019
Jockeying has already begun between the big political families for the 2022 presidential elections. Ping Lacson, Sara Duterte, Grace Poe, and one of the Villars are among those mentioned as interested in running.
---
Federalizing will not cure country's institutional problems
CenPEG News
20 November 2018
---
TAKING CORRUPTION BY THE HORNS: Lessons from Our Neighbors
Bobby M. Tuazon
CenPEG.org
Posted Oct. 15, 2018
---
ML Extension in Mindanao Will Fuel More Extremism; Won't End Rebellion
Bobby M. Tuazon
Posted by CenPEG on Oct. 2, 2018