Is there prospect for the hybrid election system (HES)?
Bobby M. Tuazon
CenPEG / 17 Nov. 2022
Twelve years after CenPEG called for electoral reforms including replacing the Smartmatic-outsourced Automated Election System (AES) with a Filipino-designed hybrid system, the poll body Commission on Elections (Comelec) finally convened a forum on Nov. 16 to tackle the urgency of instituting electoral changes.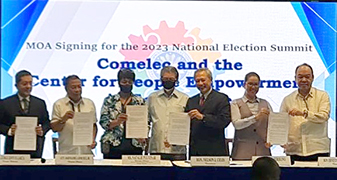 Comelec chairman Garcia (extreme left); 3rd to 5th Natalie Pulvinar, Hector Barrios, and Commissioner Celis

---
Rightsizing and reengineering bureaucracy
Nelson Celis / The Manila Times column / August 10, 2022
Posted by CenPEG, 16 August 2022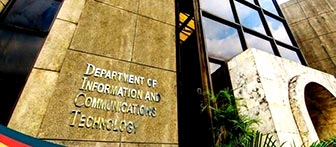 The rightsizing and reengineering of the bureaucracy in the DICT would be a good model for other government agencies with similar cases by obliterating services and processes due to usage of obsolete technology or irrelevant procedures through the merger of redundant business processes.

(NOTE: CenPEG Fellow and long-time AES Watch spokesperson, Nelson J. Celis, has been recently appointed as the new commissioner of the Commission on Elections.)
---
The May 2022 Elections and the Marcos Restoration: Looking Back and Beyond
Posted by CenPEG.org
22 June 2022
The new administration of Marcos, Jr. and Sara Duterte faces a daunting set of governance challenges rooted in festering structural and institutional constraints amidst the Covid-19 pandemic and rapid changes in the regional and global environment.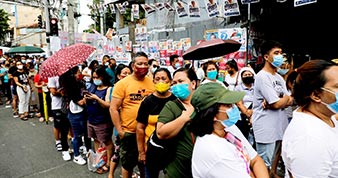 Voters wait for their turn to vote (Courtesy: AlJazeera)
---
Poll automation a sinking ship; time to use a hybrid system
Posted by CenPEG / 21 May 2022
Comelec's AES – outsourced from foreign company Smartmatic since 2010 – is now a sinking ship that should be replaced immediately by a more reliable election system.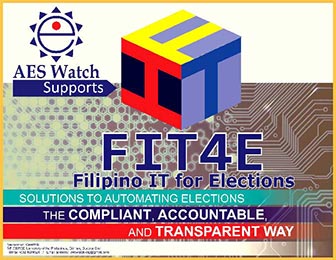 FIT4E convened by CenPEG in 2011 proposed alternative voting system.
---
MOMENT OF TRUTH
Voters go to the polls on May 9
MONTHLY POLITICAL ANALYSIS No. 14
Center for People Empowerment in Governance
April 2022 / Public Edition
If the rebranding stories are true, many of the votes that could go to Marcos, Jr. on May 9 can be said to be the result of social media manipulation.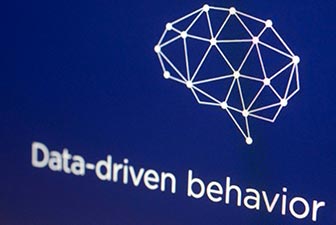 Cambridge Analytica
---
Disqualification cases roil Marcos camp; biggest Left political bloc backs Robredo-Pangilinan team

Posted by CenPEG
14 February 2022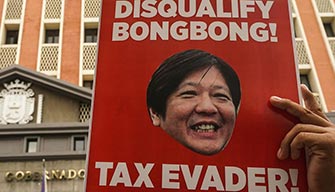 Whatever their final outcomes in the Comelec, these legal cases will almost certainly be appealed to the Supreme Court and its consequences for the entire presidential race are immense.

---
A Race for Power of Political Dynasties
Bobby M. Tuazon
Posted 26 Jan. 2022
The May 2022 elections will further entrench the country's ruling political dynasties while the Filipino people will continue to be marginalized from exercising their democratic rights to governance. Once again, we will see familiar faces and the same political dynasties not only in Malacañang but also in Congress and the provinces.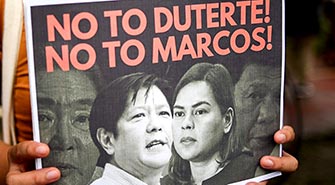 Photo by The Atlantic
---
Clash of political dynasties
Accents May 2022 elections
November 2021 Monthly Political Analysis
Posted 17 Dec. 2021, CenPEG
The May 2022 presidential race is turning out to be a repeat of previous elections – a feud among the country's dominant political dynasties. The jockeying for power has resulted in the split of the ruling political party, political realignments, and moves by one clique that are apparently meant to mislead rivals. In the end, these dynastic conflicts leave many voters puzzled and others, outraged.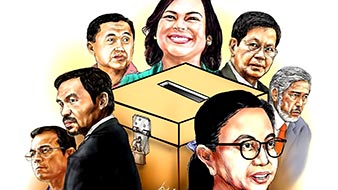 Photo: Tribune.net
---
On proclaiming a winning candidate
Nelson Celis, Manila Times, Dec. 15, 2021
Posted by CenPEG 17 Dec. 2021
The proclamation of a winning candidate should be based on the electronically transmitted and digitally signed election results.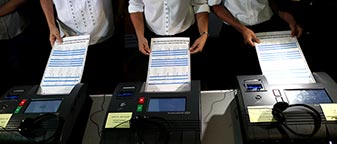 Smartmatic machines

---
We need to renew 'new politics' for the May 2022 polls
Nov. 16, 2021, Rappler
Posted by CenPEG Nov. 17, 2021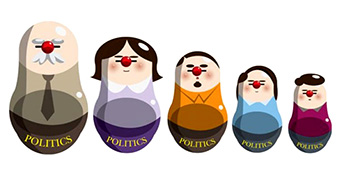 Photo courtesy SunStar

For all the issues pestering the country's election system, one of the most critical issues is the need to demystify the election of a president as the elixir for the country's woes.
---
Major Presidential Bets Formalize Candidacies but Last-Minute Surprises still Possible till Mid-November
CenPEG, 11 Nov. 2021

In the configuration of political forces and personalities as seen in the presidential and vice-presidential candidacies, what stands out is a divided broad opposition (five candidates) as against a single candidate (Marcos, Jr.) so far, who is identified with the administration.
---
The formidable force to contend with in 2022 elections
Nelson Celis, September 1, 2021,
The Manila Times
Posted by CenPEG, Sept. 1, 2021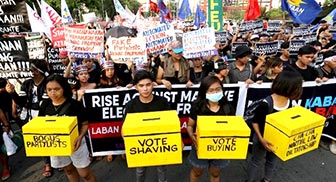 ELECTION FRAUD protest.jpg

It is best that all watchdogs come together and be united to protect our votes in the 2022 elections. This is the only way to serve the majority of the Filipino people who are still hoping that their votes are really counted.
---
The ideal OQC operations for the 2022 elections
Nelson Celis / August 4, 2021 / Manila Times
Posted by CenPEG, 10 August 2021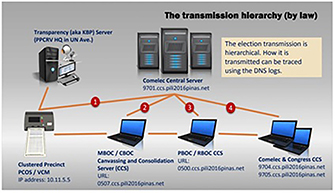 Transparency server
This is a mind-boggling concern as there were direct and unauthorized interventions of the Smartmatic technical team with the transparency server. It's pretty obvious that there were no actual parallel counts or OQCs as the recipients were not getting election results directly from the ground, but rather from the transparency server.

What are geopolitical implications of U.S. defense chief's visit to the Philippines?
Bobby M. Tuazon
Reposted by CenPEG / 03 February 2023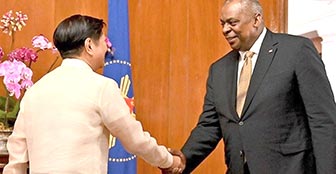 Austin (left) is welcomed by Marcos, Jr. at Malacanang. Photo by SunStar
The Marcos government's deepening defense ties with the U.S. with all its strategic goals against China would risk damaging relations with Beijing, not to mention mutual agreements on economic cooperation and assistance.
---
Configuring Philippines-China ties under Marcos, Jr.; Philippine Development Plan and controversial funds
December 2022 Monthly Political Analysis
Posted 13 January 2023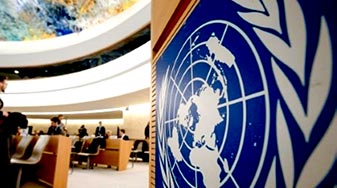 Universal Periodic Review at the UN headquarters in Geneva Philstar.com
For decades, the Philippine government's human rights record has come under close scrutiny by the UN and other rights watchdogs over its failure to end extrajudicial killings victimizing social activists as well as drug suspects.
---
MARCOS, JR. FACES GRINDING WOES; ARE REFORMS POSSIBLE?
Posted by CenPEG / 08 November 2022
Because of the institutional and structural fault lines comprehensive economic and political reforms remain unattainable. Unless these systemic problems are effectively addressed, it is unlikely that the six-year presidential term of Marcos, Jr. could usher in and sustain meaningful reforms.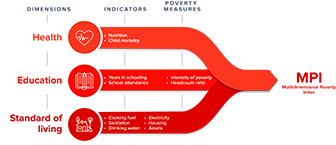 Multidimensional Poverty Index
---
Marcos, Jr. pivots to the US; faces tough economic challenges

Monthly Political Analysis / September 2022
Posted 28 Oct. 2022
In just two months, President Ferdinand R. Marcos, Jr. took a reverse gear in foreign policy from pledging to promote an "independent foreign policy" in July to a pivot shift to the United States.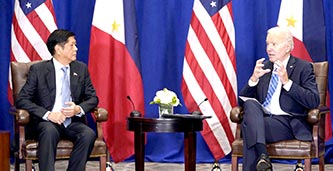 Marcos, Jr. meets Biden (NBC News)
---
Analysis
Marcos, Jr. in cryptic ties with China
as he commits to U.S. defense alliance
Posted by CenPEG
14 September 2022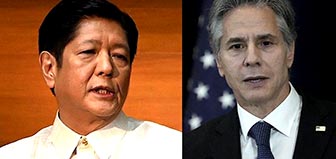 Marcos, Jr. (left) and US State Secretary Antony Blinken (right). Photo courtesy Philippine Star
A tentative analysis of the major challenges confronting the Marcos, Jr. government shows that such challenges are not only deep-going but also institutional with their roots traceable not only to the first 70 years of the post-independence present republic but to the enduring semi-feudal and semi-colonial foundations of the country's political system that have persisted for centuries.
---
Philippines - a geostrategic battleground?
Roland G. Simbulan
Philippine Daily Inquirer / August 24, 2022
Posted by CenPEG 27 August 2022
We are a hairbreadth away from a miscalculation of grave consequences that threaten human existence.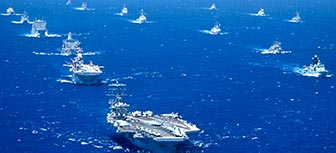 RIMPAC 2022

---
The other side of Shinzo Abe: historical revisionism, denial of war crimes
Roland Simbulan
Philippine Daily Inquirer / July 26, 2022
Posted by CenPEG / 21 August 2022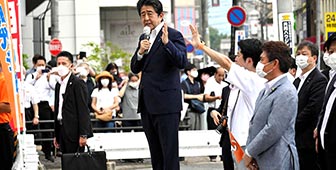 Abe seconds before his assassination. (Photo: NPR)

Abe is credited for his Indo-Pacific strategy with the United States, Australia, and India, which committed Japan to a more aggressive role in the united front against China. The irony of it all is that, even though he tried to remilitarize Japanese foreign policy, his career as a modern leader of Japan was ended by an ex-member of Japan's Maritime Self-Defense Force.
---
Bobby M. Tuazon
CGTN 28 July 2022
Posted by CenPEG, 29 July 2022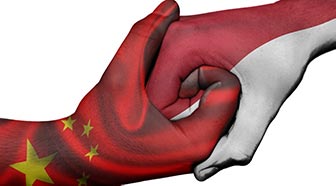 Like Quad, the AUKUS trajectory is aimed at China – which American President Joe Biden has tagged as a "global security threat" – and is a threat as well to Indonesia and other major countries in the region whose bilateral and multilateral relations with China are anchored on economic growth and peaceful cooperation.
---
Rethinking ASEAN ties with U.S., signs of another Cold War may be in the air
Bobby M. Tuazon CGTN
Posted by CenPEG, 05 April 2022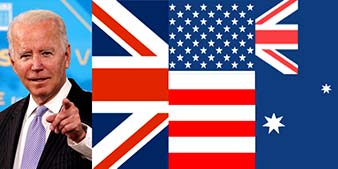 Joe Biden; UK, US & Australia flags
As in the rest of the world, the Southeast Asian region will see more of this in the years ahead. The world has become more complex, and signs of another Cold War are in the air.
---
Maelstrom Over the Killing Fields: Interventions in the Project of National-Democratic Liberation
A Book Review by Paul Gabriel L. Cosme, Macalester College

Filipinos, especially intellectuals and compatriots, may find San Juan's work refreshing, challenging, and seriously provocative. But above all, Maelstrom strongly reminds us of the complicated yet rich history of struggles over the making of the Filipino nation and its psyche.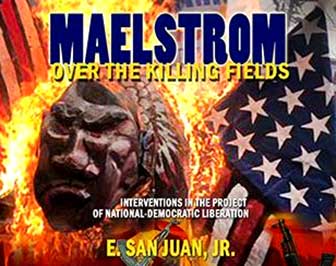 ---
The Great Faith
A novel by Jose Aguilar
(Quezon City: Pantas Publishing Inc., 2020)
Book Review

Paulino Lim Jr.
Emeritus Professor of English
California State University, Long Beach, USA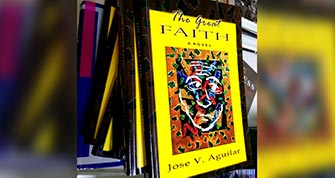 For anyone who wants to understand what it means to be a Filipino, a good place to start is Jose V. Aguilar's engrossing historical novel The Great Faith, First published over 70 years ago, the novel is about "the Japanese occupation of the Philippines."
---
The shadow of Bannon in Biden's anti-China strategy
Bobby M. Tuazon
Posted by CenPEG, 26 Oct. 2021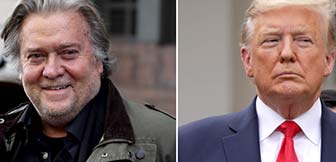 Steve Bannon (left) and Donald Trump, January 2020. Getty photo
The U.S. House of Representatives' recent vote to hold Steve Bannon, former President Donald Trump's chief strategist and adviser, has reopened a can of worms regarding his key role in anti-China policies that have persisted under Joe Biden.

A DISPATCH FROM THE 'BELLY OF THE BEAST'
U.S.-based scholar E. San Juan, Jr. interviews Bill Fletcher Jr., African-American public intellectual
"I do not anticipate any changes in the near future in the absence of a movement on the ground in the USA that pushes the US on foreign policy generally and the US/Philippines relationship in particular. Frankly, the relationship is very comfortable for the USA and the ruling circles see no reason to change this." - Bill Fletcher, Jr.

FIRST YEAR OF MARCOS, JR.: Danger signs in the economy, weak state, foreign policy sell-out
CenPEG.org / 22 August 2023
Marcos's first year also exposed the absence of reforms in addressing the country's weak state institutions, such as: professionalizing the civilian and military-police bureaucracies, and so on.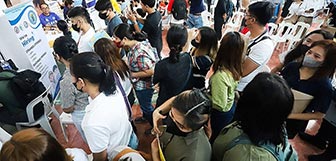 ---
The Marcos Presidency after 1 year: An Assessment

July 20, 2023 | 10 A.M. | Kamuning Bakery, 43 Judge Jimenez, Cor. K-1st St., Kamuning, Quezon City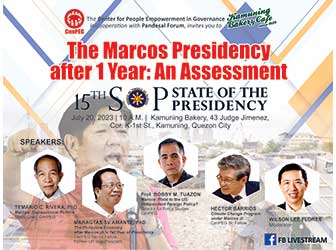 ---
COMMENTARY
The US global war machine in the PH
By: Roland Simbulan - @inquirerdotnet
Philippine Daily Inquirer / 04:15 AM July 10, 2023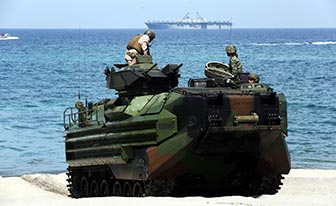 The additional US Edca (Enhanced Defense Cooperation Agreement) bases on Philippine soil and the recent largest-ever "Balikatan" exercises have revived the debate on US military presence in the Philippines.
---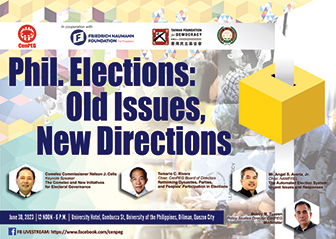 ---
Marcos State Visit to US Firms up Overall Ties; Administration Ruling Coalition Faces Discord
Posted by CenPEG
From: May 2023 policy paper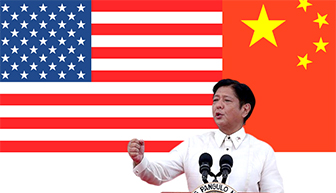 Photo Courtesy: Facts Asia
After assuming the presidency a year ago, Marcos has increasingly deepened the country's security alliance with the U.S. in response to continuing tensions in the South China Sea/West Philippine Sea (SCS/WPS).
---
Marcos, Jr.'s pivot to the U.S. deepens
Posted by CenPEG / 15 May 2023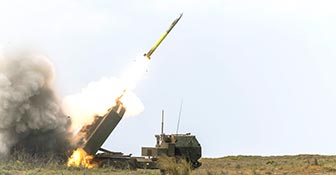 Balikatan war drills (USNI photo)
Marcos Jr.'s visit to Washington represents a significant deepening of the U.S.-Philippines relationship. But this shift will further isolate the Philippines as many other Southeast Asian countries are increasingly turning to China.
---
South China Sea tops Biden-Marcos summit
Bobby M. Tuazon
Posted from China Global Television Network
03 May6 2023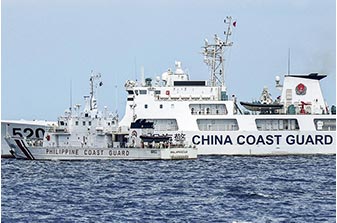 The "collision" incident. (GMA news online)
The Biden-Marcos summit is but the latest step of a one-year, well-orchestrated strategy of the U.S. squeezing the Philippine president to turn from former President Rodrigo Duterte's China-friendly foreign policy and pivot to the U.S.
---
Philippines split over increased U.S. military presence
Bobby M. Tuazon
Posted by CenPEG / 14 April 2023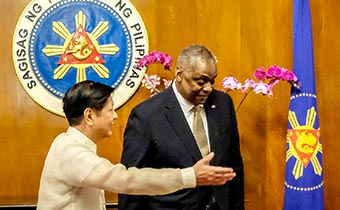 Marcos, Jr. welcomes US defense chief Lloyd Austin (Photo: Daily Tribune)
Marcos, Jr. cannot escape from accountability in dragging the Philippines to a possible U.S. war on China not only because of his unilateral commitments to expand Philippine-U.S. defense alliance but also because of his permission – which could have been preventable – allowing greater U.S. military access to more domestic bases.
---
China-Russia ties on high note
Bobby M. Tuazon
Posted by CenPEG / 31 March 2023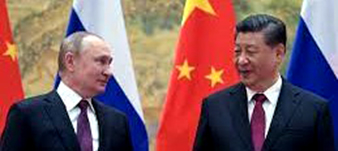 Xi and Putin in Moscow  (Photo Sputnik / AFP)
World politics is increasingly polarized as China and Russia deepen their broad and strategic partnership including security relations.
---
CenPEG's 16th book launched
Posted by CenPEG, 24 Oct. 2022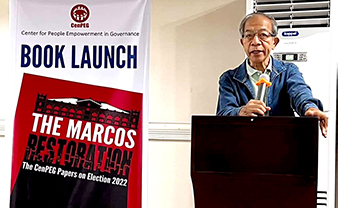 Co-editor Temario Rivera introduces the book
CenPEG's 16th book, The Marcos Restoration: The CenPEG Papers on Election 2022, had its public launch on Oct. 19, at the Oblation Room, University Hotel, University of the Philippines, Diliman, Quezon City.
---
BOOK LAUNCH
THE MARCOS RESTORATION
The CenPEG Papers on Election 2022
October 19, 2022
4P.M.
University Hotel, Guerero St., cor Aglipay, University of the Philippines, Diliman, Quezon City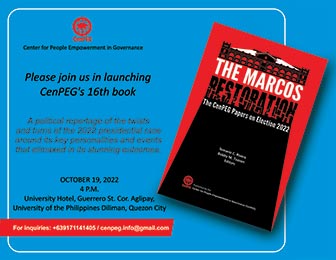 ---
Sisa's Vengeance: Jose Rizal's Sexual Politics & Cultural Revolution
By E. San Juan, Jr.
Quezon City: Vibal Foundation, 2021
Book Review by Jeffrey Arellano Cabusao
Posted by CenPEG, 19 Sept. 2022

Commentary
A true national emergency bill
Bobby M. Tuazon - @inquirerdotnet
Philippine Daily Inquirer / May 09, 2020
Posted by CenPEG
In the last two years of President Duterte, policymaking should pivot to a reform track. Such policy shift should consider enhancing the country's public health care system and nurturing health professionals—a priority long ignored by politics-ridden lawmaking.