What legal basis are you referring to, Comelec?
Nelson Celis, TMT, June 12, 2019
Posted by CenPEG June 18, 2019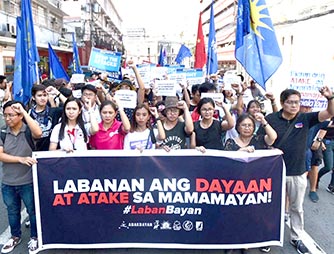 Protest rally against election fraud
There are many legal grounds for banning Smartmatic as technology supplier in future Philippine elections.
---
JUNK Smartmatic! AES Watch renews call for public counting with electronic transmission
CenPEG.org June 06, 2019
"It's about time the government give due recognition to effective and fraud free election system giving emphasis on Philippine sourced transparency and accountability as guiding principles (i.e. public precinct counting with people participation, electronic transmission and automated consolidation and canvassing) starting in the 2022 presidential elections."
---
2019 elections assessment: Worst!
Nelson Celis, TMT
May 22, 2019
Posted by CenPEG
May 23, 2019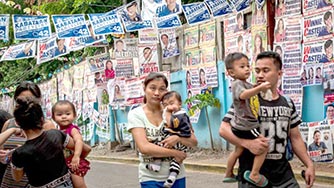 May 13, 2019 mid-term elections (Photo source Time)
The AES Watch overall STAR card assessment of 2019 elections was "1" (Fail). This is similar to the past elections except that we experienced the worst so far based on the sheer number of technical problems, especially the mysterious seven-hour lull between May 13, 6 p.m. to May 14, 1 a.m.
---
As voters troop to polls on May 13, critical questions remain unsolved
CenPEG.news
May 11, 2019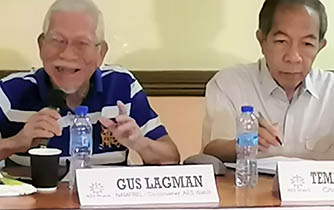 AT THE PRESSCON: Temario C. Rivera (right) and Gus Lagman (left). Photo by CenPEG
The broad, multi-sectoral poll watchdog, Automated Election System Watch (AES Watch), says that unless glaring vulnerabilities of the AES and non-compliance with major provisions of RA 9369 are resolved the May 13 mid-term elections will create credibility issues.
---
Time to change the automated election law
Nelson Celis Posted by CenPEG March 14, 2019
With the mismanagement of the AES project by Comelec's PMO since 2010, the result was the repeated noncompliance of Comelec with the AES law. There were so many disconnections among the project team players.
---
National Political Situationer No. 01
19 February 2019
The 2019 May Elections and its Implications on the Duterte Administration
The last three years of any elected administration can be very contentious and trying times. The national leadership's ability to effectively respond to political and related challenges will be significantly shaped by the outcome of the upcoming 2019 mid-term elections. Indeed, the 2019 election is a Prologue to the 2022 elections in all its uncertainties and opportunities. While the 2019 election is only one arena of contestation it can set the line of march for more momentous events for the next few years.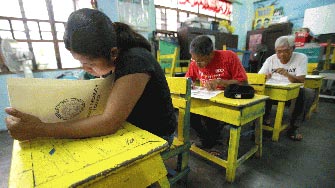 Mock polls held Jan. 19, 2019. Photo from Ripples Daily
---
Time to change the Automated Election Law
Nelson Celis, The Manila Times,
Jan. 16, 2019 (AES Watch spokesperson) Posted by CenPEG Jan. 30, 2019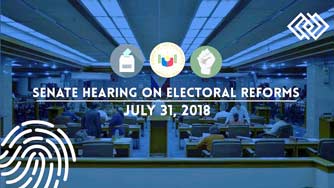 Why is there a need to change the Comelec Advisory Council (CAC) to a permanent Automated Election System (AES) board? (Part 4)
---
2019 elections: 'Laway' of Venezuelans or 'talino' of Filipinos
Parts 16 & 17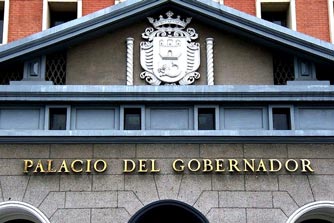 Comelec building, Intramuros, Manila)
To conclude this 17-part series, the "laway" syndrome overcoming "talino" may continue to prevail in the elections to come, even in the next presidential elections in 2022, due to the inability of our constitutional commission, the Comelec, in managing its internal affairs and in handling the AES project.
Nelson J. Celis
Manila Times
Oct. 3 & 24, 2018
Posted by CenPEG
Oct. 25, 2018
---
Compliance Theory: A Case Study Approach in Understanding Organizational Commitment
Nelson J. Celis
Spokesperson, AES Watch
Posted from DLSU Business & Economics Review (2018)
May 26, 2018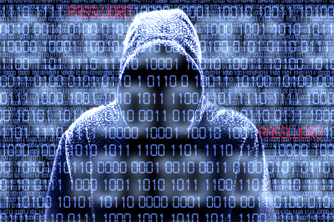 Combining the qualitative and quantitative analyses of the compliance behavior of the Bureau of Internal Revenue and the Commission on Elections (Comelec), this paper contributes to the theorization of regulatory compliance in understanding organizational commitment with electronic commerce and related laws involving the use of IT in the Philippine context with detailed elucidation of the variables influencing it.
---
The Myth of the Hacker-Proof Voting Machine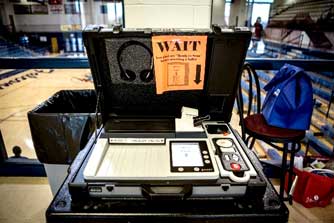 By Kim Zetter / New York Times / Feb. 21, 2018 Posted by CenPEG Feb. 26, 2018
In the 15 years since electronic voting machines were first adopted by many states, numerous reports by computer scientists have shown nearly every make and model to be vulnerable to hacking. The systems were not initially designed with robust security in mind, and even where security features were included, experts have found them to be poorly implemented with glaring holes.
---
Smartmatic and the Venezuela Electoral Fraud
Hector A. Barrios
Posted by CenPEG.org
Sept. 4, 2017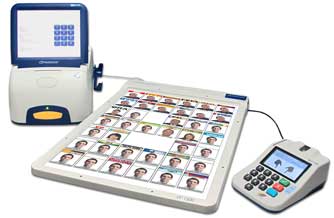 Smartmatic voting machine used in Venezuela (Business Wire photo)
If Smartmatic discerned data manipulation, then it must have had access to data, and not only that, it must have had the means to distinguish right from wrong data. How so?
---
Related Story
Venezuela's Maduro Accuses Smartmatic of Caving to US Pressure
3 August 2017, teleSUR
Posted by CenPEG.org
Venezuelan President Nicolas Maduro accused Smartmatic of caving under pressure from the U.S. Wednesday, adding that the company's allegations were an attempt to tarnish the National Constituent Assembly vote that took place Sunday.
---
The judicious spending of taxpayers' money: Does it matter?
Nelson Celis / Manila Times
Posted by CenPEG
April 11, 2017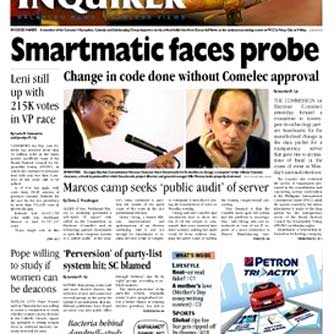 Smartmatic faced probe in the May 9, 2016 elections for reported transparency server tweak
With the COMELEC, as observed by AES Watch, the use of PCOS machines for one day only generated not only controversies for non-compliance with AES law but also mishandling of multi-billion-peso contracts.
---
'Narco politics' cannot be invoked to replace the people's right to vote
CenPEG.org
April 3, 2017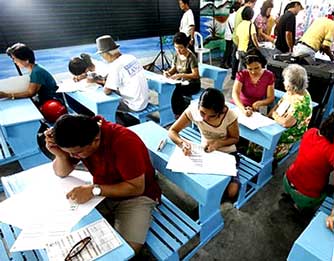 Precinct voters in a barangay election. Philippine Star photo
Any legislation allowing the President to appoint all barangay heads upon the second postponement of elections this October violates the citizens' sovereign right to vote. Such an exercise of a mega power should never be part of any administration as it smacks of authoritarian rule reminiscent of Marcos monolithic regime during martial law. "Narco politics" cannot be invoked to replace the people's right to vote.
---
COMELeak: Telltale sign of poor governance (Part 3)
NELSON CELIS
AES Watch Spokesperson
Manila Times
Feb. 22, 2017
Posted by CenPEG.org


PRESS CONFERENCE of AES Watch on May 11, 2016 at the PLM Manila where its conveners also warned voters on the impact of the Comelec dataleak on counting accuracy. CenPEG photo
If there's no information security policy in a particular organization, then its operational procedures and practices are not at par with information technology (IT) best practices and/or international standards.
---
'COMELeak': Telltale sign of poor governance
Nelson J. Celis (AES Watch spokesperson)
Manila Times opinion column
Posted by CenPEG.org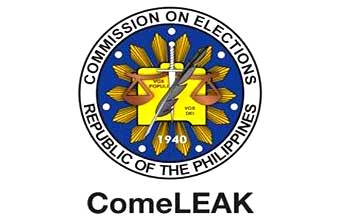 It was indicated in the terms of reference for the 2010 bidding of counting machines that the supplier should be a certified ISO 27000 company. The winning bidder, Smartmatic, was not! The COMELEC tried to cover up that it was practicing ISMS.
---
Were the automated polls a success?
Lito Averia
Manila Times column, July19, 2016 Posted by CenPEG.org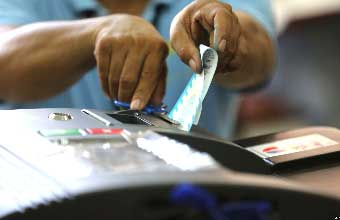 Using a simple non-discriminatory pass-fail assessment, since no other way of rating the performance of the AES had been established, it can be seen that the AES passed in only two (2) of the nine (9) factors listed above.

The Philippine Press in Year 3 of the Duterte Regime
Luis V. Teodoro
Center for Media Freedom and Responsibility
11th State of the Presidency (SOP) of the Center for People Empowerment in Governance, July 19, 2019
CenPEG.org
July 26, 2019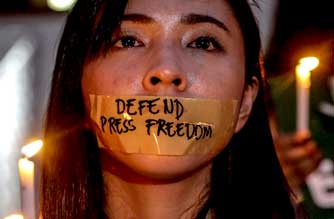 The next three remaining years of the Duterte regime are not likely to be any better—and will most probably be even worse.
---
The PH political situation, according to Temario Rivera
The Philippine Reporter,
June 14, 2019
Posted by CenPEG June 19, 2019
Jockeying has already begun between the big political families for the 2022 presidential elections. Ping Lacson, Sara Duterte, Grace Poe, and one of the Villars are among those mentioned as interested in running.
---
Federalizing will not cure country's institutional problems
CenPEG News
20 November 2018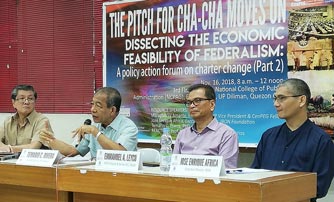 IN THE PANEL (l-r): Hector Barrios, reactor; Temario C. Rivera, speaker; Emmanuel Leyco, reactor; and Jose Enrique Africa, speaker. (Not in photo: Prof. Maragtas SV Amante.) CenPEG photo
"Federalism…will…lead to an uncoordinated, narrowly region-centric developmental process that will worsen regional inequalities, entrench the regional power of unaccountable political families and further disable the country from pursuing nationally coherent policy responses in an increasingly complex global environment."
---
TAKING CORRUPTION BY THE HORNS: Lessons from Our Neighbors
There is a causal relationship or bidirectional causality between economic equality and corruption: high inequality breeds high corruption, high corruption sustains high inequality.
Bobby M. Tuazon
CenPEG.org
Posted Oct. 15, 2018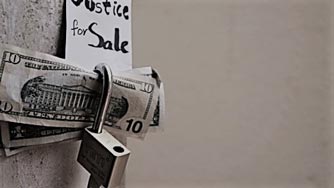 ---
ML Extension in Mindanao Will Fuel More Extremism; Won't End Rebellion
Bobby M. Tuazon
Posted by CenPEG on Oct. 2, 2018
Any government that resorts to martial law (ML) for whatever reason is an admission of a failure to govern and a failure to institute reforms in a peaceful way.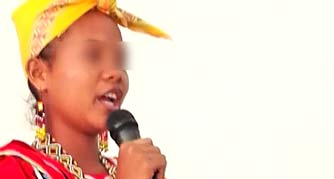 Lumad student narrates her family ordeal as government shock troops storm their communities in Mindanao (CenPEG photo)
---
Contesting Duterte's Questionable Peace Offer
Amirah Ali Lidasan
Moro-Christian Peoples Alliance
CenPEG posted on Sept. 18, 2018
The Moro people remain poor because of landlessness and homelessness aggravated by relentless military operations and corporate encroachments on Moro communities. In the name of "national development," the Duterte government has railroaded the rights to ancestral domain and territories of the national minorities and openly sold to foreign corporations the resources in these areas.
---
BUSINESS AS USUAL: Journalism and the press in year 2 of the Duterte regime
Luis V. Teodoro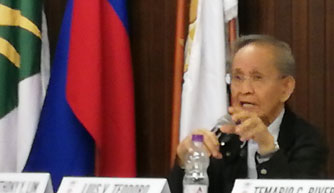 Luis V. Teodoro

For much of the corporate media it's still business as usual. The regime drive to federalism and rush to adopt a new constitution, for example, is treated as just another news event rather than an issue that needs the most careful examination because of their impact on governance and the people's lives and future.
---
#18IACC THEME ANNOUNCED: TOGETHER FOR DEVELOPMENT, PEACE AND SECURITY: NOW IS THE TIME TO ACT
18TH IACC, DENMARK, OCTOBER 22 TO 24, 2018
Posted by CenPEG
---
Speakers raise issues on a shift to federalism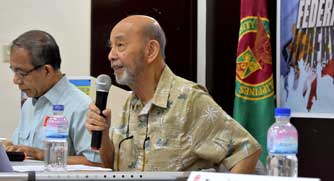 Jose V. Abueva (r) gives the keynote address; to his right is Temario C. Rivera
As the Philippine Congress took a break from weeks of stormy debates on constitutional change with the forming of the Puno consultative committee on charter change, the Center for People Empowerment in Governance (CenPEG) held a one-day conference on the fractious issue.
---
One Year of Duterte Presidency: Deeper Issues and Challenges
CenPEG News
July 21, 2017
Four days ahead of President Duterte's second State of the Nation Address (SONA), CenPEG Fellows appraised the presidential performance based on issues and challenges during Duterte's first year – July 2016 to June 2017. In a public forum organized by CenPEG on July 20, 2017, the CenPEG Fellows assessed the presidential performance covering issues on governance leadership, economic directions, foreign policy, government peace talks with the Left, the Bangsamoro peace road and Marawi crisis, and the war on illegal drugs.
---
Revisiting Istanbul Principles and its Relevance to Philippine CSOs
March 21, 2017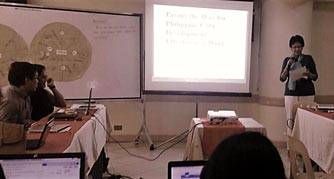 Evita Jimenez (right, standing) talks on development effectiveness. CenPEG photo
"Development effectiveness must coalesce with other sectors including professionals, local scientists, inventors, and educators, as well as small entrepreneurs and producers." - Evita L. Jimenez, CenPEG Executive Director
---
Paving the Way for Philippine CSO Development Effectiveness Work
---
Calls for resumption of talks mount


Government and NDFP negotiators in last year's Oslo talks.Photo by Kodao
THINK TANKS PRESS FOR BILATERAL CEASEFIRE AGREEMENT
"Total War" will only fuel armed struggle
CenPEG.org
February 8, 2017
No "total war" policy has ever succeeded since Marcos and full-scale anti-insurgency has only added fuel to the revolutionary movement of the CPP-NPA.
---
Now more than ever, resume the peace talks!
February 8, 2017
Statement of the Philippine Ecumenical Peace Platform calling for the resumption of the peace talks between the government and the National Democratic Front of the Philippines
---
Interview with US-based Filipino intellectual Kenneth Bauzon on the Duterte presidency
FIRE-STORM FROM THE BOONDOCKS:
Understanding "Little Brown Brother's" Realpolitik
E. SAN JUAN, Jr.
Emeritus Professor of Ethnic Studies & Comparative Literature; Professorial Lecturer, Polytechnic University of the Philippines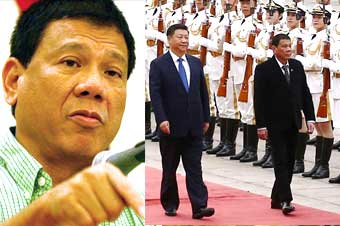 President Duterte (left photo) and with Chinese President Xi Jinping in Beijing, Oct. 20, 2016 (right photo)
---
CenPEG tapped as resource group in peace talks
Oct. 4, 2016 CenPEG.org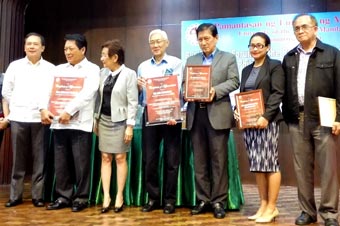 At the PLM public policy forum are (L-R) PLM Executive Vice President Nelson J. Celis, GRP chief negotiator Silvestre Bello III, PLM President Lenny de Jesus, NDFP chief negotiator Luis Jalandoni, Jose Luis Yulo, lawyer Nashmyleen Adap Marohomsalic, and Prof. Bobby Tuazon. CenPEG photo
In the resumed talks between the Government of the Republic of the Philippines (GRP) and the NDFP under the Duterte administration, CenPEG has served as a resource group in various forums and symposia organized by stakeholder organizations, universities, and other institutions.
---
TRACKING THE DUTERTE ADMINISTRATION
Views and prognosis by CenPEG Fellows in 8th State of the Presidency
CenPEG News
August 1, 2016n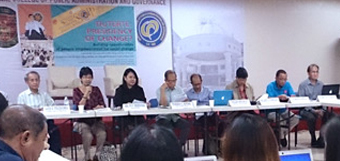 (SoP 2016 opens): Moderator CenPEG Executive Director Evi Jimenez (2nd from left, head panel) opens the 8th State of the Presidency round-table discussion together with NCPAG Dean Maria Fe Mendoza and CenPEG Fellows. CenPEG photo
Held in cooperation with the Dean's office of the National College of Public Administration and Governance (NCPAG) of UP in Diliman as well as the Integrated Development Studies Institute (IDSI), CenPEG's annual SoP last July 28 had nine Fellows taking turns looking into RRD's policy pronouncements that were also underscored during the president's first State of the Nation Address (SONA, July 25).
---
2016 SOP papers
---
Duterte's plan to hold bilateral talks with China 'most practical way out' - CenPEG prof
By Rosette Adel (philstar.com) |
Updated July 14, 2016 - 9:55pm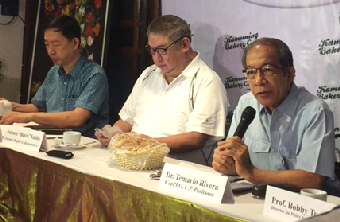 UP Professor Temario Rivera of CenPEG said bilateral talks with China is the most practical solution.
PROSPECTS AND CHALLENGES UNDER THE DUTERTE PRESIDENCY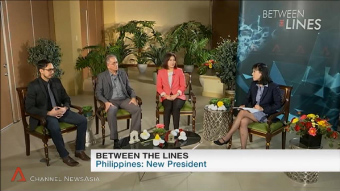 A DISPATCH FROM THE 'BELLY OF THE BEAST'
U.S.-based scholar E. San Juan, Jr. interviews Bill Fletcher Jr., African-American public intellectual
"I do not anticipate any changes in the near future in the absence of a movement on the ground in the USA that pushes the US on foreign policy generally and the US/Philippines relationship in particular. Frankly, the relationship is very comfortable for the USA and the ruling circles see no reason to change this." - Bill Fletcher, Jr.
---
WORKING FOR THE FEW Political capture and economic inequality
Oxfam Briefing Paper, Jan. 20, 2014
Posted by CenPEG.org (Jan. 27, 2014)
Economic inequality is rapidly increasing in the majority of countries. The wealth of the world is divided in two: almost half going to the richest one percent; the other half to the remaining 99 percent. The bottom half of the world's population owns the same as the richest 85 people in the world.

2 CenPEG Fellows receive distinguished awards this year
CenPEG.org
Sept. 30, 2018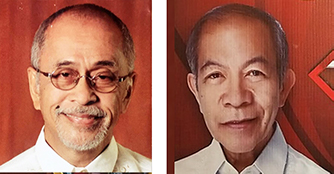 (Left)Boni Ilagan: Gawad Plaridel 2019; (Right)Rivera: UPAA awardee for democratization and governance
---
Better Active Today than Radioactive Tomorrow: Lessons from the Anti-BNPP Struggle in the Philippines
Roland G. Simbulan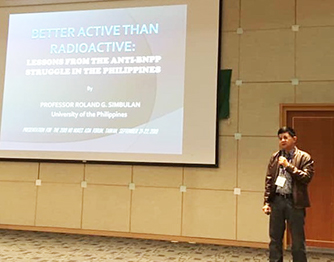 Simbulan delivers his plenary paper at Taiwan No Nukes conference
---
3 Years of Authoritarian Rule under Duterte: An Alternative Perspective
CenPEG's 11th State of the Presidency (SOP)
CenPEG News
July 26, 2019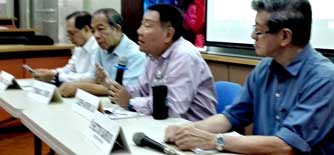 (L-R) Nelson Celis, Temario C. Rivera, Joseph Anthony Lim (holding mike), and moderator Hector Barrios. CenPEG photo
Journalist killings, harassments, and intimidation in the guise of libel cases marked the state of the Philippine press in the first three years of the Duterte presidency.
---
Recto Bank fishing incident tackled at Saturday press forum
CenPEG June 18, 2019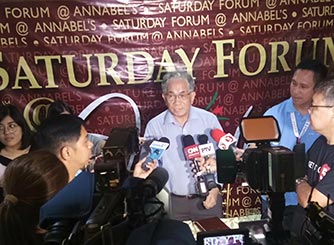 Saturday forum with Bobby Tuazon. Photo courtesy of IDSI
The June 9 fishing incident at the Recto Bank in South China involving a Filipino fishing boat and a Chinese vessel was the centerpiece issue during the Saturday press forum at Annabel's, Quezon City.
---
The Continuing Vulnerabilities of the Comelec-Smartmatic Automated Election System
PRESS CONFERENCE
May 8, 2019, 10 a.m. – 12 noon Consunji Room, 2nd Flr., Ang Bahay ng Alumni Magsaysay Avenue, UP Diliman, Quezon City
---
International conference on China's ties with neighboring countries hosted by Jinan U
CenPEG.org
Posted Jan. 30, 2019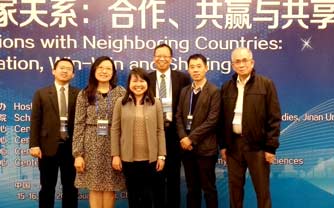 Philippine panel (l-r) Aaron Jed Rabena, Jane Yukiogsing, Chloe Wong, Maragtas Amante, Prof. Dai Fan of Jinan U, and Bobby Tuazon. CenPEG photo
Two Fellows from the Center for People Empowerment in Governance (CenPEG) recently were session speakers at the international symposium on "China and its Neighboring Countries: Cooperation, Win-win and Sharing," hosted by the Jinan University's School of International Studies and Academy of Overseas Chinese Studies in Guangzhou, China.
---
CenPEG launches 15th book
Probing Duterte's Foreign Policy in the New Regional Order


Commentary
US-PH ties rock-solid despite China
By: Bobby M. Tuazon - @inquirerdotnet Philippine Daily Inquirer / August 01, 2019
Posted by CenPEG
Aug. 2, 2019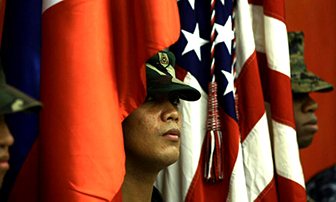 Photo by Asia Times

Despite President Duterte's "pivot to China," the country's alliance with the United States is not only solid but is on the upturn. Manila and Beijing may claim a "comprehensive strategic partnership," but it cannot match the ironclad ties the Philippines has with its former colonial master.
---
Commentary
End perpetual power
By: Bobby M. Tuazon - @inquirerdotnet
Philippine Daily Inquirer / July 11, 2019
Posted by CenPEG July 11, 2019
The chronic power monopoly by the elite suggests that the people's fair representation in government that enables the country's claimed democracy to work is nil.
---
Commentary
The real transition for the Bangsamoro
Bobby M. Tuazon
Philippine Daily Inquirer
March 08, 2019
Posted by CenPEG March 11, 2019
The Bangsamoro leadership needs a reform vision, and must be ready to deal with local oligarchs and corporate landholders. This is the acid test for the new Bangsamoro leadership.
---
Commentary
Lorenzana's wishful thinking
Bobby M. Tuazon - @inquirerdotnet Philippine Daily Inquirer / January 12, 2019
Posted by CenPEG January 17, 2019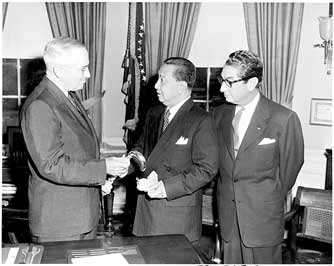 MDT signing on Aug. 30, 1951, Washington, DC: (l-r) US President Harry S. Truman, Philippine President Elpidio R. Quirino, and his foreign secretary, Joaquin Miguel Elizalde. (Photo credit: Kahimyang.com)
Defense Secretary Delfin Lorenzana's recent pitch on reviewing the Cold War-era Mutual Defense Treaty (MDT) with the United States sounded like tough talk. Whether the defense chief can convince the United States to finally say in no uncertain terms that it will use fire and sword to defend the Philippines against foreign aggression is, however, wishful thinking.
---
New risks loom in South China Sea
Bobby M. Tuazon
Philippine Daily Inquiter,
October 06, 2018
Posted by CenPEG
Oct. 08, 2018
President Rodrigo Duterte faces in 2019 new security risks in the South China Sea (SCS), as the United States steps up its war games in the Philippines that entwine with bigger operations in the SCS up to the East China Sea and the Taiwan Strait.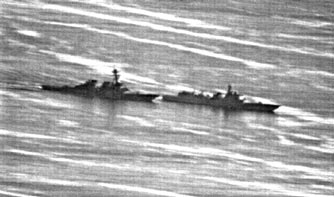 Sept. 30 encounter at Gaven Reef: USS Decatur (left) and China's Luyang II destroyer Lanzhou (right). US Navy photo release
---
Is there a vote for federalism?
By: Bobby M. Tuazon - @inquirerdotnet
July 25, 2018, Philippine Daily Inquirer
Proponents of federalism face the daunting task of vending a Charter change (Cha-cha) seen by the masses as not a priority or beneficial to their future.
---
Kim's pivot to economy
By: Bobby M. Tuazon -
Philippine Daily Inquirer
June 18, 2018
Posted by CenPEG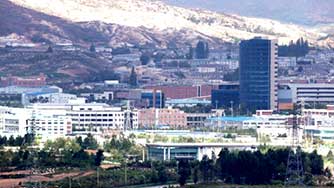 Kaesong Joint Industrial Park
Building on its Juche self-reliant economy, North Korea has in fact adopted market reform in the last decade, including encouraging a building boom in Pyongyang and the now-defunct Kaesong Industrial Zone, a joint venture with Seoul. Market reforms tapered off, however, due to harsh sanctions, with the economy managing a 1-percent GDP.
---
Make or break for the Trump-Kim summit
By: Bobby M. Tuazon - @inquirerdotnet Philippine Daily Inquirer / June 02, 2018 Posted by CenPEG June 5, 2018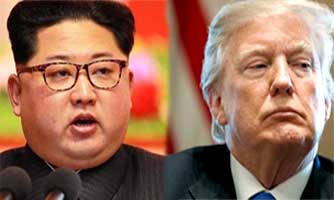 Any breakthrough in the summit will depend on the United States' willingness to respect North Korea's sovereign rights, and to stop acting as the world's policeman.
---
Trump's loss, China's gain?
Bobby M. Tuazon Philippine Daily Inquirer, Nov. 23, 2017 Posted by CenPEG Nov. 30, 2017
Far from diminishing strategic interests the US remains the No. 1 economic and military power in the world. In due time Asia's evolving role as the world's growth center will make American power here irrelevant.
---
The gathering storm
By: Bobby M. Tuazon - @inquirerdotnet
Philippine Daily Inquirer /
October 05, 2017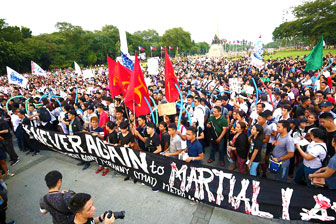 In the months ahead, as the public sympathy that catapulted the Davao City mayor to the presidency begins to crumble and as frustration catches up with the middle-class voters that put him in office, Mr. Duterte will find himself facing a creeping political isolation. But he seems oblivious to any writing on the wall.
---
By: Bobby M. Tuazon - @inquirerdotne
Philippine Daily Inquirer / 05:16 AM August 10, 2017
Posted by CenPEG.org Aug. 12, 2017

President Duterte's first year has given us a glimpse of what's in store for the rest of his term.
---
Military intransigence in the peace talks
By: Bobby M. Tuazon - @inquirerdotnet Philippine Daily Inquirer / April 21, 2017 Posted by CenPEG.org April 25, 2017


Two Army soldiers, second and third from left, released by the NPA April 19, 2017 in Davao del Sur, southern Philippines. (Photo courtesy of Kodao)
---
Slim chance of deal in peace talks
By: Bobby M. Tuazon - @inquirerdotnet
Philippine Daily Inquirer January 19, 2017
(Posted by CenPEG)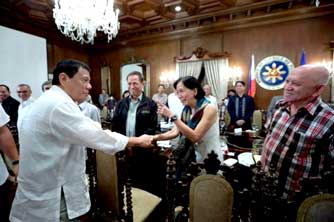 Duterte meets NDFP leaders at People's Palace.
GMANetwork.com photo