FILIPINO IT CAN DO IT!
"FAST"! "EFFICIENT!" "TRANSPARENT" "A LOT CHEAPER!" "KAYA PALA NG PINOY!" (Filipino IT can do it!)
Thus exclaimed students, teachers, NGO leaders, Church leaders, and even one Comelec official. They referred to TAPAT (for TrAnsPArenT Election System) – an alternative election technology solution designed by father-and-son tandem, Arnold and Angelo Villasanta.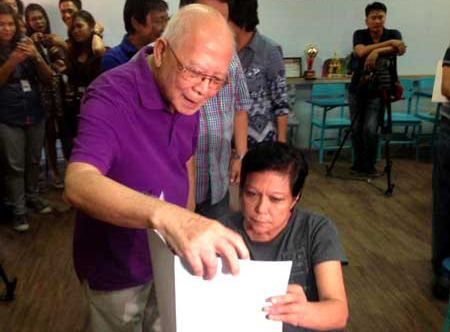 The alternative system was demonstrated in a 5-hour mock voting organized by the Automated Election System Watch (AES Watch) in cooperation with the Pamantasan ng Lungsod ng Maynila (PLM), Intramuros, Manila on July 20, 2015.
TAPAT is a voting system that uses lotto-style ballots that are scanned by the voting machine, provides each voter a verification receipt, conducts automated counting and random audit on the same day. The election returns (ERs) it will produce will then be digitally-signed by the Board of Election Inspectors (BEIs) prior to electronic transmission of the returns.
The actually voting can be done in one minute, Engr. Arnold Villasanta says.
AES Watch - through the Filipino IT for Election (FIT4E) movement which the broad multisectoral elections watchdog launched on June 13, 2011 in UP Diliman, Quezon City – has been organizing forums, roundtable discussions, and other events to promote the use of Filipino science and technology in designing indigenous election technologies more suited to local conditions and to break dependence on importing unreliable systems like the Smartmatic-TIM PCOS.
Some of the designs include PaTAS, as well as those first developed by De La Salle University (DLSU) IT professors and students.
About 200 voters – young and old – took part in the AES Watch/FIT4E mock elections yesterday. They included Comelec officials led by Chairman Andres Bautista and Commissioner Rowena Guanzon; TV host Winnie Monsod; artist Nora Aunor, with National Artist and former CenPEG Board Chair, Bien Lumbera; CBCP Bishop Broderick Pabillo; and others. The mock election was supervised by a Board of Election Inspectors (BEI).
Following are some of the feedback:
"A breath of fresh air… "We realize we are not stuck [with] Smartmatic alone as if it's the only way." (Catholic Bishop Broderick Pabillo)
"The Filipino genius is superior in features and very much more affordable in price. The heart of TAPAT is a simple tablet in a box. It is faster than Smartmatic. TAPAT is very much more transparent since the voter can confirm his/her vote unlike the Smartmatic machine which leaves the voter "blind". TAPAT can and did conduct a random manual audit immediately on the spot before transmission of results. In contrast, it took more than a month for Smartmatic to conduct a simple selective manual audit. Congratulations to the Filipino inventors, the father & son team of Arnold & Angelo Villasanta. (Atty. Melchor Magdamo, former Comelec legal consultant)
The new voting system has "promising features." (Comelec Chairman Andy Bautista.
"So far, I am satisfied that my vote was transparent and it was fast enough for me. But I want to see how slow or fast it will be if there will be 100 people in line." (Comelec Commissioner Rowena Guanzon)
(On the voter verification paper audit trail which TAPAT features but disabled in the Smartmatic PCOS): "In today's issue of the Philippine Daily Inquirer, the Hon. Chair of the COMELEC was said to have "expressed apprehension when the machine printed out a 'voter verified (sic) paper audit trail' (VVPAT), which he said could tempt people to sell their votes." the article further said that "This was the main reason this feature was disabled on the precinct count optical scan machines, Bautista said". Anyone who knows elections using modern technology has reason to be disappointed with the Chairman: 1. A "voter verifiable paper trail" (the correct term) is mandated in 38 of the 50 States in the USA using machines. The VVPAT was never meant to be a 'negotiable instrument' for vote-buying. It is meant to be placed in a ballot box that is why it is called ".. audit trail" so that the ballots can be compared manually if they are consistent with the machine count. It is an audit tool to build confidence in the machine; 2. In a resolution of the United Nations General Assembly on March 9, 2009, the resolution said that the UN encourages all states to endorse and abide by the Declaration of Principles for International Observation (DoP) .The DoP maintains that a VVPAT must be issued for states using technology in their elections. The Philippines was a signatory to the resolution. Why do we renegade on international documents we sign? Are they not worth more than the piece of paper they are written on? 3. No, it was not disabled in the PCOS! The PCOS has no capability to print a VVPAT. This is misleading the public. (Dammy Magbual, NAMFREL/ANFREL/GNDEM)
(AES Watch, July 21, 2015)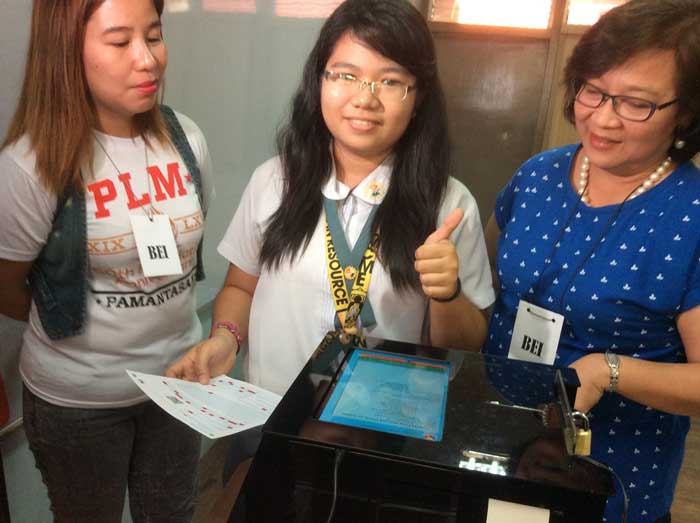 Thumbs up for PLM student showing the TAPAT voting machine (CenPEG photo)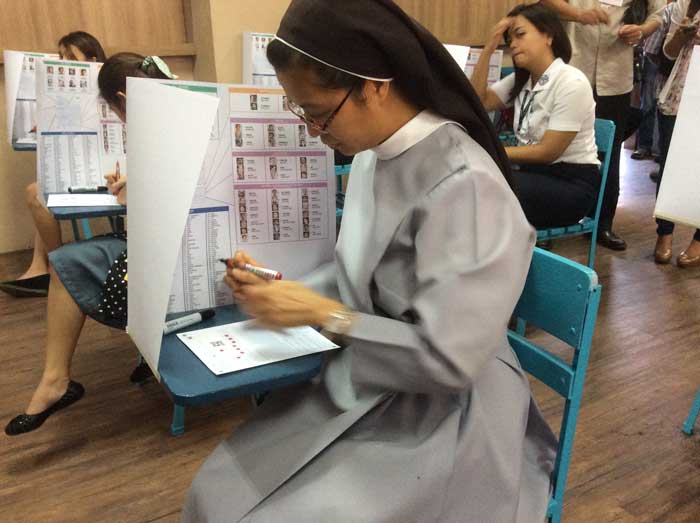 St. Scholastica College Sr. Mary Emmanuel Espera shades lotto-type ballot (CenPEG photo)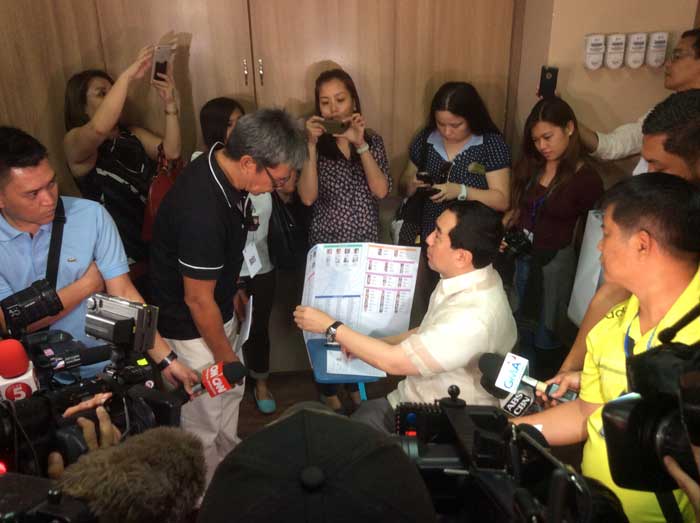 Comelec Chair Andy Bautista tries out (CenPEG photo)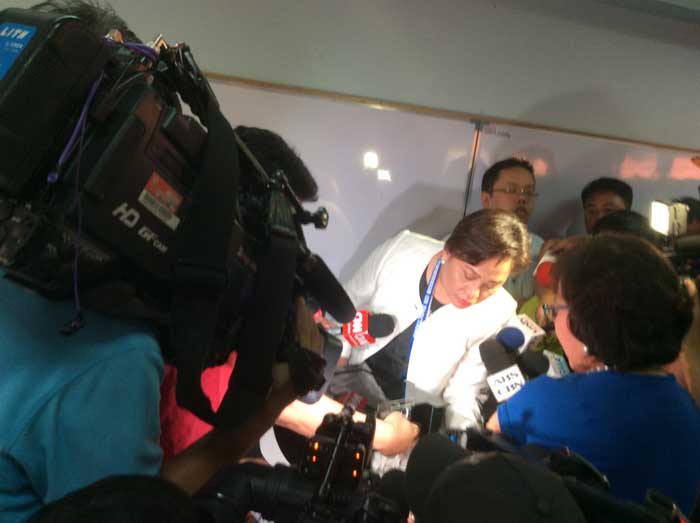 Comelec's Rowena Guanzon: "It's fast!" (CenPEG photo)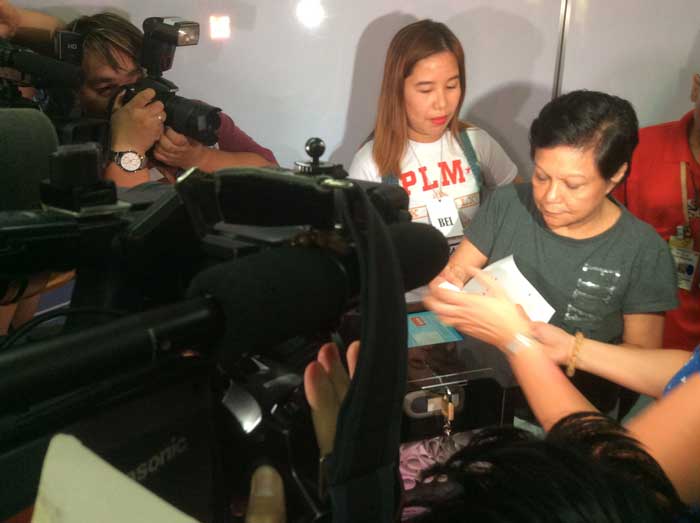 Ate Guy casts lotto-type ballot into the machine (CenPEG photo)