CenPEG welcomes new Fellows
CenPEG.org news
Dec. 16, 2015
New Fellows of the Center for People Empowerment in Governance (CenPEG) were formally welcomed to the policy think tank with an induction on Dec. 12, 2015 in Quezon City.
The new Fellows were inducted by CenPEG Board Chair, Dr. Temario C. Rivera.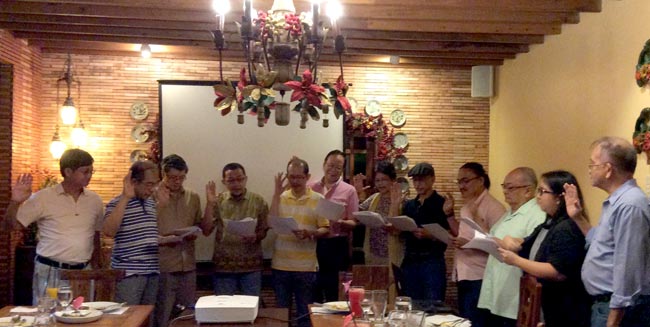 CenPEG Fellowship
The new Fellows represent various disciplines and sectors such as labor administration, Islamic studies, media education, business management, political science, electoral reform, and literature & culture.
Rivera, together with other CenPEG Board members and current Fellows, expressed his appreciation for the valuable contributions the new Fellows have made to the policy think tank based on their competencies, skills, and public governance.
Current Fellows present at the event also joined the induction held during CenPEG's annual fellowship and Christmas gathering.
The new Fellows are: Maragtas Amante, PhD, presently Vice President for Administration, University of the Philippines; Rene B. Azurin, DBM, strategic management, who is also from the election watchdog, AES Watch; Nelson J. Celis, DBM, also a De La Salle University professor and spokesperson of AES Watch; Georgina Encanto, PhD, former Dean of the UP College of Mass Communication and UP Regent; cultural activist and writer, Bonifacio Ilagan; CenPEG policy researcher Danica S. Panelo; Prof. Carl Marc Ramota, former chair, Department of Social Sciences, UP Manila; Fidel dela Torre, CenPEG in-house artist; and Dean Julkipli Wadi of the UP Institute of Islamic Studies.
Established on August 29, 2007, the CenPEG Fellowship program has 24 members. CenPEG News