Singapore envoy sees 'peace and stability' in ASEAN region
March 21, 2017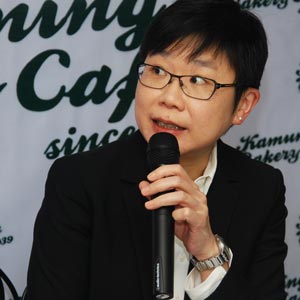 Anticipating the Association of Southeast Asian Nations' (ASEAN's) 50th anniversary summit in the Philippines
late this year, Singapore's ambassador to Manila believes that the regional association has gone a long way with nary any divisive conflict since its membership expansion in the 1990s.
Speaking at a forum hosted by Kamuning Bakery Café (KBC) in Quezon City March 21, 2017, Singapore's envoy, Kok Li Peng, said Southeast Asia remains generally peaceful and stable despite Asia's complex dynamics and recurring tensions such as maritime disputes.
The ambassador echoed her government's perception on the Philippines under President Rodrigo Duterte particularly on its economy which she described as "optimistic" and "bullish." She also extolled the two countries' bilateral ties characterized by strong trade and investment cooperation. Madame Kok also expressed high hopes on the Regional Comprehensive Economic Partnership (RCEP) as a good initiative to promote trade. Initiated by the China, RCEP initially groups the 10 countries of ASEAN and five other states.
The Singaporean ambassador also joined award-winning poets Jose F. Lacaba and Marra Pl. Lanot to celebrate UNESCO's "World Poetry Day." Forum host Wilson Lee Flores, a newspaper columnist, invited Madame Kok to recite one of her favorite poems, "The road not taken" by Robert Frost. Lacaba and Lanot also recited their original poems in Filipino.
Kok also said that Singapore's founding father, the late Prime Minister Lee Kuan Yew, and Philippine President Duterte, live in different eras and face divergent challenges. But the ambassador said that both leaders are similar in their "strong political will and for being doers."
She lauded the Duterte government's on-going peace negotiations with the leftist National Democratic Front of the Philippines (NDFP) and the two Moro rebel groups. CenPEG News with KBC press release