Trump's immigration policy has deep roots in US xenophobia, racial prejudice - speaker
CenPEG.org
Feb. 22, 2017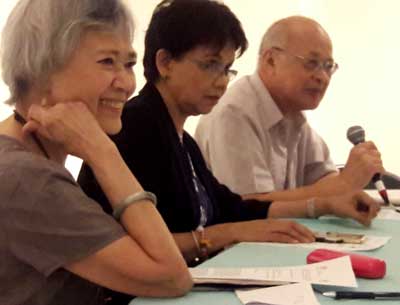 A policy round-table discussion dealing on US President Trump's immigration policy was held on February 21, 2017 at the Japan Hall, GT Toyota Asian Cultural Center, University of the Philippines, in Diliman, Quezon City.
Serving as resource persons were US-based academics and writers, Profs. Epifanio San Juan, Jr. and Delia D. Aguilar. The round-table discussion dealt on the topic, "US President Donald Trump's Immigration / Travel Ban Policy: Impact on Filipino-Americans and Philippine-US Relations." Organized by the Center for People Empowerment in Governance (CenPEG) and Asia for Development and Peace Today (ADePT), the discussion was in cooperation with the Asian Center. Academics, students, and representatives of NGOs attended as discussants.
Professor San Juan, currently a professorial lecturer in Cultural Studies, Polytechnic University of the Philippines (PUP), noted that Trump is a product of the global crisis of neo-liberalism. Trump's conservative politics, San Juan said, has deep roots in America's xenophobia and racial prejudice that are embedded in its institutions.
San Juan said he does not see any danger that the Trump administration's new immigration policy poses on Filipino immigrants in the US mentioning, however, that the new US president had announced a stop to the issuance of green cards.
Professor Aguilar talked on the possible resurgence of a social mass movement triggered by Trump's anti-immigration and other policies. Although Trump's inauguration as new president on January 20 was met the following day by an unprecedented women's march in Washington, DC Aguilar described the mass action as middle-class feminism and liberal with an emphasis on "identity politics."
Acting as discussion facilitator was Evita L. Jimenez, CenPEG executive director and ADePT lead convener while CenPEG chair Temario C. Rivera gave the opening remarks. Asian Center Dean Joefe Santarita was represented by Prof. Roli Talampas who gave the synthesis.


Some of the roundtable discussants with CenPEG Fellow Julkipli Wadi of the Institute of Islamic Studies (front row, right) and chair Temario C. Rivera (bottom right, partly hidden)
San Juan is also emeritus professor of English, Comparative Literature and Ethnic Studies, Washington State University & the University of Connecticut. He was recently fellow of the W.E.B. Du Bois Institute, Harvard University; and of the Harry Ransom Center, University of Texas. He was 2003 professor of American Studies at Katholieke Universiteit Leuven in Belgium. Among his recent books are Racism and Cultural Studies (Duke University Press) and Working through the Contradictions (Bucknell University Press). Two books in Filipino were launched recently: AMBIL (createspace.org) and Kundiman sa Gitna ng Karimlan (University of the Philippines Press).  His collection of poems in Filipino written in the last four decades was published by Ateneo de Manila University Press in the volume Alay sa Paglikha ng Bukangliwayway. His recent books are Between Empire and Insurgency (University of the Philippines Press); Lupang Hinirang, Lupang Tinubuan (De La Salle University Publishing House); Learning from the Filipino Diaspora (UST Publishing House); and, Filipinas Everywhere (De La Salle University Publishing House).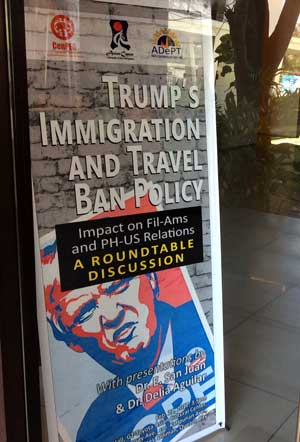 In 1999, San Juan received the Centennial Award for Achievement in Literature from the Cultural Center of the Philippines for his contributions to Filipino and Filipino American Studies. He graduated magna cum laude from the University of the Philippines in 1958; received his masters' degree in 1962; and obtained a PhD degree from Harvard University in 1965 while under a Rockefeller fellowship. He became a professor of the English language, Comparative Literature, Ethnic Studies, American Studies and Cultural Studies in the United States, Europe, the Philippines, and Taiwan. From 1961 to 1963, San Juan was appointed as a fellow and English-language tutor at Harvard University. Among the other universities in the United States where he taught include the University of California at Davis, the University of Connecticut at Storrs, and the Brooklyn College of the City University of New York. In the Philippines, he taught in the University of the Philippines in 2008, and at the Ateneo de Manila. Other universities include the Bowling Green State University, Wesleyan University, the Universities of Leuven and Antwerp in Belgium, and the National Tsing Hua University in the Republic of China (Taiwan).
Aguilar, on the other hand, is noted for her work in interdisciplinary studies, particularly women's and Asian studies. Her recent work includes working as the Visiting Jane Watson Irwin Chair in Women's Studies, Hamilton College. 2008-2009. Currently, she works as a lecturer in the Women's Studies program at the University of Connecticut. Dr. Aguilar received her PhD in Women's Studies from The Union Institute in 1987. She is the author of many books and articles, including Women and Globalization, (edited with Anne Lacsamana); Humanity Books, April 2004; Filipino Housewives Speak. Manila: Institute of Women's Studies, St. Scholastica's College, 1991; Toward a Nationalist Feminism. Manila: Giraffe Books, 1998; and The Feminist Challenge: Initial Working Principles toward Re-conceptualizing the Feminist Movement in the Philippines. Manila: Asian Social Institute, 1989. CenPEG News