CenPEG tapped as resource group in peace talks
Oct. 4, 2016
CenPEG.org
Peace process between the government and revolutionary organizations including the Moro rebel groups and the left National Democratic Front of the Philippines (NDFP) is part of CenPEG's policy studies and engagements.
In the resumed talks between the Government of the Republic of the Philippines (GRP) and the NDFP under the Duterte administration, CenPEG has served as a resource group in various forums and symposia organized by stakeholder organizations, universities, and other institutions.
In two recent invitations, CenPEG was represented by Policy Studies Director, Bobby M. Tuazon, as a reactor during the peace forum sponsored by the Pamantasan ng Lungsod ng Maynila (PLM) under its Public Policy Forum program held at its campus in Intramuros, Manila on Sept. 26, 2016. Before that, Prof. Tuazon served also as a discussant in a two-day peace seminar sponsored by the Communication Foundation for Asia (CFA) through its "Hapag Kalinaw" on Sept. 23 at the CFA compound in Old Sta. Mesa, Manila.
The PLM public policy forum spotlighted the chief negotiators in the ongoing GRP-NDFP peace talks, namely, Silvestre Bello III, also concurrent labor secretary representing the GRP and Luis Jalandoni for the NDFP. Tuazon joined other panel reactors – Jose Luis Yulo, Jr., president of the Chamber of Commerce of the Philippine Island, and lawyer Nashmyleen Adap Marohomsalic, a court attorney of the Supreme Court.
Tuazon, as a reactor, posed a challenge to the GRP chief negotiator on the prospects of reform mechanisms that the government will institute to effectively implement peace agreements on socio-economic as well as political and constitutional reforms, among other pacts.
The PLM forum was attended by about 400 students together with PLM faculty members, NGOs, and other peace stakeholders. PLM President Lenny de Jesus gave the closing remarks. PLM VP for public affairs, Ibarra C. Gutierrez, coordinated the whole event.
At the CFA Hapag Kalinaw peace seminar, Tuazon was a discussant for the second day together with Dr. Carol P. Araullo, president of Bagong Alyansang Makabayan (Bayan); Prof. Miriam Ferrer, former government chief negotiation for the peace talks with Moro Islamic Liberation Front; Mohagher Iqbal, chair of the MILF peace panel; Brig. Gen. (ret.) Raymundo Jarque, military consultant for the NDFP panel; Samira Gutoc-Tomawis, former assemblywoman of the Autonomous Region for Muslim Mindanao (ARMM); and Fr. Jerome Secillano, public affairs committee of the Catholic Bishops Conference of the Philippines.
CenPEG had previously organized forums and conferences on the peace process including the one-day peace conference on the GRP-MILF talks in 2013. CenPEG News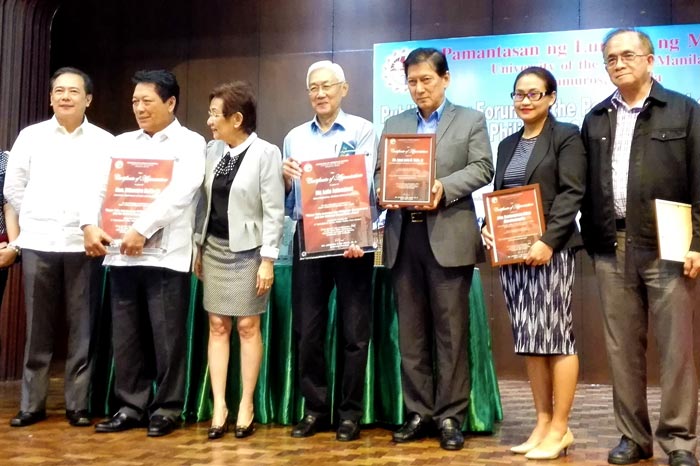 At the PLM public policy forum are (L-R) PLM Executive Vice President Nelson J. Celis, GRP chief negotiator Silvestre Bello III, PLM President Lenny de Jesus, NDFP chief negotiator Luis Jalandoni, Jose Luis Yulo, lawyer Nashmyleen Adap Marohomsalic, and Prof. Bobby Tuazon. CenPEG photo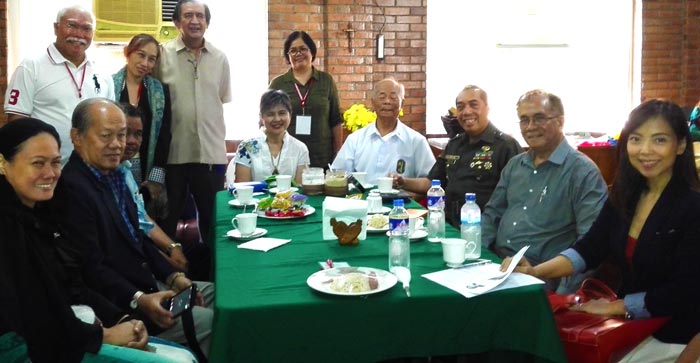 Organizers and discussants after the CFA peace seminar, including, Fr. Ben Alforque, CFA executive director Noel de Leon, MILF chief negotiator Mohagher Iqbal (partly hidden), Bayan's Dr. Carol P. Araullo, Samira Gutoc-Tomawis, retired general and NDFP military consultant Raymundo Jarque, and Bobby Tuazon (second from right). CenPEG photo