New Comelec chair says he's open to other election technologies
CenPEG.org
May 19, 2015
The Commission on Elections (Comelec), under its new chair, Andres Bautista, has until late July 2015 to adopt the election technology suited for the May 2016 presidential elections. While public biddings are being conducted on the next automated election's system, hardware, logistics, and other requirements the poll body, said Bautista, former commissioner of the Presidential Commission on Good Government (PCGG), will be "transparent" and will look into other proposed election systems.
One of the proposed systems, the Transparent and Credible Election System (TCrES, will be presented in a special meeting being convened by Bautista late May this year. TCrES, which is designed under the TransparentElections.org with inputs from IT professionals and election watch groups such as AES Watch, adopts the secret voting and public counting at the precinct level, and transmission by automation to canvassing and consolidation systems nationwide. The TCrES poll automation restores the transparency of public counting which had been disabled by election technology reseller, Smartmatic-TIM, and Comelec in the first two automated elections of 2010 and 2013 thereby removing the voter's right of verification that votes are counted correctly.
TCrES has been endorsed by the Comelec Advisory Council (CAC) and the Philippine Computer Society (PCS). At the May 14 hearing of the Joint Congressional Oversight Committee (JCOC) on AES, the chair, Sen. Koko Pimentel, said TCrES can be qualified for adopted under the modern election law, RA 9369.
Smartmatic-TIM and Comelec under its former chairman, election lawyer Sixto Brillantes, Jr., suffered a legal setback when the Supreme Court (SC) in an April 21 ruling voided Resolution 9922 and a P269-million contract providing for the cleaning and minor repair of 82,000 precinct count optical scan (PCOS) machines geared to be re-used in the 2016 elections. The high court affirmed the contention of individual petitioners from AES Watch and the Integrated Bar of the Philippines (IBP) that the resolution and contract – called "midnight deals" by AES Watch and other election advocates – violated the procurement law requiring competitive bidding for government contracts. The high tribunal justices agreed also that the Comelec committed grave abuse of discretion in approving the contract signed by then outgoing chairman Brillantes.
CenPEG volunteer lawyer Manuelito Luna filed the TRO petition on behalf of the AES Watch petitioners while Pacifico Agabi, former Dean of the University of the Philippines' College of Law, represented the IBP.
On May 12, Smartmatic-TIM was disqualified a second time by the Comelec's Bids and Awards Committee (BAC) for the lease of 23,000 optical mark readers (OMRs) for the May 2016 elections. In its post-disqualification declaration, BAC cited the failure of the Venezuelan reselling company to submit valid Articles of Incorporation as well as the failure of its demo unit to meet Comelec standards particularly in having at least two storage devices and the capability to write to the same all data/files, audit log, statistics, and ballot images simultaneously. AES Watch had earlier sent a protest letter to the BAC calling for the disqualification of Smartmatic-TIM for reasons that were later cited in the committee's declaration. CenPEG News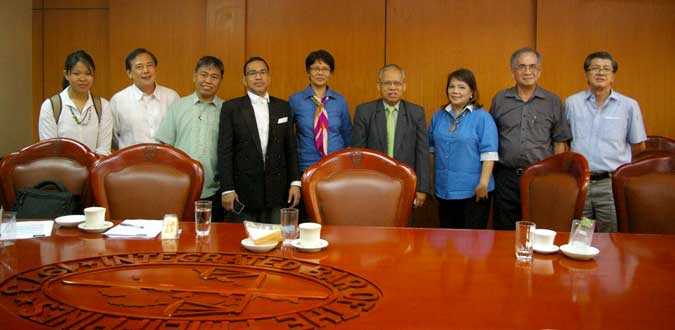 Petitioners against the PCOS contract between the Comelec and Smartmatic meet at the IBP Board Room, Makati, on March 9, 2015. (L-R): Celine Socrates, CenPEG policy researcher; Prof. Nelson Celis, AES Watch; IBP National Secretary Atty. Nasser A. Marohomsalic; Atty. Manuelito R. Luna, AES Watch volunteer counsel; Evi L.Jimenez, CenPEG executive director and AES Watch convener; IBP National President Vicente M. Joyas; Ma. Corazon M. Akol, AES Watch & Namfrel; Prof. Bobby Tuazon, CenPEG director for policy studies; and Mr. Hector. A. Barrios, AES Watch. CenPEG photo