High Court set to hear oral arguments on suits filed vs Comelec, Smartmatic
CenPEG.org
March 3, 2015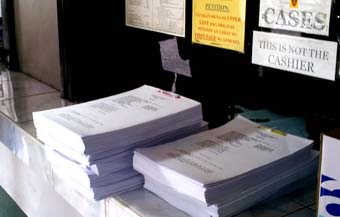 THE SUPREME COURT (SC) is expected anytime soon to set the oral arguments on the separate petitions for injunction and temporary restraining order (TRO) filed by citizens election watch groups and a national lawyers' organization against the Commission on Elections (Comelec) and Smartmatic-TIM, a Venezuelan marketing company.
Filed last January, the petition of the Citizens for Clean and Credible Elections (C3E) calls for the blacklisting of Smartmatic-TIM from current and future biddings for services, technology, and other requirements in preparation for the May 2016 presidential elections.
Filed last February 2, the petition for certiorari and prohibition with preliminary injunction of individual conveners and members of the Automated Election System Watch (AES Watch) seeks to nullify Comelec Resolution 9922. The resolution sought to award – without public bidding – Smartmatic-TIM some P1.2-billion plus contracts for the "diagnostics, repair and refurbishment" of 80,000 PCOS machines. Among the petitioners were Bishop Broderick S. Pabillo, DD, CBCP public affairs; Dr. Pablo R. Manalastas, computer science faculty of Ateneo and UP; Leo Y. Querubin, president, Philippine Computer Society; former Comelec Commissioner Augusto Lagman; Dr. Jaime DL Caro of the UP Department of Computer Science; Concepcion Bragas-Regalado, founding president of Migrante International; and Evita L. Jimenez, executive director, Center for People Empowerment in Governance (CenPEG).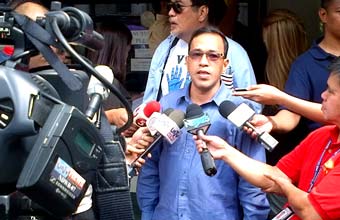 The resolution has been cited as a "midnight deal" that, AES Watch said, "paved the way for the continuing travesty of our elections by defective Smartmatic PCOS machines and a non-compliant Comelec."
In a separate action on February 17, the Integrated Bar of the Philippines (IBP) asked the SC to issue a TRO citing both Comelec resolution and the contract signed with Smartmatic-TIM as in violation of the procurement law (RA 9184).
Atty. Manuelito Luna is the counsel of the AES Watch petitioners while Atty. Pacifico Agabin, former dean of the University of the Philippines' college of law, filed the IBP petition. CenPEG News