CenPEG holds 1st roundtable with media on presidential poll results
CenPEG.org
June 29, 2015
The Center for People Empowerment in Governance (CenPEG) had the soft launch of its Roundtable Discussion with the Media last June 19, 2015 at the historic Kamuning Bakery café in Quezon City. The first "Kapihan at Pandesal sa Kamuning" (coffee and bread at Kamuning) was hosted by newspaper columnist Wilson Lee Flores.
CenPEG Senior Fellows, Profs. Temario C. Rivera and Bobby M. Tuazon, served as the panel of resource persons for the RTD topic, "Analyzing Sen. Grace Poe's lead in latest Pulse Asia survey." The latest PA survey showed Senator Poe overtaking Vice President Jejomar Binay, erstwhile frontrunner in voters' preference as presidential candidate in May 2016.
Kamuning Bakery is a pre-war, 79-year-old bakery known to many Quezon City residents.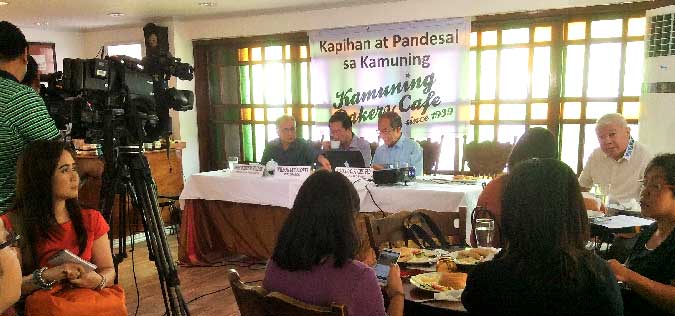 CenPEG Media Posting: CenPEG media roundtable panel (L-R): Bobby Tuazon, Wilson Lee Flores, moderator, and Temario C. Rivera. CenPEG photo
For the various reports on the CenPEG roundtable, read(click to download):
Telefax +6329299526 email: cenpeg@cenpeg.org; cenpeg.info@gmail.com Copyright ©2005
Center for People Empowewrment in Governance (CenPEG), Philippines. All rights reserved