Comelec 'parallel biddings' questioned before high court
Contributed by Louielyn M. dela Cruz
CenPEG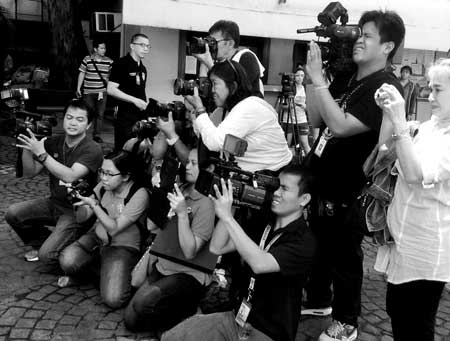 The Center for People Empowerment and Governance (CenPEG) together with the Alliance of Concerned Teachers (ACT)-Philippines and 15 others filed a petition on July 7, 2015 asking the Supreme Court (SC) to stop the Commission on Elections (Comelec) from proceeding with the "parallel bidding" for the refurbishment of the existing Precinct Count Optical Scan (PCOS) machines and for the lease of the 93,977 more Optical Marker Reader (OMR) units for the 2016 national and local elections.
The petitioners asked the high court to issue a Temporary Restraining Order (TRO) against the enforcement of Comelec Resolutions Nos. 15-0355 and 15-0359 which approved the conduct of parallel biddings and the creation of two separate Special Bids and Awards Committee- Technical Working Groups (SBAC-TWGs).
The group, through lawyer Manuelito Luna, argued that both resolutions should be stricken down as null and void for violating Art. V, Sec. 13 of RA No. 9184 or the Government Procurement Reform Act (GPRA) of 2003.
Petitioners, led by CenPEG chairperson Temario C. Rivera, argued that the lease for the new OMR units, amounting to a whooping PhP 12.541 billion will exceed the legally-authorized expenditure of the capital outlay allotted to the preparatory activities of the upcoming elections.
They likewise asked the high court to issue a Writ of Mandamus to Comelec for the commission's grave abuse of discretion amounting to lack or excess of jurisdiction due to its failure to promulgate Implementing Rules and Regulations of RA No 9369 and to sue Smartmatic-TIM for damages for reneging its training obligation under the 2009 Request for Proposal.
"If permitted," they argued, "the Commission will be allowed not only to undermine Congress' spending power but more importantly, to wreak havoc to the budget, the system, as well as desecrate the Fundamental Law of the land." They also stressed upon the failure of parallel bidding by disallowing it to protect the public interest and to provide the best advantages through open competition.
Among the other petitioners were CBCP Bishop Broderick Pabillo, Benjamin Valbuena, president of the Alliance of Concerned Teachers (ACT) – Philippines, Prof. Jaime DL Caro, former Judge Dolores L. Espanol, Sr. Mary John Mananzan, and Mae E. Paner.
On the same day, a separate petition led by former Sen. Francisco Tatad together with eight bishops, former Manila Councilor Antonio Belgica, and lawyer Glenn Chiong was filed against Comelec. The group asked Comelec Resolution No. 15-0444, allowing the alignment of the capital allotment requirement for the upcoming elections, be declared unconstitutional for violating the General Appropriations Act.
Press reports said that after its session last July 14, 2015, the SC issued a directive asking the Comelec to reply to the two petitions and comment on the pleas for the issuance of a TRO within 10 days.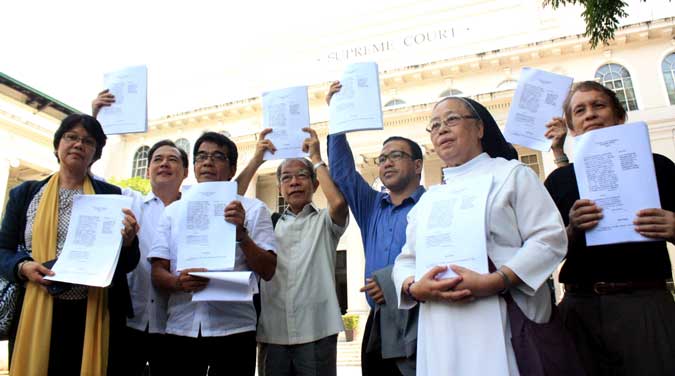 The group raise the copies of the 50-page petition against Comelec filed at the Supreme Court last July 7, 2015. (CenPEG photo)