2 poll watch coalitions stage rally vs Comelec-Smartmatic midnight deal
CenPEG.org
January 14, 2014
More mass protests will be launched to demand the Brillantes-led Comelec to rescind its midnight resolution of Dec. 23 awarding P300 million-contract to Smartmatic for the diagnostic tests of 80,000 PCOS machines and ban the non-compliant foreign vendor from participating in current and future election public bidding.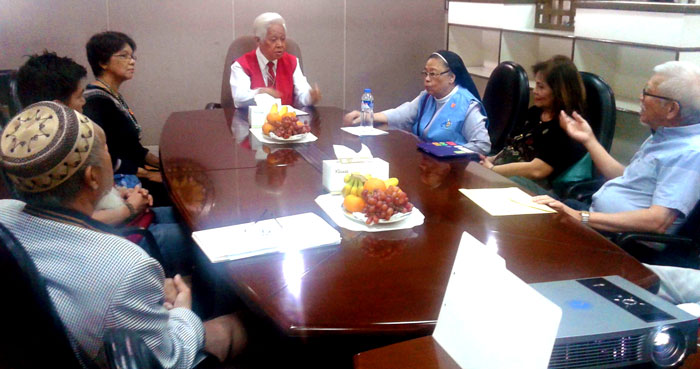 AES Watch Conveners face Comelec's Brillantes: (counter clockwise) Former Comelec Commissioner Gus Lagman, Maricor Akol, Mother Mary John Manansan, Brillantes, CenPEG's Evi Jimenez, Glenn Chong, and retiring Commissioner Elias Yusoph. CenPEG photo
Thus vowed conveners of the Automated Election System Watch (AES Watch) and Citizens for Clean and Credible Elections (C3E) after staging a picket rally in front of the Comelec headquarters in Intramuros, Manila morning of January 13. About 200 conveners and members of the two multisectoral election watchdogs' affiliates including Migrante International, Kaakbay, Philippine Association of Free Labor Unions (PAFLU), Bayan Muna Partylist, Pagbabago, and other groups massed up for a picket rally to denounce the Comelec-Smartmatic "midnight deal."
The mass action kicked off with a prayer rally led by Bishop Broderick Pabillo at the Catholic Bishops Conference of the Philippines (CBCP)-NASSA compound on Juan Luna. The protesters then silently walked to meet in front of Comelec with a bigger group of rallyers who marched all the way from Liwasang Bonifacio amid a phalanx of policemen who were securing Plaza Roma for the coming visit of Pope Francis.
The P300 million deal is on top of other contracts for the repair and refurbishment of PCOS machines set to be awarded to the Venezuelan reseller Smartmatic totaling more than P1.2 billion. The deals are part of Comelec's preparation for the 2016 presidential elections.
Earlier in a dialog with AES Watch conveners before the picket rally, Comelec Chairman Sixto S. Brillantes, Jr. defended the Comelec resolution signed on Dec.29 (while everybody was onholiday) saying that "as chair, he's not obliged to report to any group on what he and Comelec want to do with regard to election preparations saying that he can do whatever he wants for as long as he remains the head of the poll body. The dialog was attended by AES Watch leaders former Comelec commissioner Gus Lagman, Mother Mary John Manansan, Maricor Akol, lawyer Glenn Chong, Hector Barrios, and CenPEG executive director Evita L. Jimenez.
Brillantes revealed that the P300 million contract will be signed before he retires on Feb. 2. Other commissioners set to retire and who also signed the resolution are Lucenito N. Tagle and Elias R. Yusoph. In the same meeting, Lagman challenged Brillantes to tap the expertise of many Filipino IT experts who can perform the diagnostics, repair, and refurbishing of the voting machines instead of relying on a foreign marketing firm out to bleed taxpayers dry of hard earnings.
In a joint protest letter to the Comelec, AES Watch and C3E "voiced in the strongest terms (their) opposition and grave concerns to Comelec Resolution 9922 awarding to the Venezuelan reseller and marketing company, Smartmatic, the very prohibitive PhP 300M contract of diagnostics and minor repairs on the 80,000 PCOS machines without public bidding."
"This holiday rush," both groups said, "is highly suspect and utterly unconscionable in the face of the many unresolved issues involving the defective PCOS machines provided in the last two elections – 2010 and 2013 - by the favored foreign vendor, Smartmatic."
The resolution, they said, was issued "in disregard of the urgent concerns raised in recent Joint Congressional Oversight Committee (JCOC) hearings on the AES calling for thorough reports from Comelec on the latest revelations by no less than the Technical Evaluation Committee of the government Department of Science and Technology (DOST) regarding the digital distortions of ballot images from the PCOS machines that, according to the TEC official report, 'could have affected the results (counting) of the election' and as the TEC official claims, 'would be difficult to clean.'"
The groups asked: "What power does Smartmatic – a foreign company - have that it can threaten at will the Philippines' own constitutional election body and succeed in compelling it to award the services (amounting to more than PhP1.2Bn) on the basis only of unverified information supplied by this marketing company regarding its fictitious 'ownership' and 'manufacturing' rights to the PCOS system, when such claims have already been shown to be questionable?"
AES Watch and C3E asked that the resolution to award the negotiated contract with Smartmatic be rescinded and that any decision to this effect deferred until after the retirement of the three outgoing officials on February 2 and the appointment of their replacements.
"We ask that the retiring commissioners led by the Chairman, out of propriety and delicadeza, inhibit themselves from any long term decision making especially on critical issues involving the questionable counting accuracy of the Smartmatic-provided PCOS technology that remains the ownership of another foreign company, Dominion Voting System," they said.
Among several signatories, the protest letter given to Comelec today was also signed by C3E convener Herminigildo R. Estrella, Jr.; Nelson J. Celis, AES Watch spokesperson; Bishop Broderick Pabillo, CBCP commission on public affairs; Lipa Archbishop Ramon Arguelles; former Comelec lawyer Melchor Magdamo; Prof. Leonor M. Briones; Leo Querubin, president of Philippine Computer Society (PCS); Edmundo Casiño, former PCS president; Alain Pascua, Kaakbay and C3E; Engr. Jun Lozada; Dr. Pablo Manalastas, IT Fellow of CenPEG; UP Prof. Jaime Caro; Hector Barrios, systems analyst; Leon Peralta of the Anti-Trapo Movement of the Philippines; Nicanor Elman, League of Elder and Aging Persons; Norman Cabrera of Kapatiran Party; Connie Bragas-Regalado, Migrante International; Nathanael Santiago, secretary general of Makabayan Coalition; and Dr. Greg Mariano, convener, Global Filipino Nation and Filipino United Network of USA.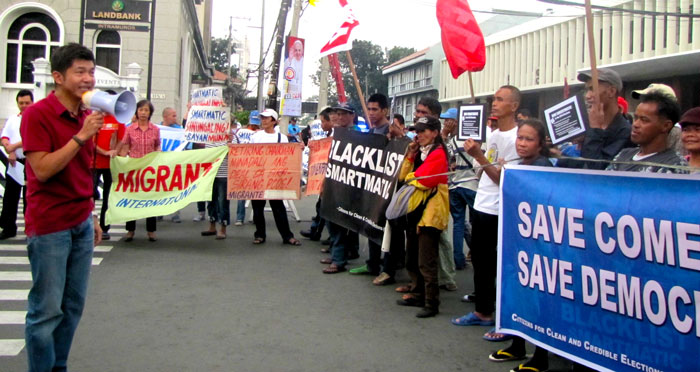 Former Congressman Glenn Chong addresses rallyers. CenPEG photo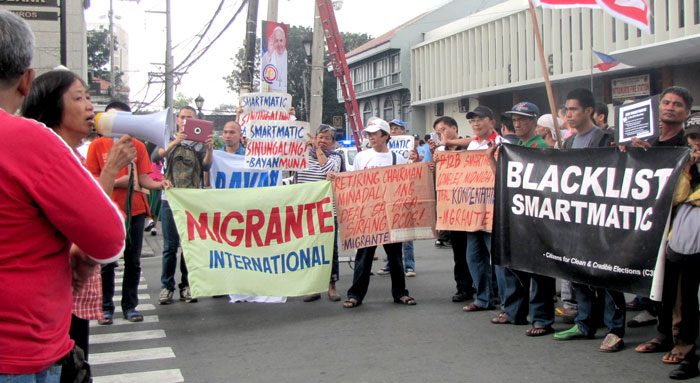 Migrante International's Connie Bragas-Regalado (left) with megaphone CenPEG photo