Is Comelec finally junking Smartmatic?
Despite technical glitches, poll body calls 2013 automated election 'fairly successful'
CenPEG.org
Feb. 14, 2014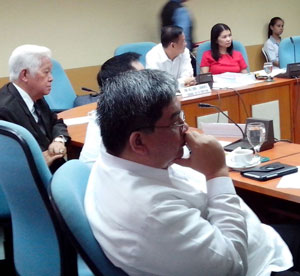 The Commission on Elections (Comelec), through Chairman Sixto Brillantes, Jr., this week admitted it is now looking for a new technology to be used for the May 2016 presidential elections.
The Comelec officials said so as they faced the lower House's Joint Congressional Advisory Committee on the automated election last February 10, 2014 to submit its report on the May 2013 elections and their recommendations for the next polls.
The latest Comelec option sent speculations that the poll body – which had favored the technology provider Smartmatic for both the 2010 and 2013 automated elections – has been finally compelled to drop the Venezuelan marketing company.
Among the proposals Comelec raised during the hearing were the comprehensive review of RA 9369 or the election automation law as well as the Fair Elections Act.
Comelec executive director Jose Tolentino said that the poll body is considering several options for the 2016 elections.
In the deliberations led by House JCOC chairman Rep. Mel Senen Sarmiento, the options that came up were: to dispose of all the old voting machines and buy new ones but using the same PCOS (or precinct count optical system) technology; or, second, use a new technology and buy direct-recording electronic (DRE) voting machines.
A third option called the "mixed system" entails using the old PCOS machines and buying few new ones with the least cost and less time needed for the certification process. This option, according to Comelec officials, would cost between P6.91 billion to P10.3 billion.
Election inspectors and voters are most likely to be familiar with this system, they said. Aside from options for the conduct of elections, it was also pointed out that the CAC considered the VVPAT as redundant.
Meanwhile, the use of an all-new system would cost a lot and need a massive information and education campaign.
On questioning by committee member, Rep. Rodolfo Biazon, Brillantes reiterated that Comelec will focus on the change of technology. Biazon replied, "If we're going to focus on changing the technology, then it would require procurement and there is the possibility of increase in the amount of budget needed. The government will be up for tremendous changes - increases in needs [spending]. Magkakasabay ang competing needs for resources—like for disaster and education. How much will a regional/national plebiscite cost?"
Comelec officials also said in the next elections they are considering assigning 600-800 voters for every precinct/1 PCOS machine – or a total of 40,000 PCOS machines with each costing P90,000 - as opposed to the 2010 and 2013 with a ratio of 1,000 voters per clustered precinct/1 voting machine.
In its accomplishment read by Information Director James Jimenez, Comelec revealed that
10,000 PCOS machines out of 78,166 (or 13%) failed to transmit election results in May 2013 "due to weak signals, power interruptions, and bad weather." The results for these failed transmissions were manually uploaded, he said.
Jimenez also reported that 40 million of 52 million registered voters cast their ballots in the last elections - translating to a 77.3% turnout or within a normal range for Philippine elections. "We believe that the elections as a whole were fairly successful. There were some issues that probably gave people some pause, but ultimately, none of them affected the integrity of the counting", he said.
Various citizens' election watchdogs, led by AES Watch and think tank CenPEG, had declared the May 2013 elections a technological and political disaster (please see previous reports in this website). They called for the junking of the Smartmatic-provided voting machines – which they did as early as 2010 - and a full recount of the election results.
To enhance the voting of Overseas Absentee Voters (OAVs), the Comelec officials pushed for online voting. Jimenez said online voting would benefit especially the seafarers who comprise a big part of the qualified Filipino electorate abroad.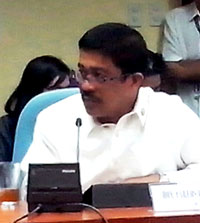 According to him, the challenge lies not in getting overseas Filipino voters to register, but in getting them to vote. With distance as a problem, online voting as an option could make voting more accessible to them.
In the last midterm elections, nearly a million overseas voters registered but only 16 % actually voted.
On the imminent Bangsamoro plebiscite Biazon told Brillantes, Jr., "if the Bangsamoro plebiscite requires amending the constitution, then this plebiscite shall become a national plebiscite."
Another committee member, Bayan Muna Rep. Carlos Isagani Zarate, moved for inviting citizens' groups like AES Watch and CenPEG in the next JCOC hearings as he noted their absence.
Brillantes questioned the "legal status" of the citizens' groups citing AES Watch as one. Committee chairman Sarmiento however assured Zarate that the House JCOC-AES will make sure that citizens' groups were invited to the next hearing.
In charge of preparations for the 2016 elections are Comelec commissioners Christian Robert Lim, Grace Padaca, Al Pareño and Luie Guia. The total number of registered voters in 2016 is expected to increase to 56 million.  (Report by Yuri Ramirez)