Remittance with Representation: The right to vote of overseas Filipinos
CenPEG.org
Dec. 4, 2014
2014 is the 10th year of overseas voting for migrant Filipinos living and working abroad. Out of 10mn migrant Filipinos distributed in almost 200 countries, more than 4mn are temporary or are working. Most of them are eligible voters – those who exercise their right to vote under the Overseas Voting Act of 2003.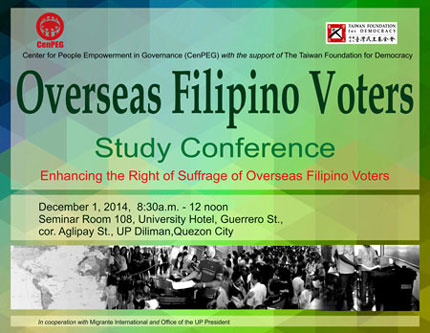 Since the law's enactment, four elections have been held – 2004, 2007, 2010, and 2013. From a relatively high voter turnout of 65% in 2004, however, the turnout has dropped to a dismal 16% in 2013 – 118,823 out of 975,263 who registered.
With a large percentage of eligible overseas Filipino voters disenfranchised of their right to vote, the issue of remittance with representation has been raised. Last year, overseas Filipinos – many of them overseas Filipino workers (OFWs) - remitted some $23bn or 9% of the country's GDP. Despite their helping prop up the country's economy, inability to cast their vote during elections could still mean limited or zero representation in government policy making and governance.
For its initial appraisal of overseas Filipino voting, CenPEG held a study conference, "Enhancing the Right of Suffrage of Overseas Filipino Voters: Cutting-Edge Solutions," on Dec. 1, 2014 at the University of the Philippines, Diliman, Quezon City. The conference was attended by representatives and members of Migrante International, seafarers, and other migrant Filipinos based in the Middle East, Hong Kong, and the U.S.; as well as election watchdogs like AES Watch and NAMFREL. Also in attendance were officials and staff of the Department of Foreign Affairs, the Comelec Advisory Council, and Congress like the Joint Congressional Oversight Committee (JCOC).
CenPEG Policy Studies Director Bobby M. Tuazon, in his presentation, appraised the low voting trend among overseas Filipinos with identified problems persisting since 2004 – such as travel difficulties, employer restrictions on overseas Filipino workers (OFWs), as well as registration and voting restrictions. Based on the experiences in others countries with overseas voting rights, Tuazon said, migrant voters' disconnect with their home countries, unfamiliarity with election and political issues, and some restrictions in their host countries posed limitations to suffrage rights. Lack of trust in their own governments, in the election process, and in the failure of voting to make a difference in terms of being responsive to their own issues have also dampened the participation of millions of overseas voters even from such "democratic countries" as the U.S. and western Europe.
Pablo R. Manalastas, CenPEG Fellow for IT, commented on the use of internet for overseas voters' registration for the 2016 elections.
Migrante International president Connie Bragas-Regalado talked about the OFWs' groups policy demands, including making the overseas voting registration systematic, widespread, and accessible; a massive voter education drive by the government; special attention should be given to vulnerable sectors among the overseas Filipino voters particularly domestic helpers and caregivers; increasing the budget for the implementation of  the overseas voting act; and e) establishing and regularizing embassies, consulates, and missions and their services in countries where there large concentrations of migrant Filipinos.
Migrante's network responded to CenPEG's survey questions on overseas Filipinos' attitude to overseas voting in several countries. The survey, among other findings, revealed that 58% voters who used the precinct count optical scan (PCOS) machines of Comelec and foreign outsourcing company, Smartmatic, did not know or were unsure whether their votes were counted in the 2010 and 2013 elections.
CenPEG Executive Director Evita J. Jimenez served as conference moderator while Board Chair Temario C. Rivera gave the opening remarks and synthesis.
The conference on overseas voting was held in cooperation with the Office of the UP President and with the support of the Taiwan Foundation for Democracy (TFD). CenPEG News