Felix D. Carao, Jr: A 'great loss,' 'lawyer with dignity'
CenPEG.org
April 30, 2014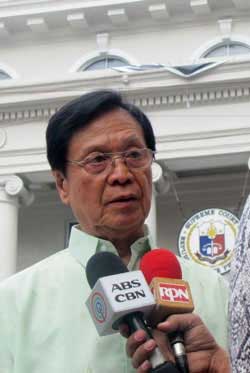 "He was a great loss to AES Watch and the cause for credible elections. But his memory lives on in the hall of integrity and volunteer lawyering for good governance."
Thus said Evita L. Jimenez of Felix D. Carao, Jr., volunteer lawyer of CenPEG and lead counsel of the Automated Election System Watch (AES Watch), who died on April 17 a few days after falling into a coma following commencement exercises at the Philippine Christian University (PCU). He was 78.
Carao was interim president and chairman of PCU's management committee and also senior partner of the Saguisag, Carao & Associates law firm.

He became involved in AES Watch after the May 2010 automated elections. As lawyer of former Vice President Teofisto Guingona, Jr. and other petitioners, Carao won a case against the Commission on Election (Comelec) filed before the Supreme Court (SC) a month prior to the May 2010 elections for the release of vital election documents.
In April 2012, Carao was the lead counsel of AES Watch conveners in a temporary restraining order (TRO) case they filed before the SC to stop the Comelec from purchasing the voting machines of the Venezuelan technology supplier Smartmatic.
As AES Watch advocate, Carao also championed Freedom of Information (FOI) – 14-year old bill which would not see the day until the lawyer passed away. Carao was deeply involved in major AES Watch activities such as the first Filipino IT for Automated Election (FIT4E) national conference held at the University of the Philippines in June 2011. He also took part in two of CenPEG's yearly pre-SONA roundtable discussions where he spoke on the FOI as well as on election transparency, questioning President Aquino II's sincerity in both issues.
Some of AES Watch's memorable meetings were also held at the PCU boardroom in Manila.
Born in Abulug, Cagayan, Carao studied law at San Beda College which honored him recently in the Hall of Fame of law alumni. A national political once offered the Cagayan governorship to Carao and enter politics – but he refused it.
In paying tribute to its president, the PCU honored "his legacy of a work ethic that embodies the sense of responsibility. We salute his dignity and integrity as lawyer, colleague and as president and his personal life. We remember with admiration his concern for the well being of the community." CenPEG.org