CenPEG presents certificate of appreciation to Norwegian envoy
CenPEG.org
The Center for People Empowerment in Governance (CenPEG) recently presented a certificate of appreciation to the Norwegian embassy for facilitating the relief mission of CenPEG and Mission Tabang in November and December last year. (Please see previous stories.)
The certificate of appreciation was given to Mr. Knut Solem, ambassador to the Philippines on January 30 this year at the Royal Norwegian Embassy in Makati.
For the relief mission, Mr. Geir Thorseng, maritime consultant of the Norwegian embassy, coordinated with the Norwegian Training Center-Manila to immediately ship relief goods from Manila to Tacloban, Leyte. The relief goods were gathered by the University of the Philippines led by President Alfredo Pascual, other UP units, CenPEG, UGOP Waraynon, as well as other donors.
On November 24 last year, 100 cadets and volunteers from the Norwegian Training Center-Manila (NTC-M) formed a human relay to load tons of relief goods bound for Tacloban on behalf of Mission Tabang SLB (Samar-Leyte-Bohol), which was organized by CenPEG jointly with UGOP Waraynon and other NGOs.
The relief goods were boarded on the Norwegian training ship, T/S Kapitan Felix Oca, which was anchored at Pier 15, South Harbor, Manila.
Capt. Erik FrebergBlom, NTCM managing director, and Joeven Noestvik, deputy director of NTCM and captain of T/S Kapitan Felix Oca, led the crew, volunteers, and supporters in loading the relief goods.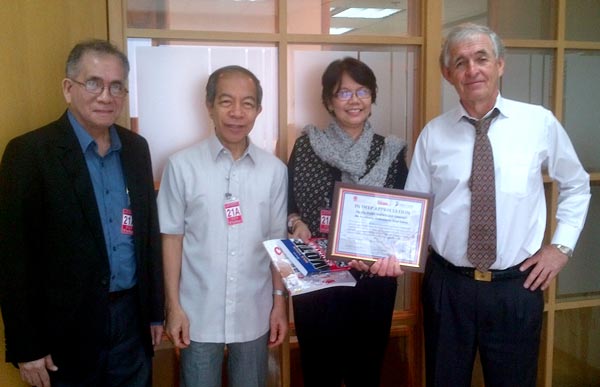 Norwegian Ambassador Knut Solem, right, shows the certificate of appreciation. With him are (L-R) Bobby Tuazon, CenPEG director for policy studies; CenPEG Board Chair Temario C. Rivera; and Executive Director Evita L. Jimenez. (CenPEG photo)
Mission Tabang-SLB is a relief operation of volunteers, NGOs, and alliances from Metro Manila and Eastern Visayas to collect and transport relief goods to the municipalities of Eastern Visayas ravaged by the Super Typhoon Yolanda not yet reached by relief aid. Facilitated by the Bicol-Manila based Mariners System, Mission Tabang SLB also delivered tons of relief goods with the help of the Norwegian Shipowners' Association. Two buses from the Philippine Public Safety College of the Philippine National Police Academy were the first to arrive carrying rice, canned goods, toiletries, clothes and other relief goods for the supertyphoon victims. It was followed by three passenger jeepneys in the late morning and a 40-foot container truck in the evening.
Mission Tabang is now involved in the rebuilding of Yolanda-stricken areas through fund drives in coordination with the UP Alumni Association and Portrait for Yolanda artists guild. CenPEG.org