AES Watch citizens' poll monitoring center launched
CenPEG.org
May 11, 2013
The Automated Election System Watch (AES Watch) and CenPEG, in cooperation with the University of the Philippines' Center for Integrative and Development Studies (CIDS) launched the automated election monitor center for 2013 on April 29 this year as part of a joint election study. The monitor center against fraud for the 2013 mid-term elections became operational on May 2 coinciding with the start of the Final Testing and Sealing (FTS) operations of the Commission on Elections (Comelec) nationwide.
The AES Watch monitor center against fraud is located at the offices of the CIDS, ground level, Ang Bahay ng Alumni, Magsaysay Avenue, UP Diliman campus. Aside from CIDS, the center is also in partnership with the UP Padayon/System Information/Halalan 2013, UP Information Technology and Development Center (ITDC), M3P Botong Tatak UP, Computer Professionals Union (CPU), Workers Electoral Watch (We Watch), CenPEG/UP Manila summer research volunteers, 1Vote.org, and the National Movement for Free Elections (Namfrel).
The monitor center is manned by some 20 volunteers backed by a pool of AES Watch analysts and statisticians. The analysts will be on the site for their running analyses of the election and also for press interviews.
All incident and evidence-based reports will be received from thousands of poll watchers and ground monitors deployed all over the country. These reports are then posted on the AES Watch election website (www.aeswatch.org; Facebook_aeswatch.PH and Twit) which has been online since May 2. Voters can also send their reports subject to verification by the volunteers.
The evidence-based election monitor is also part of CenPEG's continuing study on the automated election system since 2008. The study has produced four major studies on the AES, including the The CenPEG Report (see www.cenpeg.org). AES Watch also released its final assessment of the Comelec-administered, Smartmatic-marketed automated system in December 2010.
Launched in January 2010, AES Watch, a broad citizens' election watchdog coalition, was formed by 40 organizations, institutions, and NGOs including the UP Alumni Association, CBCP-Nassa, CenPEG, Concerned Citizens Movement, PCS Foundation, AMRSP, Solidarity Philippines, CPU, We Watch, National Union of Students of Philippines (NUSP), TransparentElections.org, Movement for Good Governance, Association of Schools of Publication Administration in the Philippines, and Ecumenical Bishops Forum.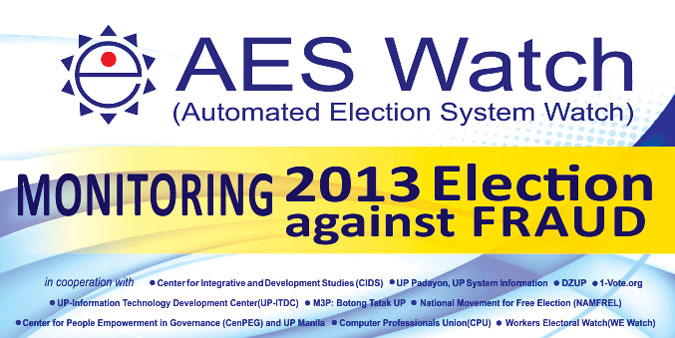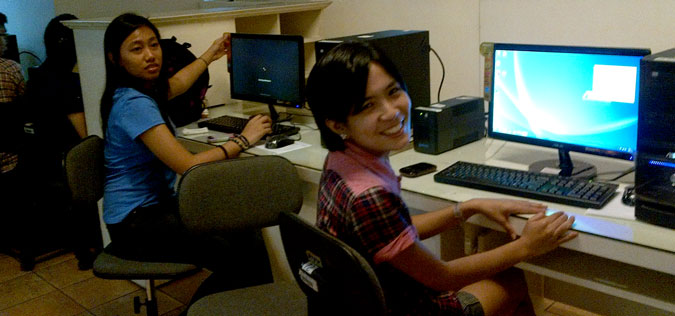 Monitor research volunteers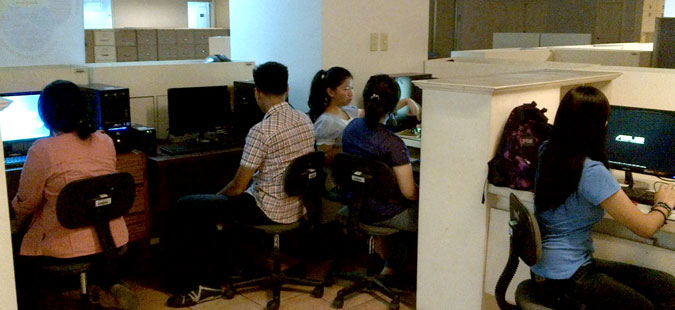 More AES Watch monitor research volunteers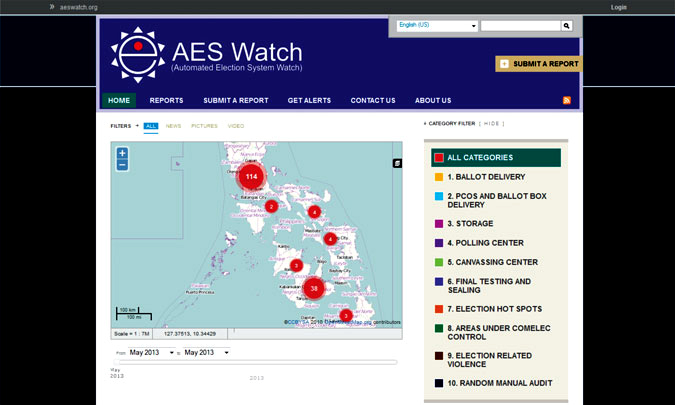 AES Watch's Ushahidi monitoring website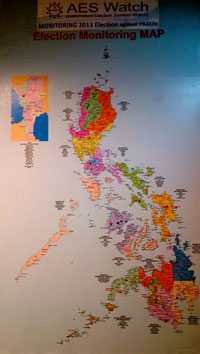 Citizen Monitors
All citizen monitors who are not part of any election watch group can help monitor from their own precinct on election day by sending their observations and reports to:
EMAIL: aeswatch2012@gmail.com 
LANDLINES: 981-8500 local 4273 and 4274 
CELLPHONE NUMBERS:
Globe: 09272818288
Smart: 09212299911
REPORT ALL FORMS OF ANOMALIES, IRREGULARITIES, CHEATING AT YOUR CLUSTERED PRECINCT, AND COMMUNITY.
Please contact: Soleil Manzano, AES Watch Secretariat
CenPEG.org