Prepare for contingency, Kontra Daya tells Comelec
CenPEG.org
March 20, 2013
The anti-election fraud coalition, Kontra Daya, on March 14, 2013 called on the Commission on Elections (Comelec) to draw up contingency plans including manual counting and to "be ready for the worst case scenario" given the poll automation system's vulnerabilities and problems.
In a statement sent to Comelec chair Sixto Brillantes, Jr., Kontra Daya also assailed the poll body's subjecting the required source code review to negotiations rather than treating it as an issue of adhering to the law.
Two weeks earlier, Brillantes announced that there will be no source code review by political parties and other independent groups because of the refusal of election technology owner, Dominion Voting Systems, to turn over the election program to Smartmatic, the Venezuelan sales company contracted to provide the election technology. "If there is no source code, what is there to review?" Brillantes told reporters.
Kontra Daya said it was joining other election watchdogs in expressing serious concern over the automated election system.
Its statement read in part: "The foreign-controlled and privatized AES has again shown problems during field tests and mock polls. There are major issues regarding the software to be used for the elections as well as the reliability of the PCOS machines themselves. Many of the problems cited by Kontra Daya in 2010 have not been fully addressed, including the accuracy of the count and the reliability of transmission of results."
Earlier in the morning, Kontra Daya gathered its member organizations at the San Augustine Church in Intramuros, Manila for discussions such as poll watching on the coming May 2013 elections. CenPEG's director for policy studies, Bobby Tuazon, gave the assembly an update on the election preparations including the absence of source code review, the risks of using a machine-generated digital signature, the PCOS machine's accuracy rating, and the implications of the Delaware (U.S.) legal feud between Smartmatic and Dominion.
Leaders and members of Kontra Daya, led by Fr. Joe Dizon of Solidarity Philippines and Mother Superior Mary John Mananzan of the Association of Major Religious Superiors in the Philippines (AMRSP) then marched to the nearby Comelec headquarters to present their statement to the poll body's chairman. The marchers were stopped at the entrance of Comelec by Manila policeman and a firetruck. CenPEG.org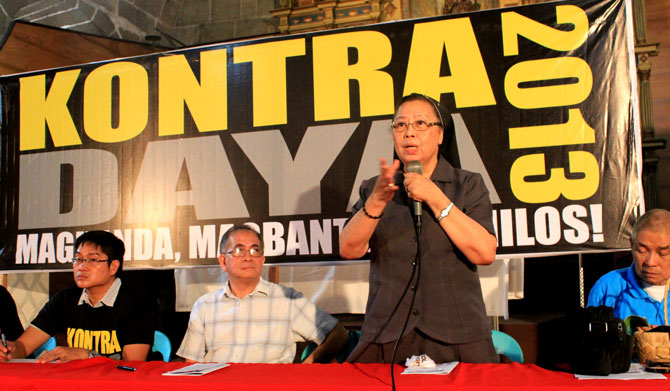 Mother Superior Mary John Mananzan talks about her concerns on the 2013 mid-term elections. With her in the panel are (l-r) Ferdie Gaite of Courage, CenPEG's Bobby Tuazon, and Fr. Joe Dizon. (Photo by Jonathan Sta. Rosa)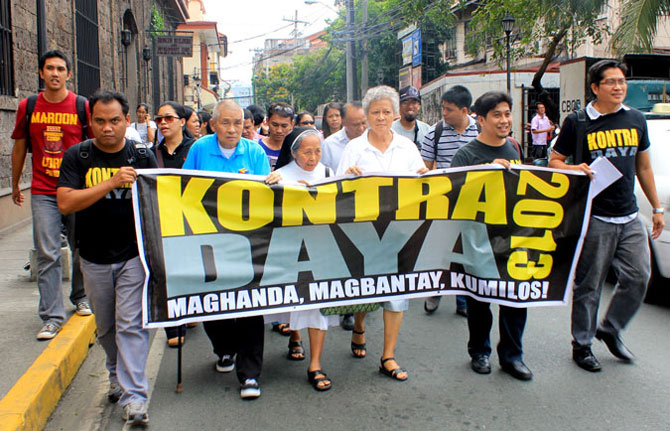 Kontra Daya leaders march to Comelec, Intramuros (Photo by Jonathan Sta. Rosa)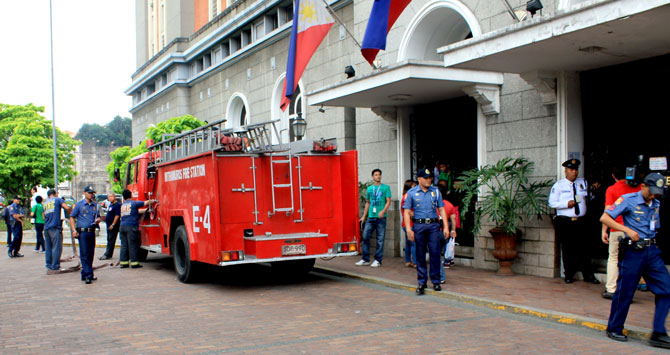 Cops and firetruck guard the entrance to Comelec headquarters. (Photo by Jonathan Sta. Rosa)