It's now definite: Mid-term elections to proceed without source code review
CenPEG.org
MARCH 20, 2013 - It's now definite: Even without any source code review, the May 13, 2013 automated mid-term elections will proceed.
Sixto Brillantes, Jr., chair of the Commission on Elections (Comelec), has been flip-flopping on the disclosure of the source code for the mid-term automated elections. His latest statements, as of last week, indicated no success in securing the source code from election technology owner, Dominion Voting Systems. On March 15, he admitted Comelec's failure to obtain the source code from Dominion and that the running legal row between it and Smartmatic, the contracted provider for the 2013 polls, has been an obstacle.
Yet, based on assurances by Smartmatic's president for Asia operations, Cesar Flores, the Venezuelan company has a copy (or "replica"). In a hearing of the Joint Congressional Oversight Committee (JCOC) on automated elections held at the Senate, Feb. 28, 2013, Flores promised Sens. Alan Peter Cayetano, acting committee chair, and Aquilino "Koko" Pimentel III, that he would show to the JCOC the copy of the source code.
Until now, however, the JCOC has not confirmed having received a copy.
Comelec, meanwhile, has issued guidelines for the source code review. Similar to the guidelines it issued in February 2010, the new guidelines are more restrictive they will make any review impossible, IT experts under AES Watch and some political parties say. Or was the Comelec only out to scuttle the review by making the guidelines stringent, they asked.
Under the election law, RA 9369, Comelec is under obligation to disclose the election source code for review by political parties and other interested groups. The Center for People Empowerment in Governance (CenPEG) won in 2010 the first landmark case on the source code review. But Comelec's hard rules forced CenPEG's IT consultants and other volunteers not to participate in the review.
In the same JCOC hearing of February 28, JCOC members criticized the results of the Technical Evaluation Committee (TEC) certifying on the 2013 automated election system as "incomplete" and unsubstantiated.
Comelec has also announced there was no need for a second mock election.
The disappointing results of Comelec's first mock elections held on Feb. 2 prompted members of Congress, AES Watch, and other election watch groups to ask Comelec to conduct another round of mock elections. But that will not happen. CenPEG.org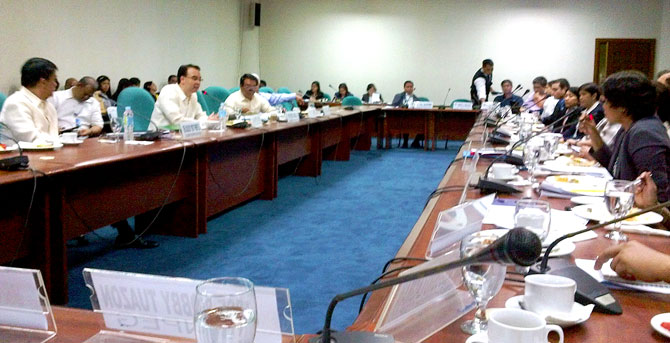 JCOC acting chair Sen. Alan Peter Cayetano (left row, middle) acknowledges Evita Jimenez, CenPEG executive director, at the committee hearing, Feb. 28, 2013. (CenPEG photo)