AES Watch leaders sue old Comelec before Ombusman
CenPEG.org
June 10, 2013
Individual complainants from the Automated Election System Watch (AES Watch) filed on June 10,  2013 graft and corruption charges with the Ombudsman against former officials of the Commission on Elections (Comelec) led by former Chairman Jose Melo and executives of Smartmatic-TIM led by Cesar Flores.
In a 41-page complaint, the AES Watch conveners and members, led by former Vice President Teofisto Guingona, Jr., charged the respondents with endangering the 2010 and 2013 elections through the use of "highly suspect" and "terribly faulty" precinct count optical scan (PCOS) machines. The complainants asked the Ombudsman to investigate respondents' "involvement and conspiracy...in the negotiations for, the drafting of, and the implementation of the unconstitutional and illegal PCOS automated electoral system for the May 10, 2010 and May 13, 2013 national and local elections."
The other AES Watch complainants were Fr. Joe Dizon of Solidarity Philippines and Kontra Daya; whistleblower Engineer Rodolfo Noel "Jun" Lozada; Mother Superior Mary John Manzan; lawyer Gregorio Fabros; bank executive Hector Barrios; Anna Leah Escresa-Colina of We Watch; and Evita L. Jimenez, co-convener of AES Watch.
AES Watch also revealed that the complaint was part of a series of legal actions aimed at calling public attention to the serious travesty of the election system and violation of voters' right to an election process reflective of their sovereign will. Similar charges will be filed against the current Comelec led by Chairman Sixto Brillantes, Jr.
The old Comelec under Melo started the whole automation mess in 2010, AES Watch said. For the 2013 elections, the Comelec under former election lawyer Brillantes, Jr., has committed blunder after blunder in the poll automation process to cover up the major non-compliance of RA 9369 and IT industry standards on security, accuracy, and transparency by its foreign technology supplier.
The complainants' lawyer is Rommel Bagares.
(Please see the link to the complaint.)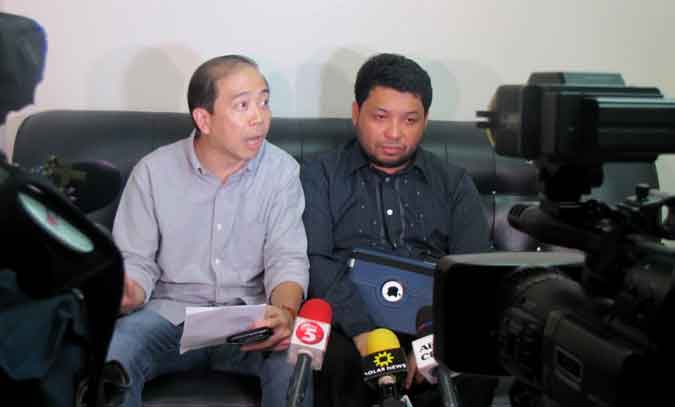 Complainant whistleblower Engr. Jun Lozada and case lawyer Rommel Bagares face the media at the Ombudsman June 10, 2013. Photo by CenPEG