AES Watch conveners ask SC for Writ of Habeas Data vs Comelec
CenPEG.org
July 4, 2013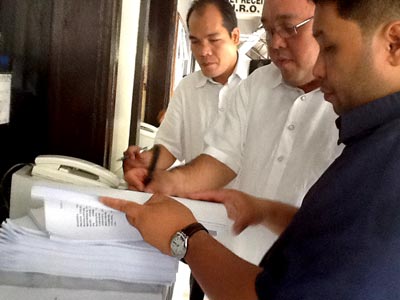 Fourteen conveners and members of the Automated Election System Watch (AES Watch) petitioned the Supreme Court (SC) on July 3, 2013 to issue a Writ of Habeas Data against Chairman Sixto S. Brillantes, Jr. and six other commissioners of the Comelec.
The Writ petitioners, among them former Comelec Commissioner Gus Lagman and Comelec whistleblower Atty. Melchor Magdamo, asked the SC to compel the Comelec to cease and desist from placing AES Watch member-organizations under surveillance using a P30M intelligence fund. They also asked the high court to direct the respondents to disclose to the court and petitioners and, subsequently, to destroy whatever intelligence information had been intentionally gathered against AES Watch members and other election watchdogs.
Magdamo, former Comelec lawyer, exposed 2013 election scams and unconscionable expenses in the bidding of the unbundled items on warehousing, delivery, ballot printing, paper ballots, etc. In 2010, he successfully proved the multi-million overpricing of the secrecy folders used in the 2010 poll automation that caused the suspension of Comelec project director Jose Tolentino, Jr.  Lagman, Comelec's only IT commissioner, was not reappointed for being critical of the Smartmatic-provided poll automation.
The petition for Writ stemmed from Deputy Presidential Spokesperson Abigail Valte's confirmation last May 24 of a P30M intelligence fund of Comelec that came from the presidential office. Valte then said, "The justification is supposed to be utilized for intelligence, counter intelligence activities and gathering of information relative to the activities of certain groups, individuals and technology experts suspected of conducting overt and covert operations to sabotage the results of the elections."
Valte, along with Executive Secretary Paquito Ochoa, was also impleaded in the case.
Brillantes had earlier accused AES Watch, a broad citizens' election watchdog led by its emeritus president, former Vice President Teofisto T. Guingona, Jr., of "election sabotage." He also vowed to expose the people behind AES Watch and prosecute them. At one time, the Comelec chairman threatened his critics telling media, "They made our life difficult. Now, they should watch out how I get payback."
Petitioners, through counsel Romel Bagares, asked that the office of the President, through Executive Secretary Ochoa, permanently cease and desist from providing the Comelec with intelligence funds, considering "the rank unconstitutionality and illegality of such provision of funds and the questionable use of such funds to stifle free speech and free expression as well as threaten the right of citizens to be secure in their persons."
Bobby M. Tuazon, a co-convener of AES Watch, said that members of AES Watch have actually experienced being tailed during the 2013 election period when the intelligence funds were supposed to be used to spy on Comelec critics and alleged "election saboteurs." Tuazon, who is also the director for policy studies of the think tank Center for People Empowerment in Governance (CenPEG), said that AES Watch has been monitoring the automated elections since 2010 and has engaged Comelec, Congress, and other agencies with transparency and full documentation. AES Watch members have also proposed legislative and technical enhancements to the automated election system.
"Instead of engaging us in open and healthy debate Comelec, particularly Brillantes, has resorted to labeling and threats to discredit and silence known and legitimate critics," Tuazon said.
The petitioners said respondents' admissions about an on-going surveillance by their assets and/or personnel of critics of the Comelec's handling of the automation of the last two nationwide elections coupled with threats of prosecution against the same critics –including the Writ petitioners – "constitute acts held to be in prior restraint with chilling effect on free speech and free expression under the Constitution." In Chavez v. Gonzales, the SC ruled that even mere press statements made by government officials in their official functions constitute "content-based prior restraint" that violates the constitutional protection granted to free speech and expression.
To begin with, the petitioners averred, Comelec commissioners violated the Constitution when they granted themselves P30M in "intelligence funds," purportedly realigned from the poll body's 2012 savings, and intended for, among others, spying on civil society election watchdogs who they called "troublemakers." The realignment violates the General Appropriations Act (GAA) of 2012, which specifically prohibits the Comelec – a constitutional commission - from having or otherwise using intelligence funds.
Evidently in this case, the petitioners said, there are serious grounds for issuing the Writ of Habeas Data in favor of the aggrieved parties because of violations by respondents of their (petitioners') right to privacy in life, liberty and or security through the gathering, collecting, or storing of data or information regarding the person, family, home, and correspondence of the aggrieved parties.
Lagman and Magdamo are joined by IT security expert, former Philippine Computer Society president and 2012 Most outstanding Electronics Engineer in IT and Computer Science, Nelson Celis; source code and programming guru Dr Pablo Manalastas; IT security expert and cybercrime resource person, Lito Averia; international IT standards specialist Marikol Akol; and NBN-ZTE whistleblower Engr. Rodolfo "Jun" Lozada.
The other petitioners are: CBCP Bishop Broderick Pabillo, DD; international law expert Harry Roque; Mother Superior Mary John Mananzan, OSB, former president of St. Scholastica's College, and most outstanding woman awardee; Fr. Joe Dizon of Kontra Daya; Anna Leah Escresa-Colina of labor watchgroup We Watch; human rights lawyer Greg Fabros of the National Union of People's Lawyers; and Evita L. Jimenez, executive director of CenPEG based in UP.
---
Click here to download the FiNAL Supreme Court Writ HABEASDATA vs Comelec July 3 2013 FILED in pdf