Redistribute and socialize pork funds – CenPEG
CenPEG.org
Sept. 11, 2013

Instead of Malacanang and Congress leaders colluding again to retain the fraudulent pork barrel in the guise of "requested" line projects, the national budget should be reformed to allow direct people's participation in the planning.
The Center for People Empowerment in Governance (CenPEG) issued this call on Sept. 1 as it also asked that the traditional funding for PDAF should instead be used for grossly underfunded social services such as basic education, health programs, and socialized housing.
Dr. Temario Rivera, CenPEG Senior Fellow, said "As an alternative, the choice of projects to be funded must start with a bottoms-up, participatory process of budgeting involving legitimate representatives from civil society in the respective development councils at all levels of government."
Bobby M. Tuazon, CenPEG director for policy studies, also said the key to resolving the controversy unleashed by the expose' on the P10-bn pork barrel scam, is to render justice to the country's millions of taxpayers. The modality, he said, is to "redistribute and socialize" funds stolen by giving them back to the people in the form of pressing social services.
"All that it takes for this to work and restore public trust in government," Tuazon said, "is for the chief executive and Congress leaders to at least for the moment stop acting like spoiled politicians and begin serving as true public servants."
The traditional funding for PDAF, Rivera elaborated, should instead be used for grossly underfunded social services such as basic education, health programs, and socialized housing.
CenPEG, an independent think tank based in UP, last week supported the calls for redistributing and socializing the traditional funds, among others, toward reinstituting the subsidies that had been cut by all administrations since Marcos to all state colleges and universities (SCUs). Tuazon said the national budget should once and for all be de-politicized by re-channeling the traditional pork barrel funds to where it should go – public tertiary education as well as more health services and socialized housing for the poor.
It is open knowledge, Tuazon said, that the Philippines is unable to meet the minimum Millennium Development Goals (MDG) in education, health, and housing services and this is partly because of misuse of funds and corruption despite huge amounts of foreign grants given to government every year.
Consistent with the peoples' demand and established principles of good governance, the administration must abolish the PDAF absolutely and do away with the "opportunistic discretion of Congressional legislators in choosing individual projects," Rivera said.
Tuazon explained that rather than politicians and powerful vested-interest lobby groups, it is the people who know better what priority programs are needed thus they have the right to be consulted in the national budget planning to ensure that the taxes they pay go back to them through basic services.
CenPEG last week proposed that the existing legislative-executive development advisory council (LEDAC) should now be expanded to include representatives from the civil society, citizens' watch groups, and other people's organizations. Parallel formations should be set up at the local levels or otherwise existing people's development councils should now be empowered to include decision-making in the allocation of IRA funds and other funding sources, Tuazon said.
Meanwhile, Rivera said the Napoles surrender provides the administration an extraordinary opportunity to decisively investigate and prosecute all of those involved in the PDAF scam and to look deeper into the roots of endemic corruption in our system.
However, Rivera added, in the greater scheme of institutionalized corruption in our system, Napoles and the PDAF mess dramatizes only one aspect of a long entrenched tradition of lack of accountability by politicians and a culture of impunity enjoyed by the powerful. "For instance, the funds allocated for the PDAF routinely make up only about 1.3 percent of the yearly national budget. This means that there are other sources and venues for massive corruption that remain untouched if we simply focus on the PDAF problem," he said.
"If the administration is to prove worthy to the popular call for substantial reforms as seen in the latest Luneta mobilization, it must not only ensure a speedy trial and prosecution of everybody involved in the PDAF scam," Rivera said. "More crucially, the administration must put into place major institutional reforms that will prevent the commission of the same acts."
"To show its resolve in addressing the endemic problem of corruption, President Aquino must also do two things," Rivera added. "First, he must lead the way in eliminating all forms of lump sum allocations in his own office which are shielded from transparent processes of auditing and accountability. Secondly, he must finally prioritize the passage of a Freedom of Information (FoI) law that will empower citizens to access necessary information, a critical resource in any effective campaign against corruption and the enhancement of accountability for all public officials."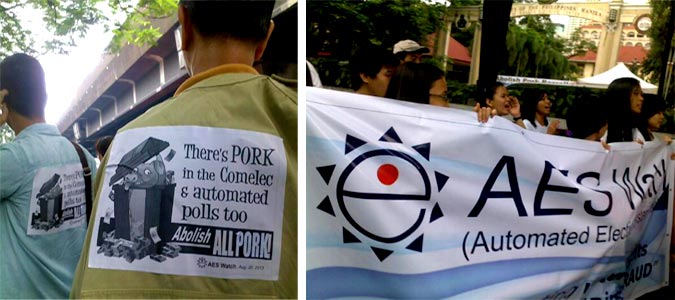 A contingent of AES Watchers and volunteers march on Taft Avenue, Manila for the 1M march-rally at the Rizal Park grandstand August 26, 2013. Photos by CenPEG