'Anatomy of the Pork Barrel': Forum with CenPEG speaker

CenPEG.org
Oct. 10, 2013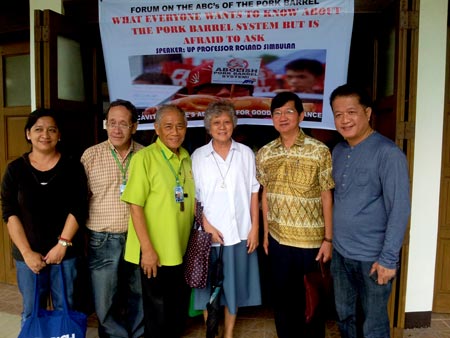 CenPEG Vice Chair, Prof. Roland Simbulan, spoke on the "Anatomy of the Pork Barrel Issue" before the faculty and seminarians, as well as a large multi-sectoral group of Caviteňos at the Union Theological Seminary in Dasmariňas, Cavite on Sept. 19, 2013. Professor Simbulan
called for the unconditional abolition not only of the pork barrel which is at the discretion of Congress, but also the discretionary pork barrel funds amounting to PhP1.3 trillion assigned to the Office of the President.
He also proposed that all pork barrel funds be instead allocated for the basic services such as public hospitals, state colleges and universities as well public housing. He advised citizens to push for the immediate passage of the Freedom of Information bill into law so that there will be transparency in governance, and for citizens to be more vigilant and involved in governance, which is supported by people's taxes.
The Forum was organized by the Cavite People's Advocacy for Good Governance, and the Archdiocese of Imus, Cavite. Dasmariňas is a 1-hour ride south of Manila. CenPEG News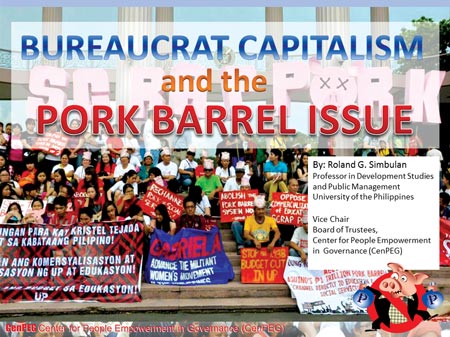 Click the picture above to download the powerpoint presentation>>>
Telefax +6329299526 email: cenpeg@cenpeg.org; cenpeg.info@gmail.com Copyright ©2005
Center for People Empowewrment in Governance (CenPEG), Philippines. All rights reserved