Children typhoon-demolition victims receive bags from Japan
CenPEG.org
June 25, 2013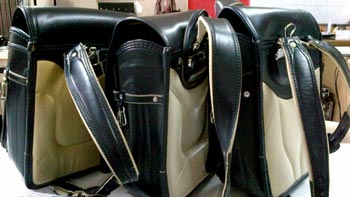 Some 450 urban poor schoolchildren from Metro Manila's typhoon- and demolition-stricken communities were treated to three hours of games, Filipino songs and music, brief talks from community leaders, and a simple boodle lunch on June 22 at the grounds and conference hall of the College of Social Work and Community Development (CSWCD), UP Diliman. The children's event was capped by the distribution of schoolbags donated by the Tokyo Mitaka Lions Club in cooperation with the Junior Chamber of Commerce and Mitaka Council of Social Welfare. In the Philippines, the donated shipment was facilitated by Prof. Temario Rivera, Board chair of CenPEG.
The schoolchildren were accompanied by parents and community organizers. Total attendance at the event was 600. A total of 851 schoolbags were distributed on June 22 including for those who failed to attend at the turnover through community leaders.
Some 1,000 schoolbags and supplies for children typhoon victims were shipped from Tokyo by the Mitaka Lions Club and its partners coursed through the community desk of Center for People Empowerment in Governance (CenPEG) for the benefit of the NGO Akap sa Bata ng mga Guro-Kalinga Philippines. The donated goods arrived in Manila in April this year. The remaining schoolbags will be distributed to other typhoon-hit informal settlements.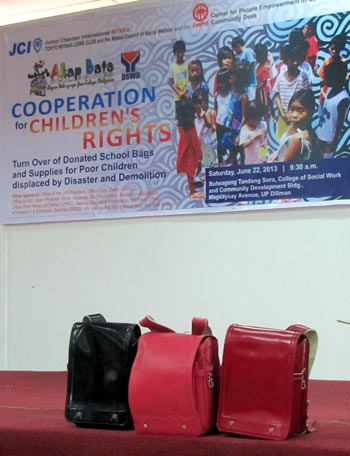 Similar schoolbags had been donated to Japanese schoolchildren who were displaced by a tsunami in March 2011.
The donated bags' turnover, called "Cooperation for Children's Rights," was organized by CenPEG and Akap Bata in cooperation with UP's CSWCD through Dean Rosalinda Pineda-Ofreneo and Office of the President. The turnover at the Bulwagang Tandang Sora was emceed by Miss Universe 2010 runner-up Venus Raj and Marili Fernandez-Ilagan of Tag-ani cultural group.
Before the turnover, the children at the CSWCD grounds were treated to a cultural game inside a big fish balloon where the Tag-ani cultural group performed. The popular Banyuhay with lead singer-composer Heber Bartolome also performed.
Gracing the event were Madame Menchu Pascual, wife of the UP president; Carmen "Nanay Mameng" Deonida, Kadamay chair emeritus; CenPEG officials and Fellows led by Executive Director Evita L. Jimenez, Vice Chair Roland Simbulan, Dr. Ed Clemente, artist Boni Ilagan, and Fidel dela Torre of the community desk; Akap Bata executive director Rev. Ruel Dia Garcia; Kalayag-BLJ Foundation; Mariners ORES; Kadamay-Abakada which is supported by CenPEG; and Urban Poor Resource Center.
CenPEG and Akap Bata also thanked the following who facilitated the donation and co-sponsored the event: DSWD-NCR, Atty. Gwen Pimentel-Gana, Ms. Maricor Akol of AES Watch; Ms. Nila Ampuan; and Batang Mag-aaral.
The Philippines is hit by at least 20 devastating typhoons every year. But informal settlements - one of the populations most vulnerable to natural- and man-made disasters - suffer the double whammy of calamity and demolitions often without relocation. Defenseless children along with women are primary victims.
CenPEG's community desk helps facilitate support services to urban poor communities through library books, schoolbags, mass education, and other services. The community desk promotes CenPEG's vision of empowerment to the communities. CenPEG.org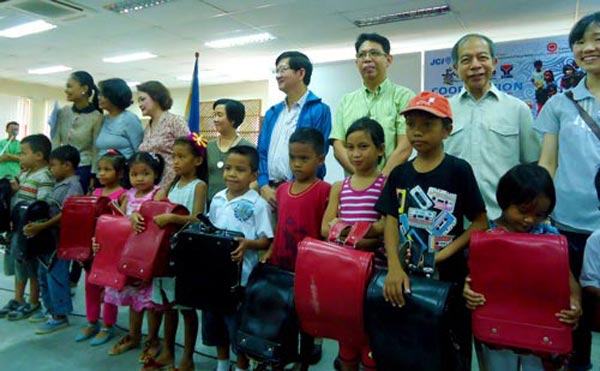 Bags for schoolchildren: (Back row, l-r) Miss Universe 2010 runner-up Venus Raj, CenPEG's Evi Jimenez, Mrs. Menchu Pascual, Fatima Balaquiao of Mariners ORES, Prof. Roland Simbulan, Akap Bata's Fr. Ruel D. Garcia, Dr. Temy Rivera, and a Japanese student.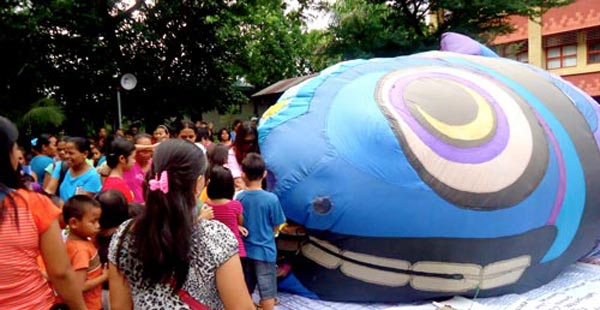 Children line up to crawl inside a giant fish balloon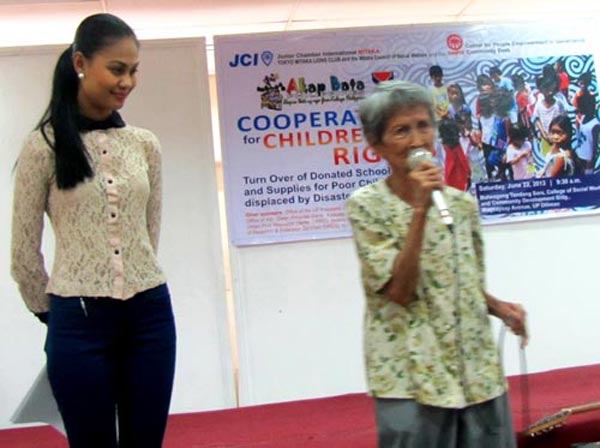 Guest emcee Ms. Venus Raj listens to Nanay Mameng of Kadamay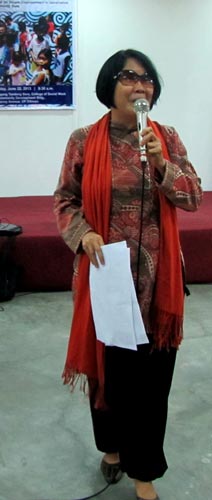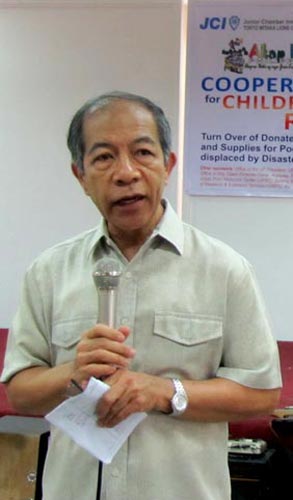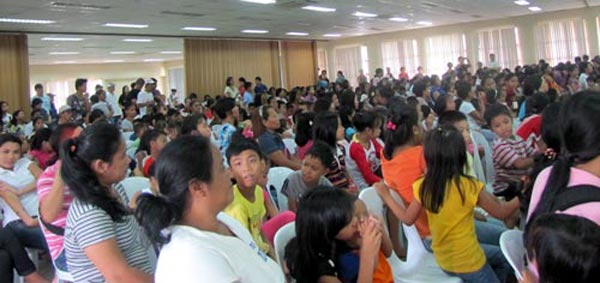 Children with mothers during the turnover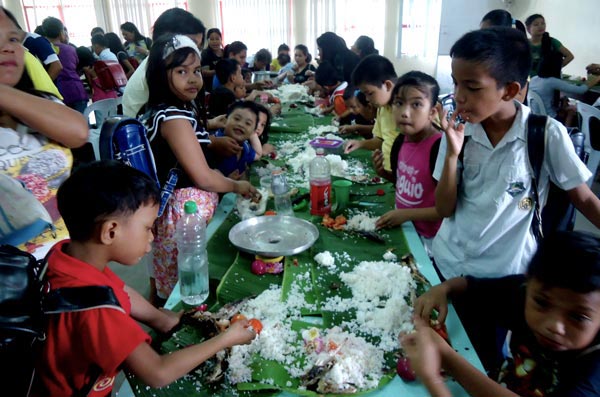 Boodle lunch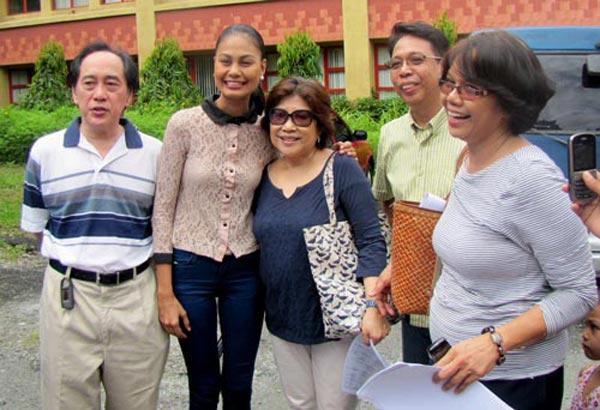 CenPEG and Akap Bata at welcome grounds: (L-R) Dr. Ed Clemente, Ms. Venus Raj, Rho Clemente, Fr. Ruel Garcia, and Ms. Evita L. Jimenez