CenPEG vice chair
meets China's think tanks
Is elected head of ASEAN delegation
CenPEG.org
June 18, 2013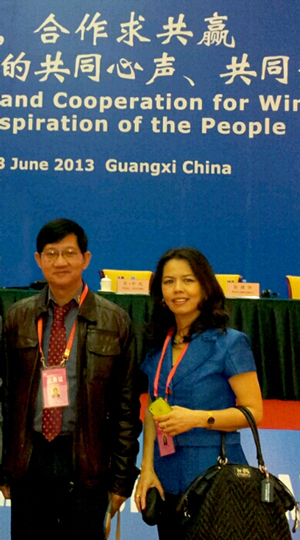 University of the Philippines (UP) Professor Roland G. Simbulan recently represented the Center for People Empowerment in Governance (CenPEG) in a two-week visit to the People's Republic of China upon the invitation of the China Network for International Exchange in early June, 2013 for the "China-ASEAN High-Level People to People Dialogue". Simbulan, who is also CenPEG Board vice chair, visited the cities of Nanning and Fangchenggang in the Guangxi autonomous region, and China's ancient capital city of Beijing. Also included in the itinerary was the city of Guangzhou in Guangdong province. 
     On the second day of his visit to China, Simbulan was elected by the other ASEAN NGO-academic leaders and representatives to head the entire delegation during the two-week visit to China, with Dr. Aksornsri Phanishsarn, a China expert from Thailand's Thammasart University, as deputy head. The delegates from the Association of Southeast Asian (ASEAN) countries participated in a large "people to people dialogue and summit" held in Nanning City which was attended by more than 300 participants from overseas and China. Professor Simbulan represented the ASEAN NGO-academic delegation during a press conference in Guangxi province after the conference, which was covered by at least 70 journalists from all over China as well as foreign journalists. (See http://www.chinadaily.com.cn/china/2013-06/04/content_16562453.htm )
    The ASEAN NGO-academic delegation composed of 16 members interacted extensively with the scholars and academics from the leading think tanks and universities in the four cities of China that they visited. As head of the ASEAN delegation, Simbulan gave several speeches in many meetings, seminars, and receptions/banquets.  One of his remarks in Nanning was quoted by the June 4 issue of China Daily. In his quoted remarks, Professor Simbulan stressed the need for a collective voice of ASEAN in dealing with China on maritime issues and territorial disputes, as several ASEAN nations are involved.
     The ASEAN NGO-academic delegation had extensive interactions and discussions with scholars from China's leading think tanks on foreign policy such as the Guangdong Research Institute for International Studies (GRIIS) which is part of the Guangdong University for Foreign Studies. The GRIIS was established in 1963 by then Foreign Minister Zhou en Lai. Even today, GRIIS is a very influential think tank that guides China's foreign policy directions.
    Other influential think tanks on China's foreign policy which the delegation met are scholars from the Beijing-based Chinese Academy of Social Sciences (CASS) through its National Institute of International Strategy, and the China Institutes of Contemporary International Relations. Beijing University also has a Center for Chinese and Global Affairs in its School of International Studies, headed by Professor Pang Wei as Director.
     Visits were also made to a rural agricultural cooperative in Guangxi autonomous region, a cooking oil factory in the port city of Fangchenggang, a pre-school center and home for senior citizens in Beijing. There was also a scheduled visit to the newly-constructed Museum of Science and Technology in Beijing, one of the largest museums in the world in terms of space area.
     The visit by the ASEAN NGO-academic delegation was very fruitful and productive for all the participants for it was an opportunity to learn about the changes happening in China's economy, as well as China's perspectives as the country with the largest population in the world emerges globally and rapidly into an economic, political and military power. It is hoped that the ASEAN delegation's interactions with China's leading intellectuals, CPC party and government officials, businessmen, teachers, students and farmers will lead to a better understanding of mutual interests for cooperation rather than antagonism and Asian solidarity. The participating ASEAN delegates said they hope that their visit will help build bridges to improve ASEAN relations with China. CenPEG.org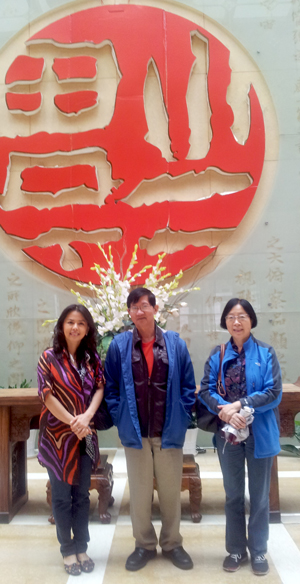 Simbulan is flanked by Li Liqing, CNIE deputy secretary general (right) and Dr. Phanishsarn in Beijing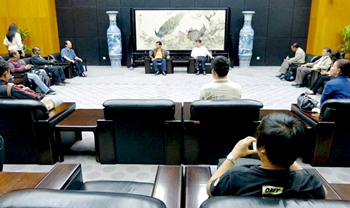 At GRIIS in Guangdong: Simbulan is seen seated left in front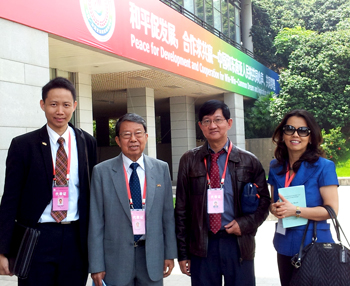 Thai delegates with Simbulan in Nanning