Corruption still rules under Aquino, CenPEG Fellow says
CenPEG.org
August 5, 2013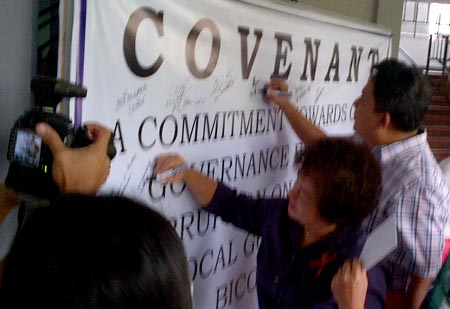 The Center for People Empowerment in Governance (CenPEG) was a resource group in a seminar on corruption on July 17, 2013 in Naga City. Organized by the Volunteers Against Crime and Corruption (VACC), the seminar on "Good Governance / Anti-Corruption for Newly-Elected LGU Chief Executives of Bicol" was held at the University of Nueva Caceres (UNC).
CenPEG director for policy studies, Prof. Bobby M. Tuazon, said that the Aquino government's centerpiece pledge – to curb corruption – has not yielded any dramatic results for the past three years. Public perceptions on the President's anti-corruption program may have improved a little based on the latest corruption perception index (CPI) by Transparency International but it was shaped largely by the impeachment and removal from office of the former chief justice of the Supreme Court (SC) last year, Tuazon said. Beyond the removal of the chief justice (Renato Corona), no concrete and comprehensive strategy to curb corruption in the government bureaucracy and other state institutions has been done.
In fact, Tuazon said, corruption at the local level involving local government units (LGUs) throughout the country has worsened. Latest surveys and reports show this scenario with LGUs considered by the public as most corrupt followed by the Philippine National Police (PNP), he said. Majority of graft charges filed with the Ombudsman involved local executives.
The CenPEG policy director also disputed Mr. Aquino's policy equation and 2010 presidential campaign slogan, Kung walang korap, walang mahirap (If there's no corruption, there's no poverty) as a misnomer and historical fallacy. Mass poverty is the result of class inequality which defines the country's social, economic, and political structures for generations, Tuazon. Class inequality allows the country's ruling economic and political clans to be in control of government and use such power to commit corruption at will.
In truth, he said, income inequality has worsened in three years of the Aquino presidency with the country's 40 wealthiest individuals – some of whom supported Aquino's election in 2010 – more than doubling their net worth from $22B to $47B which is equivalent to the combined income of 60M Filipinos. Following Aquino's logic this implies that corruption has even gone from bad to worse for the past three years, Tuazon added.
The anti-corruption conference in Naga was held while the country was gripped anew by big corruption scandals including the P10B pork barrel scam involving members of Congress and news about festering corruption at the Bureau of Customs. Despite public clamor for its abolition, pork barrel allocations in the guise of Priority Development Assistance Fund (PDAF) amounting to P27B were retained by Aquino for 2014.
The seminar participants, who included mayors and PNP officials from Camarines Sur and Camarines Norte, were welcomed by VACC founding chair and president Dante La. Jimenez. Other speakers were Dr. Eduardo H. Sison, UNC vice president for administration; Atty. Richard Cu, Ombudsman for Camarines Sur; Fr. Wilmer Tria, director of the Commission on Social Teachings (Archdiocese of Caceres); Daily Bragais, assistant regional director, Civil Service Commission – Bicol; and Olipio D. Ramirez, Bicol Department of Interior and Local Government.