OMR technology for 2013 proposed by Comelec advisory council

CenPEG News
Jan. 31, 2012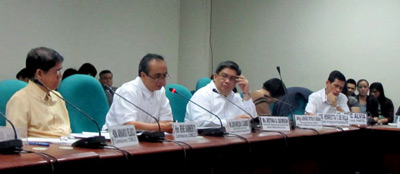 The Comelec Advisory Council (CAC) last week announced it had recommended to Comelec on Jan. 12 the use of Optical Mark Reader (OMR) technology for the May 2013 national and local elections.

CAC chair Louis Napoleon C. Casambre made this announcement during the Jan. 26 hearing of the Select Oversight Committee on Suffrage chaired by Sen. Aquilino "Koko" Pimentel III. Casambre also heads the Information and Communications Technology Office (ICTO) of the Department of Science and Technology (DoST) where he also serves as undersecretary.

OMR was used in the May 2010 national and local elections through the Precinct Count Optical Scan (PCOS) voting machine. The CAC recommendation clarified, however, that the application of OMR for the next elections is subject to several conditions or requirements.

The required features, Casambre said in a powerpoint presentation, included: verifiable digital signatures; accurate and universal time stamps; on-screen voter verification of his/her vote; and review of source code and circuit schematics; forensics of the hardware during bidding. (A copy of the powerpoint presentation slides was received by CenPEG at the committee hearing.)

The recommended features appear to address what independent election observers consider were minimum system requirements that were disabled during the last elections.

The final decision on the choice of election technology, however, remains within the power of Comelec.

Casambre added that the CAC recommendation was also based on questionnaires submitted by election stakeholders, including CenPEG, upon the request of the council.

In the hearing, Dr. Pablo Manalastas, CenPEG IT consultant, asked that CAC should require technology providers to show ownership to the technology as a pre-bidding qualification. This is to ensure that the systems program will be made readily available for review by independent parties by the provider.

Regarding its roadmap for the 2013 elections, Comelec Commissioner Rene Sarmiento said that they will soon draw up the Request for Proposal or Terms of Reference (RfP / ToR) which technology bidders should comply with. The poll body will collaborate with the CAC for the ToR, he said. There are only close to 14 months before the next election.

The Jan. 26 hearing was the Senate select committee on suffrage's first under Pimentel III, who also chairs the Committee on Electoral Reform and People's Participation (CERPP).

The public hearing also discussed other issues such as the May 3, 2010 final testing and sealing (FTS) fiasco for which the Philippine Computer Society (PCS) Foundation headed by Nelso Celis reminded that the automated election system should have been re-certified first to ensure an error-free system in the May 20, 2010 polls.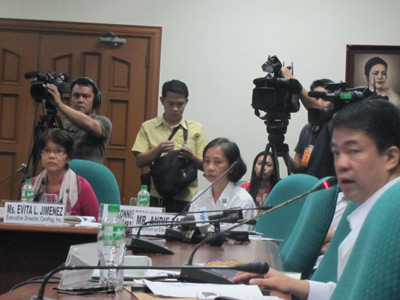 Upon CenPEG's proposal, Senator Pimentel III asked the Comelec through Commissioner Armando C. Velasco, who chairs its Committee on Overseas Absentee Voting, to validate the number of qualified Overseas Absentee Voters (OAVs). CenPEG contested the Comelec figure of 11-12 million OAVs and queried whether 4-5 million would be more accurate.

CenPEG executive director Evita L. Jimenez suggested that Comelec along with other government agencies involved in the OAV such as the foreign affairs department, Philippine Overseas Employment Administration (POEA), and the commission on overseas workers should put their acts together in order to guarantee majority of OAVs get to vote.

Connie Bragas-Regalado of Migrante Partylist expressed her dismay over the small number of registered OAVs during elections and even a smaller turnout. The number of those who were able to vote was disturbing, she said: 64% of 360,000 who registered in 2004, 16% of 504,000 in 2007, and 25% of 589,000 in 2010.

The use of internet voting to facilitate the exercise of suffrage by the country's millions of overseas absentee voters especially migrant workers was mulled during the committee hearing. CenPEG News
Telefax +6329299526 email: cenpeg@cenpeg.org; cenpeg.info@gmail.com Copyright ©2005
Center for People Empowewrment in Governance (CenPEG), Philippines. All rights reserved