Photo Essay
A Town Where Staying Alive Counts Most
CenPEG.org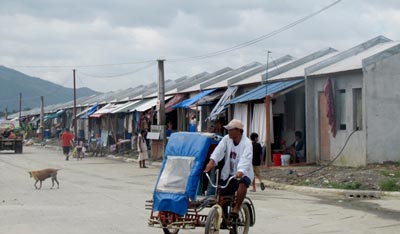 Rodriguez northeast of Metro Manila is an urban town with patches of mountains revealing its rural face. The town, formerly Montalban, can be reached from Quezon City past the long stretch of Payatas urban poor community where garbage recycling is a growing small business. From here, the road beckons you toward Rodriguez down a zigzag road inching through hills until the valleys of the town become visible to the eye.
Portions of Rodriguez have been built for resettlement by urban poor communities coming mostly in Metro Manila where their shanties were demolished by local governments, police, the Metro Manila Development Authority, and housing agencies. Behind these evictions were real estate developers who then built high-rise buildings, condominiums, and commercial cum tourism complexes not one among the informal settlers would be able to enter.
Every year in the recent past the town's informal settlers housed in relocation sites – standard one-room units – spend countless nightmares and traumatic experiences. Several sites, being located dangerously just along the river and valleys sandwiched by denuded mountains, come under water, engulfed by floods spawned by monsoon rains and storms that cross the Rizal province a few times every year. Not a few souls – children, women, and elderly – have died as a result. The media is not talking about it.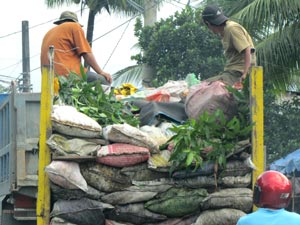 When volunteers from CenPEG went to a resettlement site in Rodriguez morning of August 26, 2012, the sight of hordes of evacuees who occupied units built on a higher ground was overwhelming. First, the relief goods that CenPEG and partners from the Kalayag Foundation, Mariners colleges, and Kadamay collected for distribution were definitely not enough. Many families had lost their property due to recent floods and were sleeping on wet, cemented floors. Second, relief mission is not just about distributing rice and canned goods but more important putting a sympathetic and supporting arm around them through psycho-social counseling and other forms of moral assistance.
Sharing is not only about giving. It means lending support to empower the people in finding lasting solutions that will lift them up from poverty.
This is the thrust of CenPEG's community program.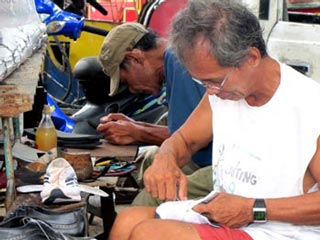 Men repair salvaged shoes for a day's income.
(Photo by CenPEG)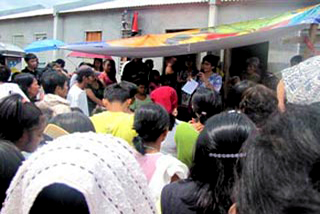 Program: Evacuees receive orderly instructions from CenPEG. (Photo by CenPEG)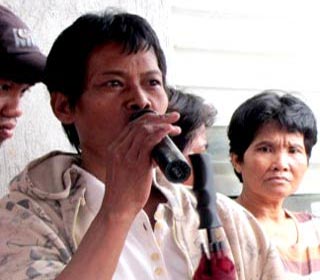 Woman narrates a night of survival.
(Photo by CenPEG)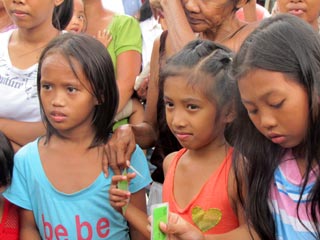 Not spared from tragedy.
(Photo by CenPEG)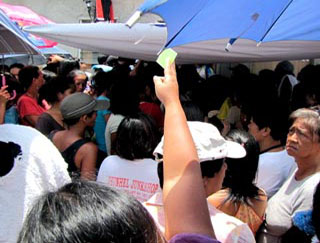 Woman evacuee shows green card for relief.
(Photo by CenPEG)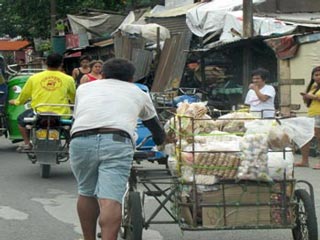 Daily grind: Peddler with pedicab store.
(Photo by CenPEG)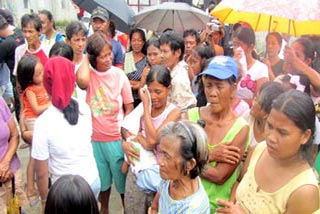 Evacuees starting to queue.
(Photo by CenPEG)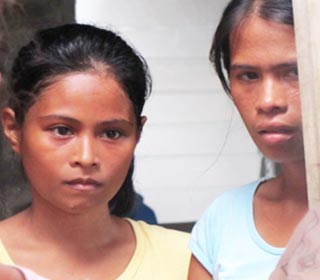 Two women survivors listen, still in shock.
(Photo by CenPEG)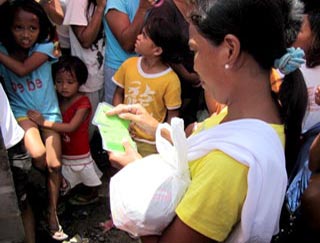 Block leader looks for names from green IDs.
(Photo by CenPEG)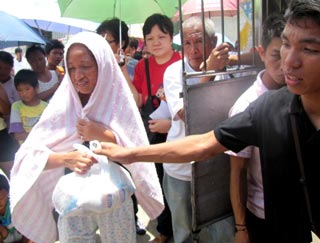 Receiving relief.
(Photo by CenPEG)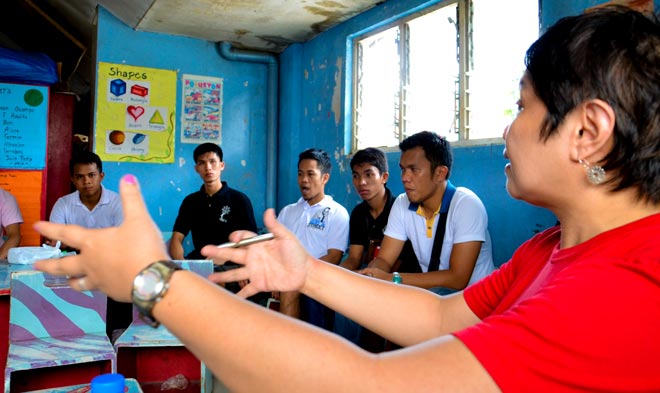 Volunteers with community Fellow Amy Muga (right) assess the day's mission (Photo by Neli Ampuan)