Mainstreaming Maritime: The JCJ Series
CenPEG News
August 2, 2012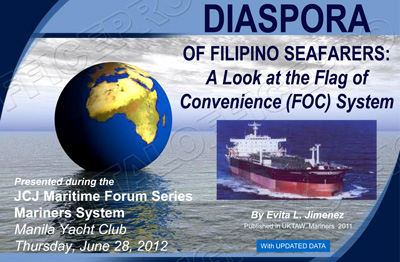 Key stakeholders of the Philippine maritime industry including the academic community reached a consensus recently to work for a research agenda on maritime issues. They also agreed to promote the development of a shipping industry toward making the country as a self-reliant maritime nation.
The objectives were reached at the launching of "Mainstreaming Maritime: The JCJ Series", a round-table discussion held on June 28, 2012 at the Manila Yacht Club overlooking the Manila Bay in Manila.
CenPEG joined the conference with a research presentation on "The Diaspora of Filipino Seafarers: A Look at the Flag of Convenience" by its executive director, Evita J. Jimenez. Policy study director Bobby M. Tuazon gave the overall synthesis of the conference.
Organized by the Mariners System, the JCJ series launching forum was co-sponsored by the Philippine Association of Maritime Institutions (PAMI) and Mariners Polytechnic Training Center (MPTC).
Maragtas S.V. Amante, PhD, spoke on research capacity-building among maritime schools and other institutions in the industry and linking such efforts toward building a shipping industry. Amante, who is currently Vice President for Administration, University of the Philippines (UP), also dealt with the core issues of research, including maritime education and training, IT technology and capacity building for the MET curriculum, seafarers welfare, and the economic and development impact of seafarer remittances.
Amante, who used to be the Dean of UP's School of Labor and Industrial Relations (Solair), has extensive teaching, research, and consultancy on maritime in the UK, South Korea, Japan, and other countries.
The other speaker, lawyer Josephine G. Uranza, talked about maritime administration models clarifying that such function should comply with international laws particularly the UN Convention on Laws of the Sea (UNCLOS). The paper of Uranza, who also teaches at the UP College of Law, was presented in the light of the current mainstreaming of maritime governance in the Philippines under President Benigno S. Aquino III's EO 75.
EO 75, which centralized maritime administration under the Department of Transportation and Communication, was discussed by Atty. Nicasio A. Conti, OIC of MARINA.
The launching forum was opened by Commo. Dante La Jimenez, president of MPCF (Legazpi and Canaman) and PAMI secretary general. Reactors were Atty. Brenda V. Pimentel, IMO regional coordinator for East Asia; C/E Alfredo G. Haboc, PAMTCI president; Ms. Presca Lee B. Lugo, OIC Deputy executive director, NMP; and Dr. Angel M. Baylon, MAAP's director for research and extension services.
Dr. Felicito P. Dalaguete, PAMI board member, gave the closing remarks.
Ms. Merle J. San Pedro, MPTC president and lead convener of the JCJ series, served as the moderator for the forum.
The Philippines deploys 347,140 seafarers aboard international ships or 30% of world seafarers. Many Filipino seamen however man sub-standard vessels, receive low wages, and suffer discrimination from their employers. Despite the problems, the Aquino government aims to increase the seafarer deployment to 50% of the world demand. CenPEG News
---