AES Watchers stage rally in front of Comelec
Posted by CenPEG
March 24, 2011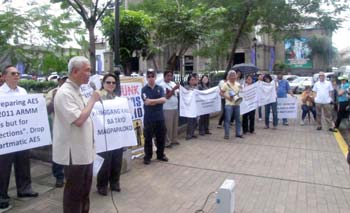 Members of the Automated Election System Watch (AES Watch) held a picket rally March 17 to question the Commission on Elections' decision to purchase voting machines found to be defective. The picket rally, which was joined by about 50 members of various citizens election watchdogs affiliated with AES Watch, was held in front of the Comelec office at Plaza Roma, Intramuros, Manila.
Among the rallyers, led by AES Watch conveners, were IT professionals, academics from Ateneo, De La Salle University, and UP. The AES Watch groups were joined by a contingent from Biliran who have been protesting election fraud in the province reportedly committed in the May 10, 2010 automated elections.
The protest rally called for a stop to Comelec plans to buy the Smartmatic-provided precinct count optical scan (PCOS) for use in the Autonomous Region in Muslim Mindanao (ARMM) elections scheduled in August 2011. (The House of Representatives this week voted 191-47 in favor of postponing the ARMM elections to 2013. The Senate is yet to act on whether to postpone the autonomous region elections and its synchronization with the 2013 local polls.)
Various speakers also demanded Comelec transparency in its expenditures for the 2010 elections, the disclosure of vital election documents including the source code which had been directed by the Supreme Court, questionable cost estimates for the purchase of PCOS machines, and other issues.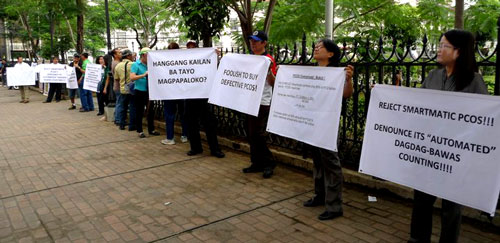 They also asked Comelec to prepare for the 2013 elections and the adoption of new election technology that is Filipino IT-based and fully compliant with the requirements of the election modernization law.
The conveners and AES Watch members were led by Bp. Broderick Pabillo, Maricor Akol, Gus Lagman, Lito Averia, Mano Alcuaz, Eric Alvia of Namfrel, Nelson Celis of the Philippine Compure Society Foundation, and Bobby Tuazon of CenPEG.
Founded in January 2010, AES Watch is composed of 40 organizations including the UP Alumni Association, Catholic Bishops Conference of the Philippines-Nassa, Association of Major Religious Superiors in the Philippines (AMRSP), the Center for People Empowerment in Governance (CenPEG), TransparentElections.org, Movement for Good Governance, Namfrel, DLSU Caucus, National Council of Churches in the Philippines, Solidarity Philippines, and computer faculty from the country's leading universities. CenPEG News