On the State of the Nation Address (SONA):
A vacillating President of his own class
The Center for People Empowerment in Governance (CenPEG) today said President Benigno S. Aquino III failed not only to fulfill his promises but also in laying down concrete well-studied programs toward strategic institutional reforms in order to recover the people's trust in government and move the nation forward to social and economic development.
Assessing the first-year performance of the President, CenPEG political analyst Bobby M. Tuazon said Aquino was elected President in May 2010 with the biggest number of votes based on promises that he would bring about change after nine years of corruption, poverty, and weak governance. He vowed to show a "transformational leadership" and a "daang matwid" (righteous path) with the people as the "real boss."
Sadly, Tuazon said, Aquino bungled the chance by not using his first year to provide the roadmap for real change and show a "transformational leadership" that would make him different from the previous regime.
"We do not expect the first year of the presidency to produce change immediately but it should at least take the lead to set the direction where it would steer the country to achieve real "transformative change" especially after almost a decade of plunder and misrule," Tuazon said.
Instead, the CenPEG political analyst said, "Mr. Aquino is pursuing a dangerous trial-and error scheme of governance, merely rehashing, copying and continuing the same economic formula, programs and policies of his predecessor like the CCT palliative, lack of firmness in pursuing transparency measures like the FOI, addressing the continuing culture of impunity, land distribution, among others which only brought unprecedented unemployment, high prices, food insecurity, and uncertainties," Tuazon added.
He had the golden historical chance to be different, Tuazon said, "but he chose political patronage by primarily appointing his friends and classmates to high positions of government. "If Aquino is really serious in providing transformational leadership he should transform himself first by removing his elitist orientation and ways as shown in the scandalous luxury car purchase in a country awash in poverty," Tuazon said.
"If he is really sincere in the people as his 'boss,' then he must betray his own landlord class interests and unconditionally implement the intent of the agrarian reform law by giving up his family's vast landholdings in favor of their decades-old tenants," he added. (Aquino belongs to the family that owns Hacienda Luisita where scores of striking farm workers died in a massacre in 2004.). By taking the lead in following the rule of law in the case of the Hacienda Luisita, Aquino would give a clearer signal that he has the interests of the poor marginalized people at heart.  
Ateneo professor and CenPEG Fellow Ben Lim, on the other hand, said the presidency has overwhelmed Aquino. "He may be the most straightforward Filipino, if there is such a person, a man pushed by fate and media gimmickry to the presidency, but he is not the person the country needs at the moment," Lim said.
Aquino's governing style "emphasizes delegation and passivity until things go wrong," Lim said. "The PNoy style…has advantages it is difficult to pinpoint responsibility. He has delegated leadership and initiative to his advisers and cabinet members."
Tuazon issued the statement following CenPEG's State of the Presidency (SOP) forum held July 22 that dissected Aquino's performance on several fronts including corruption, economy, national security, foreign policy, transparency and accountability, and the peace process. Held at UP's National College of Public Administration and Governance (NCPAG), the forum was led by CenPEG Fellows and political analysts: Temario C. Rivera, CenPEG vice-chair and professor at the International Christian University, Tokyo; Dean Julkipli Wadi of the UP Institute of Islamic Studies; Ben Lim; Prof. Carl Marc Ramota, chair of UP Manila's Department of Social Sciences; volunteer lawyer for advocacy Atty. Felix Carao, Jr.; Jose Enrique Africa, IBON research director; Dean Edna Co of NCPAG and Tuazon, CenPEG director for policy studies.
Rivera stressed that what the country needs today is a President who will lead in initiating bold reforms in the political and economic spheres given the weak, clan state with poor developmental capabilities, weak party system, a culture of impunity that hinders the rule of law, and intense factionalism in government. "Fighting corruption is a critical step in improving governance but by itself will not address poverty or systemic inequalities," Rivera said. "Structural, redistributive reforms are necessary" as defined and directed, not simply delegated by a committed and competent leader.
Looking at "Aquinomics," Africa noted that the number of Filipinos jobless or otherwise not earning enough from their jobs and seeking additional work increased by 645,000 to reach 11.6 million in April 2011 from the year before. The Aquino administration is also the second worst performer in terms of land distribution in the post-Marcos era of five administrations, he said.
"Aquinomics" is nothing but a copycat of Arroyo's failed economic policies. Aquino's "Philippine Development Plan" is mostly cut out from World Bank prescriptions, Africa said, who also asked whether the Filipino people are really his "boss" or the WB instead.
Both Wadi and Tuazon also lamented delays in peace talks between government, on one hand, and the Moro Islamic Liberation Front (MILF) and National Democratic Front of the Philippines (NDFP), on the other. Wadi noted the lack of a "big push" from the Aquino administration to move its peace negotiations with the MILF forward contrary to the former's pledge to conclude the talks soon.
Lawyer Carao challenged the President to certify as urgent the Freedom of Information (FOI) bill. At the campaign trail and up to his assumption to office, the FOI remained to be a top priority in the President's legislative agenda in order to advance his announced policy of transparency and accountability in governance. But he has dilly dallied in endorsing the bill in the following months. The fight against corruption will not win the people's support in the absence of an implementing law that would ensure their full access to public information on matters of public concern, the lawyer said.
The fight against corruption will not win the people's support in the absence of an implementing law that would ensure their full access to public information, the lawyer said.
Ramota, meanwhile, said Aquino can promise anything without assuring it will be carried out. His much-vaunted slogan, "Kung walang korap, walang mahirap" (if there's no corrupt, there's no poor), conceals the structural roots of poverty that breeds corruption. Citing Hacienda Luisita's poor tenants, Ramota said even if Aquino were "honest" there will still be poverty at his big family estate.
Meanwhile, Evita Jimenez, CenPEG executive director said, "it is not yet late for the President to take another route, he has five years to go in the presidency." Jimenez said the people wants the President to "think long term, instead of CCT, think of Filipino industry build up and development to create jobs, instead of fearing national security for government officials, pass the FOI for greater transparency and accountability, and instead of referendum, implement the full spirit of the land reform law and distribute their vast landholdings as an example of true leadership."
CenPEG's State of the Presidency forum concluded with the launching of the center's latest book, "12 Years of the Party List System: Marginalizing People's Representation." The book compiles CenPEG's year-long assessment of the Party-list system covering the period since its first election was held in 1998 to the 2010 elections. Studies and papers in the book are written Felix Muga II, former law dean Raul Pangalangan, then human rights commissioner Laila de Lima, Dr. Ed Clemente, Judge Cleto Villacorta, former ConCom member Wilfrido V. Villacorta, and Comelec Commissioner Rene Sarmiento. The book is co-authored and edited by Bobby Tuazon.

SOP Panel of speakers (L-R): Judge Cleto Villacorta (moderator), Sonny Africa, Ben Lim, UP NCPAG Dean Edna Co (welcome address), Temario Rivera, Julkipli Wadi (Dean, UP IIS), Carl Marc Ramota, lawyer Felix Carao, Jr., and Bobby Tuazon.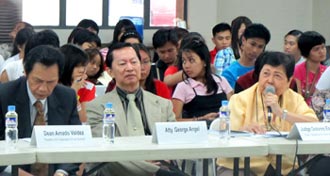 Some of the SOP reactors (L-R): Dean Amado Valdez of the UE College of Law; Atty. George Angel; and Judge Dolores Espanol of Transparency International-Philippines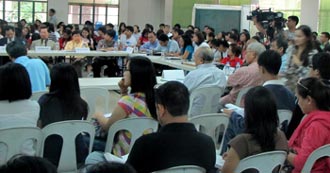 Part of the SOP audience with panel of reactors shown at the left table.

Partylist book launching (L-R): Carl Ramota, Sonny Africa, UCCP Bp. Gabriel Garol, CenPEG Chair Bien Lumbera, Dean Raul Pangalangan, Satur Ocampo, Rep. Neri Colmenares, Comelec's Atty. Ferdinand Rafanan, Dr. Ed Clemente, UP Vice President Maragtas Amante, Felix Muga II, and Bobby Tuazon.