AES WATCH Convener is next UP President
Posted by CenPEG
Dec. 14, 2010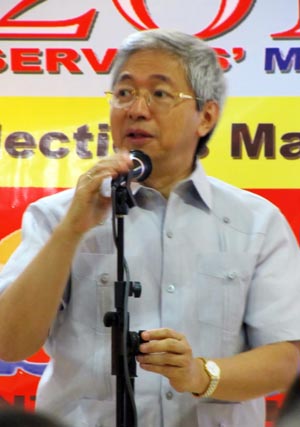 The Center for People Empowerment in Governance (CenPEG) congratulates Alfredo Pascual for his election on Dec. 3 by the Board of Regents as the 20th president of the University of the Philippines (UP), the country's national university.
Pascual is the spokesperson and co-convener of the Automated Election System Watch (AES Watch), a broad coalition of citizens' election watch groups that monitored the May 10, 2010 automated elections. CenPEG is also a lead convener of AES Watch.
As a spokesperson of AES Watch, Pascual advocated fair, reliable, secure, and transparent automated polls. The coalition's poll monitoring led to the crafting of the STAR – System Transparency, Accountability, and Reliability – that rated the election preparations, with a final report presented during the post-election summit last October 5 (October PES) held at Club Filipino, Greenhills, Mandaluyong City.
Until his election as new UP president, Pascual was president of the UP Alumni Association (UPAA). He was a director at the Asian Development Bank (ADB) and has taught at the Asian Institute of Management, UP, and Ateneo de Manila University.
Pascual has pledged that no tuition hikes will be imposed in the next schoolyear. In his vision paper during the selection process, titled "Remaking a Great University: UP in the 21st Century," Pascual said, "The commitment of the national government to underwrite the cost of a UP education is critical."
"A great university recruits students from among the best and brightest in the community it serves [but] as the national university, UP must also take steps to democratize admission," Pascual said.
He added, "UP must be a university where students earn their degrees as iskolars ng bayan regardless of the economic status of their family. We do not want a situation in which only children of financially able families can make it to UP."
Pascual was elected from among 11 contenders by the 11-member BoR. In an unprecedented election, he received 6 votes while his closest contenders got 1 or 2 votes. Posted by CenPEG