CenPEG meets Indonesian parliamentarians
Posted by CenPEG Nov. 4, 2010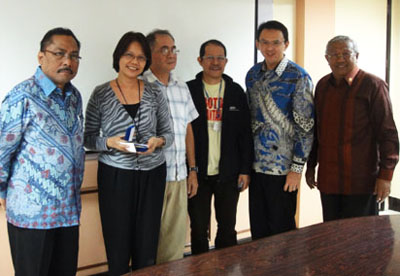 The Indonesian Embassy in Makati hosted an exchange of views between 13 members of the Indonesian parliament and Fellows of the Center for People Empowerment in Governance (CenPEG) on Oct. 20, 2010.
The CenPEG panel was led by its executive director, Evi-ta Jimenez, together with Profs. Felix Muga II and Bobby Tuazon. The visiting delegates from Indonesia's People's Representative Council (Dewan Perwakilan Rakyat, DPR) were led by Mr. H. Sunardi Ayub.
The Indonesian parliamentary delegation listened to a briefing by the CenPEG panel on Philippine elections, the Partylist system, the role of people's organizations in elections, and corruption. Both sides also exchanged views on shared histories such as colonialism and independence movements.
The meeting was hosted by Indonesian Ambassador to the Philippines Dr. Yohanes Kristiarto Soeryo Legowo through Minister Counselor, Mr. Andhika Bambang Supeno.
The Indonesian parliamentarians were on a working visit in Manila from Oct.18-21 where they held meetings with Philippine House Speaker Rep. Feliciano Belmonte, the justice department, and other agencies. Their meeting with CenPEG was aimed at understanding the role of the "civil society movement" in the Philippines.
The CenPEG Fellows also discussed the role of the policy center in Philippine governance and politics as well as its various programs.
Members of the Indonesian delegation included: Mr. H. Harry Witjaksono, Mr. Ruhut Sitompul, Ms. Rusminiati, Mr. H. Murad Nasir, Mr. Basuki Tjahaya Purnama, Mr. Eddy Mihati, Mrs. Sri Rahayu, Mr. Memmed Sosiawan, Mr. Jamaluddin Jafar, and staff Mr. Widiharto, Mr. Arwani Hidayat, and Mr. Hanik Rubaidah.
The Indonesian Parliament follows a multi-party system. Its two chambers are the 550-member People's Representative Council (Dewan Perwakilan Rakyat, DPR) and the 128-seat Regional Representatives Council (Dewan Perwakilan Daerah). Posted by CenPEG