A Sense of Nationhood and Philippine Sovereignty
CenPEG.org, 06 October 2020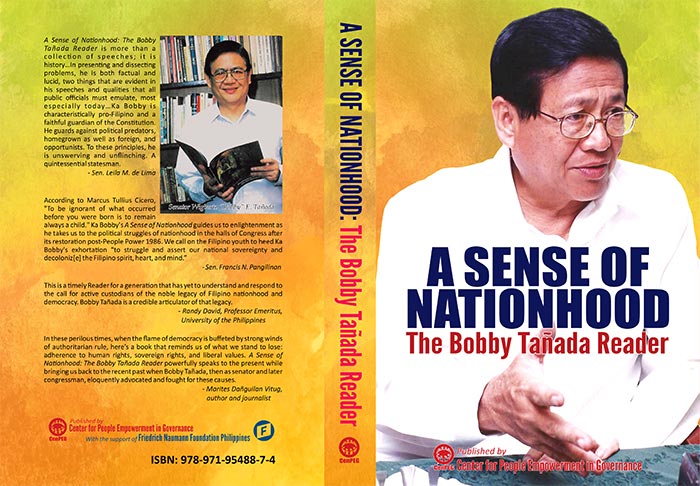 The book, A Sense of Nationhood: The Bobby Tañada Reader, was launched in a webinar on Oct. 1, 2020. The launching of the book, the latest published by the Center for People Empowerment in Governance (CenPEG), highlighted a virtual forum on Philippine national sovereignty.
A Sense of Nationhood (239 pages) compiles former Sen. Wigberto "Bobby" E. Tañada's speeches as a senator (1987-1995), congressman of Quezon province's fourth district (1995-2001), and as a human rights lawyer and peace advocate. Son of foremost nationalist and statesman Sen. Lorenzo M. Tañada (1898-1992), Tañada led the "Magnificent 12" senators in rejecting on Sept. 16, 1991 the extension of US military bases in the Philippines.
The former senator's chief of staff, Chit Asis, led the publication project into fruition together with Pauline Sanchez, Roland Simbulan, and Jessica Reyes Cantos. The late Chit Estela, journalist-professor, and Ramon Duran (+) provided the initial writing and editorial work.
Luis V. Teodoro, former Dean of the University of the Philippines' College of Mass Communication and CenPEG Board member, provided the final copy editing of the manuscripts. The publishing of the book was under CenPEG's in-house publication editor and director for policy studies, Bobby M. Tuazon, with artist Fidel dela Torre doing the cover page and book layout.
Prof. Roland G. Simbulan, CenPEG vice chair, was the main speaker during the webinar forum with Sen. Francis Pangilinan, Ms. Marites Vitug, Prof. Rene Ofreneo, and Prof. Ed Garcia for the panel discussion.
CenPEG chair, Prof. Temario C. Rivera, gave brief remarks.
The event was sponsored by the Friedrich Naumann Foundation which supported the book's publishing.