ML Extension in Mindanao Will Fuel More Extremism; Won't End Rebellion
Bobby M. Tuazon*
Posted by CenPEG on Oct. 2, 2018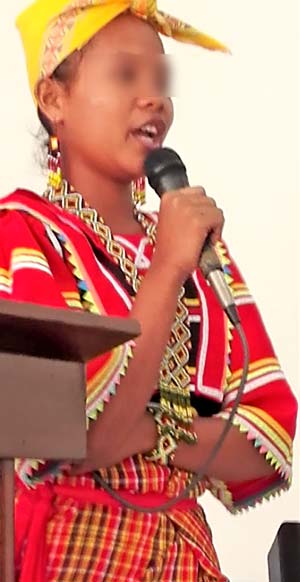 Any government that resorts to martial law (ML) for whatever reason is an admission of a failure to govern and a failure to institute reforms in a peaceful way. Proof of this is the martial law declaration of Ferdinand Marcos in 1972 that, 14 years later, left tens and thousands of people incarcerated without due process, many of them tortured, missing or killed, with millions of people displaced in relentless anti-insurgency operations. Martial law eventually led to the downfall of the Marcos dictatorship in 1986. But since then martial law and the culture of impunity that it created never left us and has assumed different faces like "total war," "war on terror," "counter-insurgency," "Oplans," and other forms of militarization and political repression.
Martial law impact in Mindanao
Placing Mindanao under martial law since May 2017 has only legitimized and heightened the militarization of the whole southern island – a situation which any way has continued to beleaguer the people since the 1970s. Contrary to government claims that no abuses will be perpetrated, martial law has in fact emboldened state security forces to launch punitive military operations in many parts of Mindanao resulting in numerous human rights violations. Rights groups and fact-finding missions have documented many cases of politically-motivated killings, bombings, arrests, and other forms of rights violations involving particularly Muslim and indigenous Lumad communities.
After 17 months of martial law AFP officials in Mindanao have admitted their failure to dismantle the Maute group along with other Moro extremists such as the Bangsamoro Islamic Freedom Fighters (BIFF), Abu Sayyaf Group, and 21 other alleged ISIS-inspired armed groups. Government forces have also failed to stop bombings in Koronadal, Maguindanao, Jolo, and Sultan Kudarat.
Deepening foreign armed intervention
The Marawi siege (May – October 2017) has also led to the deepening of foreign intervention led by the US as well as Australia and lately, Israel.
Launched on Sept. 1, 2017, the Operation Pacific Eagle – Philippines (OPE-P) – which replaced the previous "Operation Enduring Freedom – Philippines" - is a new counter-terrorism operation of the US together with PACOM and other US agencies and in close coordination with the AFP against alleged "ISIS" groups as well as the Marxist New People's Army (NPA) in Mindanao and nationwide. Together with around 300-500 US special forces assigned in Mindanao, OPE-P provides military advisers, logistical support, operational planning, as well as intelligence, surveillance, and reconnaissance (ISR). Meanwhile Australia, which like the US has a Visiting Forces Agreement (VFA) with the Philippines, has deployed 80 mobile training teams in the Philippines.
Israel: Emerging foreign force in Mindanao
The Marawi siege and raging armed conflicts in Mindanao have also allowed another new international player – Israel, America's trusted ally in the Middle East – to come in. In his visit to Tel Aviv first week of September this year, Duterte made a sales pitch for Israel by harping that Israel's night vision googles were "critical" in the defeat of the Maute group. Arms deals will be struck with Israel giving the latter an opportunity to boost its arms exports after identifying Asia especially Southeast Asia as a pivotal market. Last year, the Israeli arms industry raked in $10 bn in profit proving once again that war bring profits to so-called "merchants of death." Aside from arms and counter-terrorism training, other deals being worked out by the Duterte government with Israel include an arms manufacturing plant, oil exploration project in east Palawan, as well as trade, call centers, and deployment of more OFWs.
Soon, the Philippines and Israel may have to forge a military cooperation to boost the defense alliance between the Philippines on one hand and the US, Australia, and Japan, on the other. Any deepening of Philippines-Israel security ties will all the more put the Philippines on the side of Israel against Palestine.
Philippines' historical support to US-Israel
Israel's involvement in Mindanao and its increasing business deals should not be a surprise since it shares international and geopolitical interests with the US and the Philippines. In 1947 the Philippines became the only Asian country – along with the US and 31 other countries - that voted in favor of United Nations General Assembly (UNGA) Resolution 181 calling for the partition of Palestine into Arab and Jewish states – with 55% of the total land going to Israel even if its population constituted only 1/3 of Palestine's total population and owned only 6% of the land.
Since then, the Philippine government has consistently voted with the US to support Israeli aggression not only against Palestinian Arabs but also other countries in the Middle East region.
In 2006, the Philippines together with the US supported Israeli aggression in Lebanon even if it led to the dislocation of 30,000 overseas Filipino workers (OFWs).
Only last December 2017, the Philippines under Duterte abstained from UNGA resolution declaring "null and void" Donald Trump's recognition of Jerusalem as Israel's capital (in place of Tel Aviv). Only 7 small and obscure countries sided with the US. Duterte's visit in Jerusalem last Sept. 3, symbolized a de factor recognition of that city as Israel's capital and put the Philippines in a diplomatic faux pas with Palestine.
Possible political motives for extending martial law in Mindanao
Among the reasons Duterte will cite as basis for extending martial law in Mindanao beyond Dec. 2018 are: 1) Continuing threats by terrorist and communist forces; 2) To finish off the NPA by mid-2019; 3) To "secure" the scheduled plebiscite on the BOL in January 2019, the May 13, 2019 mid-term elections, and renewed campaign on the Cha-Cha; 4) To protect the corporate interests behind Duterte's "Build-build-build" megaprojects in Mindanao and related projects many of which involve business cronies and fellow oligarchs.
Martial law, however, will only make parts of Mindanao more vulnerable to extremism in the same way that a tighter military presence has not stopped alleged terrorist groups from operating, expanding, and recruiting new members. Martial law will further deepen reliance on military tools against both terrorist groups and the armed Left making authoritarian tendencies more supreme over civilian authority. It can be used by the Duterte government to impose its will in the January 2019 plebiscite on the BOL as well as in the mid-term elections and charter change campaign in Mindanao.
Belligerent approach to armed conflicts that have deep socio-economic and historical roots
It should surprise no one if Duterte decides to extend martial law in Mindanao for the following reasons:
First, Duterte exercises the politics of "bossism," traditional patriarchy and with absolute and dictatorial powers while relying on the AFP and PNP to consolidate his power. (In his 2 ½ years as president, he has appointed at least 60 retired military and police officials to head various agencies and GOCCs.)
Second, like all past presidents, Duterte has been molded by feudalistic and oligarchic politics whose perception of armed conflicts and peace process is superficial. Needless to say, he upholds without understanding neo-liberal policies as espoused by his economic technocrats as well as the power of the gun as espoused by his war hawks to bring about what he calls "peace and order".
This is what we're going to see for the rest of his presidency until 2022.
(This paper was read by the author, Prof. Bobby M. Tuazon, at the Forum on Peace – Kapayapaan sa Pilipinas, Kapayapaan sa Mundo or Peace in the Philippines, Peace in the World - in observance of the World Week of Prayer for Palestine and Israel, on Sept. 28, 2018 in Quezon City. Tuazon is the Director for Policy Studies of CenPEG.)