Venezuela's Maduro Accuses Smartmatic of Caving to US Pressure
3 August 2017, teleSUR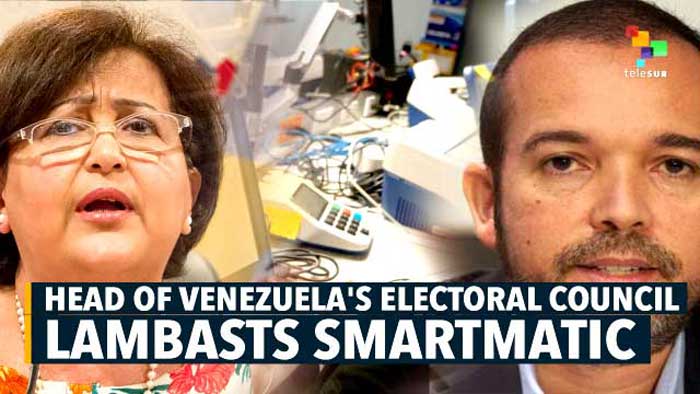 teleSUR photo
Maduro states there was more likely 10 million voters who participated in the elections and an extra two million who were prevented by the opposition.
Venezuelan President Nicolas Maduro accused Smartmatic of caving under pressure from the U.S. Wednesday, adding that the company's allegations were an attempt to tarnish the National Constituent Assembly vote that took place Sunday.
On Wednesday, Antonio Mugica, chief executive of Smartmatic, a London-based multinational that has provided the technological platform for voting services for Venezuelan elections since 2004, claimed to have identified that "a difference between the announced figure and the number produced by the system is at least one million voters."
Maduro spoke to an audience of about 500 of the 545 elected members of the assembly in Caracas, declaring that the National Electoral Board stands by its initial count of 8.1 million votes, adding that two million more would have voted if the opposition hadn't prevented them from doing so with threats of violence.
"The president of Smartmatic, pressured ... by the gringos and the Brits, said there were 7.5 million (voters)," Maduro said.
CNE President Tibisay Lucena responded on Wednesday to the allegations, denouncing Mugica's comment to the press.
"It is an irresponsible assertion based on estimates without any basis in the data that is exclusively managed by the electoral authority. But even more serious, Smartmatic participated in all (pre-election) audits," Lucena said.
"Smartmatic's allegations represent an unprecedented view of a service-only company ... Smartmatic is responsible for technical services and nothing else," she added.
Mugica confirmed Smartmatic had not discussed the allegations with the Venezuelan government and the electoral authorities prior to holding its press conference Wednesday.
The company executive did not specify the basis for their numbers, or how these were obtained.
In 2013, Mugica told CNN that it was "virtually impossible" to manipulate votes using his company's technology.
On Sunday millions of Venezuelans turned out to vote for the 545 members of the Constituent Assembly who will be charged with drafting the text of a new constitution that will require approval by popular vote.
Due to its perceived controversial induction, 40 countries have followed the U.S. in its refusal to acknowledge the assembly. Canada, Argentina, Brazil, Chile, Colombia, Costa Rica, Mexico as well as international organizations, like Mercosur, have denounced the change to the Venezuelan constitution, despite the fact that the right to alter the constitution is detailed within the legislation.