CORRUPTIONARY:
a unique dictionary of corruption words
INTERNATIONAL EDITION
Php 300.00 / 195 pages
---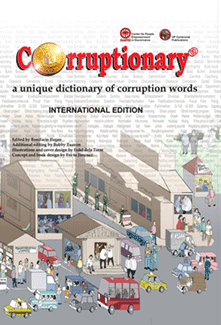 Corruptionary reflects how Filipino people lend meaning to their experiences. The very culture of word play and the penchant to coin new words attest to the fact of a continuing sufferance with a systematic malady that the people have to live through. This is an indication, on one hand, of the worsening corruption in society; and, on the other hand , of the Filipinos' retraint, exuberance and adeptness as they confront social issues.
In Corruptionary could be found old terrms that were previously known only to lawyers and experts, as well as new words that are borne out of the pestering corruption, and which have become buzzwords among citizenry. It may be seen as a process of enlightenment of the people on account of their increasing ability to speak out, albeit not directly or candidly.
In sum, the continuing addition to the collection of words in Corruptionary is a clear expression of disgust and rise of political awareness of the citizens regarding issues of ethics and/ or morality, precisely because of endemic graft and corruption. Here is hoping that soon enough, this collection of words could be translated to a collective articulation of the untrammeled struggle against corruption and for genuine public service and social justice.
Telefax +6329299526 email: cenpeg@cenpeg.org; cenpeg.info@gmail.com Copyright ©2005
Center for People Empowewrment in Governance (CenPEG), Philippines. All rights reserved