Two books on automated elections launched
CenPEG.org
April 12, 2013
The book, Was Your Vote Counted? Unveiling the myths of Philippine automated elections, was launched before an SRO audience on April 10, 2013 at the Ateneo professionals school, Rockwell Center, Makati. Authored jointly by conveners of the Automated Election System Watch (AES Watch), the book was launched back-to-back with columnist Rene B. Azurin's latest book, Hacking Our Democracy, a compilation of his opinion columns on automated elections published by BusinessWorld (BW) daily.
Bobby M. Tuazon, CenPEG's director for policy studies and editor of Was Your Vote Counted?, introduced the book as being inspired by the contributors'  commitment to credible elections as well as their dedication to science and writing.
The book compiles the authors' studies, commentaries, and advocacies on a reliable, accurate, and accountable poll automation as distilled from their engagements with Congress, the Commission on Elections, judiciary, and other election stakeholders since 2008 when the automated election system was first tested for the ARMM regional elections. The articles were informed the perspectives of IT, political analysis, social research, as well as public and private management and mathematics.
Azurin, a strategy guru, talked of the failure of Comelec and the technology supplier in providing safeguards and security features to the automation system thus casting doubts on its reliability. Lingering questions on election technology's transparency and reliability have driven Germany and many other countries to withdraw from poll automation.
Others who spoke at the book launch were former Vice President Teofisto Guingona, Jr., AES Watch honorary chair who also wrote the foreword of Was Your Vote Counted?, CenPEG executive director Evita L. Jimenez, BW publisher Vergel O. Santos who wrote the foreword for Hacking, Gus Lagman, and Maricor Akol, emcee.
Contributors for the AES Watch publication are: Akol, Lito Averia, Azurin, Rick Bahague Jr., lawyer Felix Carao, Jr., Toti Casino, Nelson J. Celis, Judge Dolores Espanol, Douglas W. Jones (of the acclaimed HBO documentary, Hacking Democracy), Gus Lagman, Pablo R. Manalastas, Lex Muga II, Temario C. Rivera, Harry Roque with Gilbert T. Andres, Tuazon, and the We Watch team of labour-based poll watchers.
Orders for the book, Was Your Voted Counted?, can be addressed to publisher CenPEG (cenpeg.info@gmail.com, TelFax +6-32 9299526). It will also be available at major bookstores in the Philippines.
CenPEG is also the publisher of other books, including The CenPEG Report (on the May 2010 automated elections), Fraud (2004 presidential elections), 12 Years of the Party-list System (2011), the bestseller Corruptionary (2008, the only dictionary of corruption words in the world; re-launched in Athens, Greece, 2010), Dissecting Corruption (2007), Oligarchic Politics (2007), Subverting the People's Will (2004), The Moro Reader (2008), Bangsamoro (2011), and Chit Estella: A Reader (2012).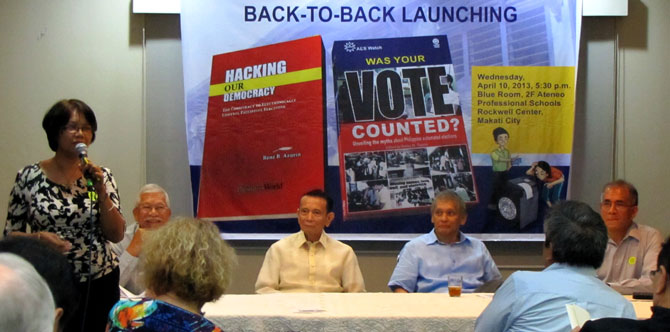 Evi Jimenez, extreme left, talks about AES Watch and acknowledges support for the book. Seated (l-r): Gus Lagman, VP Teofisto Guingona Jr., Rene Azurin, and Bobby Tuazon.