A Review of
CHIT ESTELLA:
A Reader on Media Ethics, People's Issues and Governance
By Aida F. Santos
On the occasion of a book launching

17 August 2012, 10:00am-12:00pm
University of the Philippines College of Mass Communications (UP CMC) Auditorium
in cooperation with the UP CMC Dean's Office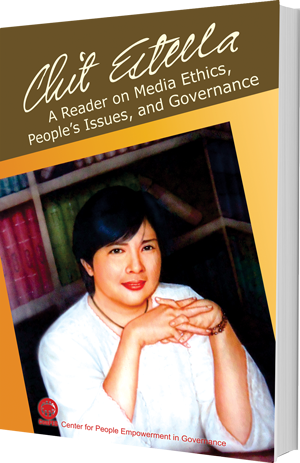 Reading the section on ACKNOWLEDGEMENTS already provokes emotions. Prof. Roland Simbulan, with the Center for People Empowerment in Governance (CenPeg), has beautifully and so soon, which I think is most appropriate, tribute to Chi Estella's life, writes: "Now, she cannot edit me on this proud acknowledgement. I also acknowledge her as the very first angel I met on earth, who inspired me and others how to live a full life, as a patriot, as a progressive journalist and a fighter for the people's interest. During the celebration of her life, various sectors of Philippine society, and all forces of the political spectrum recognized her as an outstanding journalist and defender of press freedom." A short paragraph that sums up Chit's lovelife with Roland, her commitment to social change and the affection of those she left behind, so suddenly. 
Anyone, dead or alive, would have been so proud of Roland and the team that put together this collection of Chit's work as a journalist, teacher, activist, human rights advocate, woman.
MEDIA ISSUES

It was as scene that I now barely recognize: a newsroom with men sitting around the news desk. A male editor calling the shots while young women typed out the stories being dictated by male reporters through the phone. A male photographer who would take every opportunity to brush his hand against the women. And a male copy editor who would taunt young female reporters with a phrase that he thought was witty: "So, you were caught with your panties down".
In the field, the same young female reporters would be startled to suddenly find on their shoulders or waists the hands of not-so-young, not-so-goodlooking but very much married male reporters "welcoming" them to the beat. Avoiding such hands was trickier than playing the childhood game of patintero.
She says that was 20 years ago. I am not too sure if that does not happen anymore, perhaps not to senior female journalists but not an impossible situation that interns and young media aspirants may face.
Chit writing those lines, in 2005, sharply and correctly depicted what gender discrimination, or if you will, sexual opportunism is or in legal parameters what are some of the essential provisions of the Republic ACT 9272 or known as the Anti-VAW/C law, are.   Not that these have stopped or been eliminated, but Chit had the guts to describe what her male colleagues are or were capable of.
While things have changed in the media landscape – more women in positions of power, more assertive women of their rights – for the younger ones, those who need to embed themselves in media work, they still have to learn the ropes of media work at the same time looking out for the unnecessary touch, libidinal stares and "green" jokes to which many women, journalists or not, have to join the laughter lest they be called KJs ("kill joys") or in current parlance, uncool. Her examples of sexism even in titles of stories are so commonplace, ""Addicts rape pretty coed", that no one, unless one is so blind and uncaring, can deny the pervasiveness of it all.
Chit lucidly posits her questions, unembellished and direct. The lucidity of her take on sexism in media is a call to action.
There are other articles in the collection on MEDIA that Chit posits a more general take on issues and concerns, being editorial notes. In her article Advertisers and Other Owners of Media: The Search for Models of Survival among Media Organizations, Chit takes up the issue of advertisements as the lifeblood of media survival. She writes, "It is, by the way, a strange market if one were to go by the products that advertisers sell. In the first quarter of 2009, the bulk of advertisements were selling shampoo and other hair-care products, followed by telecommunications and cough medicines." She could have dissected this from a gendered lens, but stops short. It is the same for the other articles in this section.
Nonetheless, Chit remains lucid and convincing, historical and grounded in research, even touching politically controversial topics from which a lesser media mortal could veer away (for example, The Religious Press and the Marcos Years; The Mystery of the Midnight News; Editor's Note: Elections and Acts of Terror; Editor's Note: From Fresh Eyes; Editor's Note: In Front of the Cameras —and Behind; Editor's Note: Living in a Familiar Time; to mention some.
As she ends one of her article, she says, "…perhaps the best option for the survival of journalism in the Philippines will be found", and, I add, when media survival does not have to demean women or make them invisible or secondary to patriarchal powers.
There are essays where a gender analysis or the gender perspective may not be necessary because the narrative is full of interesting historical information that the reader holds on every paragraph by the simple power of the information, just like in The Future of Newspapers.
In The Mystery of the Midnight News, Chit peripherally raises a gender concern.  She writes: But what do advertisers, in turn, go after? The findings of Nielsen Media Research are unequivocal: almost 80 percent of the targeted consumers belong to the D and E classes, the poorest sectors of Philippine society. Proving that there is much wealth to be gained by catering to the poor, the research showed that these sectors are the targets of the top five advertising categories: telecommunications, hair shampoos, government agencies, detergents, and proprietary drugs. Hair shampoos. One can guess who the main targets by the advertisements are.  While men have also been identified by advertisers as a secondary target for shampoos, by and large the ads are projecting gender stereotypes.
PROFILES

The section on Profiles offers an interesting set of essays that are character sketches, sketches that reveal beyond the who-what-when-where. Of these I found the profile on Jim Paredes (Edsa 20/20: 20 Filipinos, 20 Years after People Power February 2, 2006). There is a certain poignancy to it, a bittersweet tone that touches on the personal travails and contradictions of their personalities.  Chit tells it as if her heart was in the struggles and the pains as well as victories of the personalities she interviewed (Benigno S. C. Aquino III, Eugenia Apostol, Fidel V. Ramos, Ka Roger, Manuel 'Mar' Roxas II, The Cory Years, The Travails of an Honest Civil Servant, an article that has the main character by the name of Acsa Ramirez).  Chit paints them as she views them, and even in not too pleasant circumstances, takes on an empathetic tone, and tries to place her characters within an environment for the reader to contextualize the dysynchronicities and dysfunctional twists and turns in their lives.
Unafraid to expose the hidden sides of her subjects, Chit nonetheless shows her humanity through her mighty pen (more appropriately, her computer keyboard). Very Chit, as one would say.
PROMETHEUS UNBOUND AND PHILIPPINE SOCIETY

The section titled Prometheus Unbound and Philippine Society (articles include Nursing Schools Sell Dreams of a Life Abroad, Why the Olalias are not in Bantayog ng mga Bayani, Beyond the Labyrinth of Budget Legislation, and Corruptionary: The Lingo of Corruption), is a collection of essays that expose the not-so-known but public secrets anyway in various environment.  The article Nursing Schools Sell Dreams of a Life Abroad could very wellinclude a sharper gender lens. After all, nursing, despite the entry of males in the profession, `remains a female domain. Parenthetically, there was a time when nurses finding lucrative income from overseas work, male entrants to nursing courses became a fashionable option.  Nowadays, there is an oversupply of nurses and many find themselves un- or underemployed, or worse in jobs where their training and experiences are put to waste.
Chit writes with grit. But the grit does not cut.  The grit slides through smoothly in the narrative of her stories. Calm courage.  Tight grip on her words that do not escape the searing quest for social justice and transformation.
Chit took us everywhere during her time on this planet through wide eyes observing and claiming her spaces of truths and strength of her vision as a journalist, educator, social justice advocate and an organic feminist.  After she went to the other parts of this Universe, tributes were written and posthumous recognitions given.  Chit, co-founder of Vera Files, the small media nonprofit group she co-founded with four journalist-friends three years, left too early.  It was this sudden sad and horrible departure where her quiet ways and endearing traits as a brave media warrior steadfast wife and lover, loyal friend and conscientious teacher.
The last section of the book shares with the reader the tribute in a form of a city resolution dated 26 September 2011, extending condolence to the family of Chit Estella-Simbulan and "recognizing her contributions as one of the country's premier contributions as academicians and journalists."
Yvonne T. Chua, Chit's colleague has one of the most touching words for Chit.  She writes: "The senseless killing brought to an abrupt close illustrious career of one of the country's most principled journalists and best journalism educators who has left many of us in awe, me for a good 34 years."
The very first time I saw Chit in person in one social event made me wonder about this diminutive shy looking woman who had a smile that seems to want to blow into a big laugh. He and Roland seemed to me then, both shy looking, a couple who take their politics in earnest and with a G&D (grim and determined) stance.  Chua says Chit's wry sense of humor and ability to laugh at herself endeared her to many people." Somebody quipped, what a waste of good genes!  Chit could not have any child because of a pre-marriage hysterectomy.
Chit and I never really got t know each other beyond the occasional circumstantial events where we both attended.  She was somebody whose name and media profile preceded a more formal introduction.  I read her. I knew she was Roland  Simbulan's wife.  It was in her death that I wanted to know more about her.  And this review is my simple gesture to that dream that was cut short by one unlucky streak of fate.
As the old saying goes: Ang mababait, medaling kinukuha ng Dyos.  The other side: Ang masamang damo, matagal mamatay.
I have come to a point in my life where I have to see deaths as a positive event, if only to console myself that I will meet families and other loved ones who went ahead.  And for Chit, I wish to have an occasion, somehow and somewhere, to have a good chat, and to hear that wry sense of humor.