Rethinking democratization in the Philippines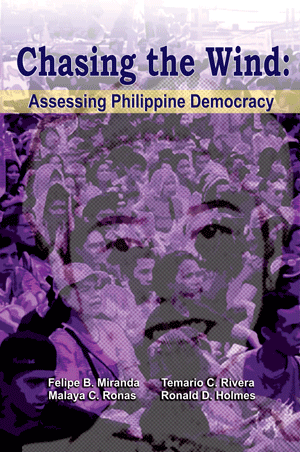 CenPEG is posting two chapters from the new book, Chasing the Wind: Assessing Philippine Democracy (2011), published by the United Nations Development Program (UNDP) and launched in March this year. The book is authored by Felipe B. Miranda, Malaya C. Ronas, Ronald D. Homes, and Rivera.
"We have not had any successful transition to a democratic regime. We have failed to
meet even the minimum conditions of a procedural democracy: free and fair elections. How
can we even refer to our system as a "democracy" when much of its electoral contests continue
to be perverted by outright violence and coercion. Moreover, powerful political clans have
consistently dominated various national and local positions in the country, foreclosing the
prospects of wider electoral competition and political participation." Temario C. Rivera,
International Christian University (Tokyo)
Chapter 2 In search of credible elections and parties: The Philippine paradox
Chapter 5 Conclusion: Rethinking democratization in the Philippines
---
Chasing the Wind: Assessing Philippine Democracy
"Jointly authored by a group of prominent Filipino political scientists (three former presidents of the Philippine Political Science Association and one long-time editor of the Philippine Political Science Journal), this book challenges the conventional wisdom that the Philippines is a democracy. Going beyond the traditional approaches to understanding democracy, the authors offer a reconceptualization of democracy anchored on three essential elements: an expanded notion of public accountability, a sensitivity to regime outcomes particularly on key indicators of human development, and a definite period for assessing the effectiveness of these practices and outcomes. To substantiate their claims, the authors provide a rigorous rethinking of the concept of democracy backed up by systematic studies on the country's electoral practices and party system, the accountability mechanisms among the major agencies of government, and the impact of civil society and the decentralization process.

While critical of the failed democratization process in the country, the authors do affirm the urgency of collectively struggling for a truly democratic order." (From the back cover)