Corruptionary's 3rd launch at PowerBooks
Posted by CenPEG.org
September 3, 2010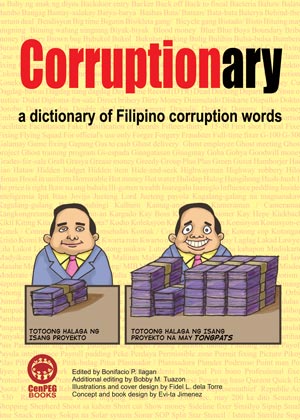 The CenPEG book, Corruptionary, was re-launched last July 20 at PowerBooks, Megamall, Mandaluyong City.
Corruptionary, the only dictionary in the world containing corruption-related words, was first launched in May 2008 with a second launch in Athens, Greece at the 13th International Anti-Corruption Conference (IACC) in December that year.
It is now co-published by Anvil Publishing which also did the book's third printing.
Originally written in Filipino, Corruptionary gives an English translation to word entry definitions. It is now available at the Powerbooks and all Philippine and international outlets of the National Bookstore.
Among those who graced the book's third launching were former Supreme Court Chief Justice Artemio Panganiban, UP Alumni Regent and AES Watch Co-convener Alfredo Pascual, former UP Law Dean Raul Pangalangan, Kadamay chair-emeritus Carmen "Nanay Mameng" Deunida, National Artist Bienvenido Lumbera, who is also CenPEG board chair, CBCP's Bishop Deogracias Yniguez, and Dante Jimenez of the Volunteers Against Crime and Corruption (VACC).
CenPEG executive director Evi-ta Jimenez, Anvil Publishing manager Karina Bolasco, Corruptionary editor Bonifacio Ilagan, film director Carlitos Siguion-Reyna, Fred Gaite of Courage, former senatorial candidate Gwen Pimentel, Mae Paner aka Juana Change, and representatives from Nassa-CBCP, the Japanese embassy, and Transparency and Accountability Network (TAN) were also present.
A project of CenPEG and conceptualized by Evi-ta Jimenez, Corruptionary is a product of research by students from the University of the Philippines (Manila) who took their summer practicum with CenPEG. Adopted as a centennial book by the University of the Philippines in 2009, it is edited by acclaimed Filipino writer, playwright and film scriptwriter Ilagan who is also a CenPEG Fellow.
Especially under the watch of former President Gloria M. Arroyo, the Philippines earned the notoriety of being one of the most corrupt countries in the world.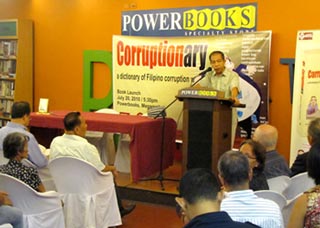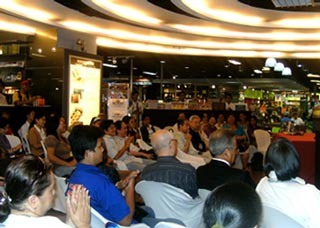 Book reviews
Below are excerpts of reviews of Corruptionary:

"The Corruptionary …shows a mixture of humor, disgust and anger toward corrupt persons and their acts…reflecting the Pinoy talent for puns and a hilarious dig at the corrupt official/s." (Ramil Digal Gulle, "The Corruptionary will make you laugh till it hurts," ABS-CBNnews.com)

"More than just a specialized dictionary, Corruptionary serves as an academic textbook for young Filipinos." (Christine Ong, Channelnewsasia.com, Singapore)

"The book by itself could be entertaining but has a way of making us see ourselves as victim, observer or even participant in the culture of corruption. What could follow is a kind of epiphany, hopefully leading to anti-corruption advocacy." (Elmer A. Ordonez, "Two books on corruption," The Other View, Manila Times)

"Thanks to my chance meeting with the Corruptionary team, I'm finally positive I want to learn outside the classroom… I want to know things without being spoon-fed, to go somewhere, according to how I want to get there. It is going to be quite a walk." (Sara O. Siguion-Reyna, "What I've learned: Getting there my own way," Philippine Daily Inquirer, April 22, 2008)

"A first of its kind, Corruptionary …is a very rich source of information and analysis that should be useful for anticorruption advocacy in the Philippines. For the un-initiated, Corruptionary helps build awareness that is important in conscientization." (Dr. Ronnie V. Amorado, "Corruption as hermeneutic and semiotic reality")

"Many readers would shake their heads in amusement after finishing the book. There is, however, a sense of sadness that comes with the realization that the world of corruption is one that is likely to be with us for a long time—unless we find the words that will define what we want ourselves to become." (Chit Estella, "Corruptionary: The lingo of corruption," Verafiles.org)

"Senate whistleblower Rodolfo 'Jun' Lozada Jr., who also contributed a few words in the dictionary, can't help but laugh about the whole thing. 'Honestly, I found it funny. Imagine, corruption now has a dictionary!' he said." ("Dictionary on RP-style corruption hits the shelves," GMAnews.tv)

"A fascinating collection, great for quiz shows…There's enough material in the book for symposia, class discussions, even a master's thesis or doctoral dissertation…Let's laugh at ourselves, but let's also get righteously angry as we examine how endemic dishonesty is, corrupting even our language." (Michael Tan, "Popular," Pinoy Kasi column, Philippine Daily Inquirer, May 20, 2008)

"Corruptionary's signal publication should in fact give the creeps to the present administration. It may not inspire an Edsa 4 or 5, or a facsimile thereof, but its finding a place in bookshelves speaks volumes on how the general public views the present state of affairs in this country: no one in power is credible anymore, and it's all the people can do from sinking into a cynicism of no return." (Juaniyo Y. Arcellana, "Our damaged, dorobo culture," Starweek, Philippine Star Sunday Magazine, May 18, 2008)

"Corruptionary as a distinct work is certain to enrich the literature representing the Philippines as a case in point, giving scholars from around the world additional literature which enhances their understanding." (Prof. Kenneth E. Bauzon, New York City)